Class 6A Week 5 Rankings, Notes & Picks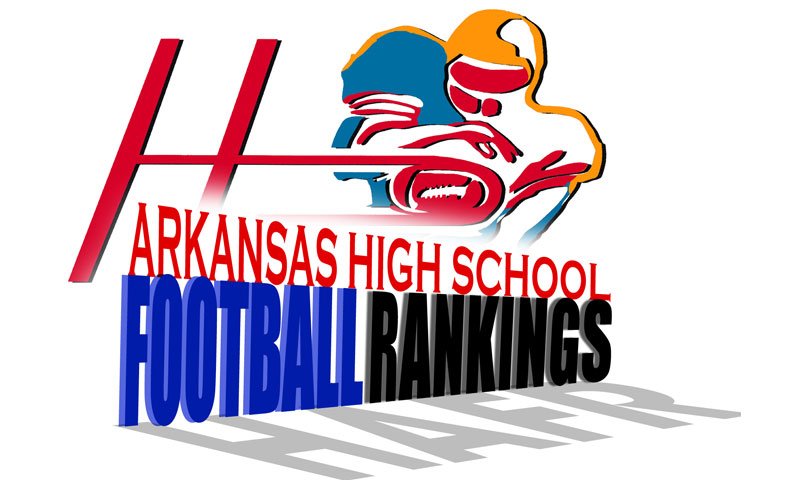 Hooten's Arkansas Football Rankings
Class 6A, Week 5, 2021
Copyright Hooten Publishing, Inc.
1. Lake Hamilton (4-0)
2. LR Parkview (3-1)
3. Benton (3-1)
4. Greenwood (2-2)
5. Jonesboro (2-2)
6. El Dorado (2-2)
7. Marion (2-2)
8. Searcy (2-2)
9. Van Buren (4-0) 
10. Sylvan Hills (3-1)
11. Siloam Springs (1-3)
12. Russellville (2-2)
13. Sheridan (2-2)
14. West Memphis (1-3)
15. Mountain Home (1-3)
16. Pine Bluff (1-2)
GAME OF THE WEEK
No. 2 LR Parkview at No. 1 Lake Hamilton. 
LR Parkview's roster is "unbelievable, even the guys who don't make the headlines," one 6A  coach says. Six Patriots have FBS college scholarship offers. The Patriots pounded defending state champion Greenwood 48-28 last Thursday with 52 rushes for 361 yards. Arkansas Razorbacks commit James Jointer carried 31 times for 270 yards and five TDs. Versatile junior Willie Eackles (4.5 speed and Memphis scholarship offer) returned the opening kick 95 yards. 
Lake Hamilton lost senior RB Owen Miller, the school's all-time leading rusher, to injury three ago at Malvern. The Wolves still rush for 279 yards weekly, gaining 7.3 yards per carry with just one fumble this season. Lake Hamilton completes just 3.5 passes for 66 yards weekly. Lake Hamilton senior Alex Hurtz routinely kicks off into the endzone, is 19 of 22 on PATs and has hit all three of his field goal attempts this season. Lake Hamilton OL Chase Jessup (6-4, 310) owns scholarship offers from Arkansas State, Middle Tennessee and others. 
LAST WEEK
hootens.com correctly predicted all 4 of 8 winners (50 percent) in games involving Class 6A teams, nailing the 1-point spread in Van Buren's 34-33 win over Siloam Springs. For the season, hootens.com is 45-9 (83 percent) in Class 6A.
WEEK 5 PREDICTIONS (favored team in ALL CAPS)
6A EAST
MARION (8) at Sylvan Hills: Marion won its super bowl last Friday, beating neighbor West Memphis (33-3) for the first time in 19 meetings. Marion tackled West Memphis 12 times behind the line, including seven QB sacks. Kyjuan Rodgers recorded two sacks (one for a safety) and recovered a fumble. Marion senior QB Ben Gerrard passed for 174 yards and three touchdowns, two to junior Donnie Cheers (6-1, 175; 4.65 speed). Marion, currently in a two-week fall break from school, leads the series with Sylvan Hills 4-2, winning three of the past four meetings. Marion beat Sylvan Hills 10-7 last year. Sylvan Hills trailed 14-0 just three minutes into last week's game, committed three turnovers and had to stop a late drive to win at Pine Bluff 35-30. Sylvan Hills attacks Marion's speedy defense with its physical Flexbone attack. Tough senior fullback Orrin Bosnick carried 22 for 177 yards at Pine Bluff. Marion's line is its strength on defense, Coach Lance Clark says. 
Sheridan at JONESBORO (28): Jonesboro took a giant step toward its first conference title since 2016, rallying past El Dorado 31-20 last Friday. Meanwhile, Sheridan couldn't slow down Searcy last week, losing 41-13. Searcy junior DeDe Johnson carried 24 times for 305 yards and six TDs at Sheridan. Sheridan's leading tackler Austin Webb (24 stops) is out for two weeks with a thumb injury. Yellowjacket senior noseguard Caleb Pilkington leads the team with nine TFLs. 
Pine Bluff at EL DORADO (13): Pine Bluff led Sylvan Hills by two TDs early last week before losing 35-30. El Dorado led, in what might have been the conference championship game, at Jonesboro last week before losing 31-20. 
West Memphis at SEARCY (19): Searcy has won back-to-back. Lion junior RB Dede Johnson carried 24 timess for 305 yards and six TDs last Friday at Sheridan. West Memphis dresses 55 players and lost last week to rival Marion for the first time in 19 meetings.
6A WEST
LR Parkview at LAKE HAMILTON (2): Game of the Week. 
Mountain Home at GREENWOOD (28): Greenwood has lost back-to-back games but had eight days to recover from its 48-28 loss at LR Parkview. Greenwood was without quarterback Hunter Houston, running back Javon Williamson and defensive linemen Landon Kilgore and Tyler Crossno due to injury last week. Mountain Home's only win this fall came against winless Class 5A Batesville. 
BENTON (15) at Siloam Springs: Benton celebrated homecoming last Friday with its third straight mercy-rule win, 49-10 over Russellville. Siloam Springs lost to Van Buren by 1 point for the second consecutive season. Benton's skill players, especially senior receivers Cam Harris (6-3, 200; D-1 basketball recruit) and Andre Lane, could have a big night at Siloam Springs. Benton's DL will be tested by Siloam Springs senior quarterback Hunter Talley (6-5, 205) on QB power and counter plays. 
VAN BUREN (7) at Russellville: Van Buren is 4-0 for first time since 2010 and only the second time since 1999 when former Razorback Matt Jones was a junior wide receiver for the Pointers. Van Buren senior free safety Dylan Barlow made 11 solos, 2 PBUs, 1 QB hurry and an INT to seal last Friday's 34-33 win over Siloam Springs. The Pointers won in 2020 at Siloam 43-42 in OT. After starting 2-0, Russellville has lost back-to-back, including 49-10 last Friday at Benton. Russellville's DL, starting senior Trey Traylor (6-0, 277) could cause Van Buren's young OL trouble. Van Buren rotates five juniors and two sophomores on its OL and tight end Jacob Gavalis (6-2, 200) is a sophomore.