Class 7A Week 6 Rankings, Notes & Picks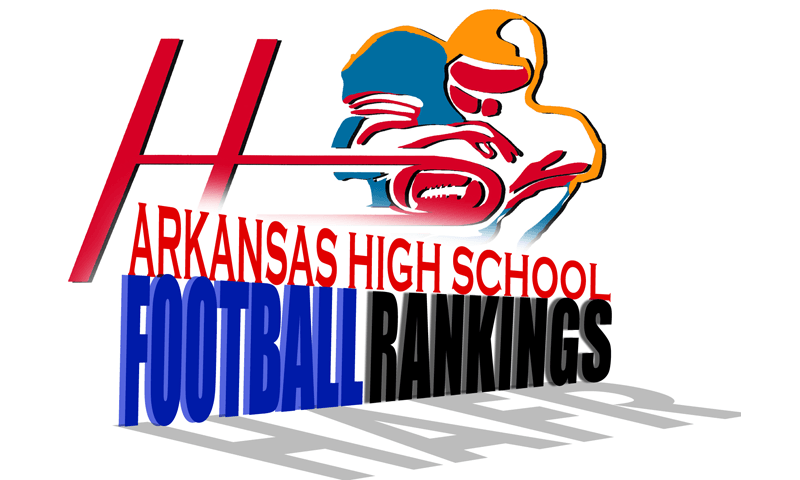 Hootens.com Rankings
Class 7A, Week 6, 2016
Copyright Hooten Publishing, Inc.
1. North LR (5-0)
2. Springdale Har-Ber (4-1)
3. Cabot (5-0)
4. FS Northside (3-1)
5. Bentonville (4-1)
6. Fayetteville (4-1)
7. FS Southside (2-3)
8. Bryant (3-2)
9. Rogers (4-1)
10. Springdale (3-2)
11. LR Central (3-2)
12. Conway (0-5)
13. LR Catholic (1-4)
14. Bentonville West (1-4)
15. Rogers Heritage (0-5)
16. Van Buren (1-4)
 
GAME OF THE WEEK
No. 7 FS Southside at No. 1 North LR.
These two last met in the 2009 semifinals with Southside scoring in the final minute for a dramatic 24-23 win at North LR.

Strength of schedule this fall favors Southside with losses to No. 2 Springdale Har-Ber, No. 3 Cabot and Class 6A No. 1 Greenwood. North LR's best test came in a Week 2 win over Class 5A No. 7 Little Rock McClellan, 52-20.  Southside's offensive front averages 299 pounds. Cabot outpaced Southside 396-172 yards last week.
North LR outscores opponents 49-12. The Charging Wildcats drove 61, 96, and 76 yards for TDs in the first half of last Friday's 38-7 at Conway. Conway lost at Southside 23-20 two weeks ago.
 
TV SHOW
Hooten's Arkansas Football TV show previews the Razorbacks at 10:30 a.m. Saturday's on KATV (Channel 7) this fall.

LAST WEEK
Hooten's Arkansas Football correctly predicted winners in all eight games involving Class 7A teams. For the season, hootens.com is 43-13 (77 percent).
 
WEEK 6 PREDICTIONS (favored team in CAPS followed by point spread)
7A CENTRAL
FS Southside at NORTH LR (9): hootens.com Class 7A Game of the Week.
Conway at CABOT (16): Cabot gets Mike Malham his 290th victory to become the state's No. 2 all-time winningest coach. Barton's Frank McClellan retired with 346 victories. Cabot outgained Southside 396-172 yards last week but committed three turnovers and 13 penalties for 136 yards in a 27-23 road win. Conway has won four of the past six meetings with Cabot. After losing its first four games this season by just 5.5 points, Conway got crushed by North LR 38-7 last Friday. Conway's Karlton Hood intercepted two passes, one in the end zone to kill a drive and the other set up the Wampus Cat's only TD. Conway allows 31 points weekly and its offense has scored just 11 TDs this season.
LR Central at BRYANT (7): Bryant has held LR Central to 14 points or less to win this matchup nine years in a row. The Bryant defense is again its strength this season. Central won its three non-conference games but has been outscored 68-7 the past two weeks.
LR Catholic at FS NORTHSIDE (18): Catholic, allowing 37 points weekly, looks for some stops this week against a young Northside offensive line. Northside's stout defense has started league play with consecutive shutouts.

7A WEST
Bentonville at SPRINGDALE HAR-BER (15): Har-Ber gains 327 yards rushing and 104 yards passing to score 43 points weekly. Athletic junior quarterback Payton Copher (381 yards rushing) completes 44 percent of his passes, totaling 269 yards this season with five TDs and one interception. Standout junior nose guard Alejandro Ramirez (6-2, 280) leads a fleet-footed Har-Ber defense that has allowed two TDs or less in four games. Bentonville quarterback Canaan Ross passed for 177 yards and three TDs, building a 42-7 halftime lead last Friday at Van Buren. The Tigers won at defending state champ Fayetteville two weeks ago.
FAYETTEVILLE (14) at Rogers: Fayetteville QB and Wake Forest commit Taylor Powell completed more than 80 percent of his passes last week building a 43-0 halftime lead over Bentonville West. Rogers led by 14 at halftime last week but had to rally from behind and block a field goal in the fourth quarter to beat crosstown rival Rogers Heritage 35-34. Rogers QB Max Horton ran and passed for two TDs, including a 57-yarder for the win. Horton finished 12 of 14 passing for 262 yards.
SPRINGDALE (8) at Bentonville West: Springdale's emotional week ended with a 38-7 loss to crosstown rival Har-Ber. The Bulldogs now aim to finish in the top half of the conference. Bentonville West turned it over on four consecutive possessions with fumbles and trailed 43-0 by halftime last week at Fayetteville. West sophomore QB Will Jarrett completed 5 of 13 passes for 98 yards and rushed 13 times for 62 yards.
ROGERS HERITAGE (1) at Van Buren: Rogers Heritage has officially lost 15 in a row while Van Buren has lost 11 of its past 12. Van Buren tied Bentonville early last week before failing to convert on fourth down on consecutive drives. Heritage QB Trey Kitterman ran for two TDs and completed 14 of 22 passes for 258 yards for three TDs last week.