Class 7A Week 7 Rankings, Notes & Picks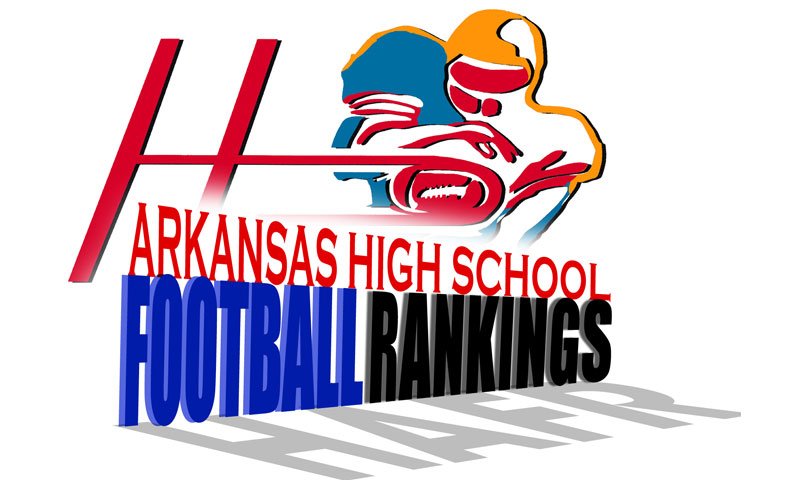 Hooten's Arkansas Football Rankings
Class 7A, Week 7, 2021
Copyright Hooten Publishing, Inc.
1. Bryant (5-1)
2. Conway (5-1)
3. Fayetteville (4-2)
4. Bentonville (5-1)
5. North LR (5-1)
6. Cabot (5-1)
7. FS Northside (5-1)
8. Springdale Har-Ber (2-4)
9. Rogers (4-1)
10. Bentonville West (3-3)
11. Springdale (1-5)
12. FS Southside (0-6)
13. LR Catholic (0-6)
14. Rogers Heritage (0-6)
15. LR Central (0-6)
16. LR Southwest (1-5)
HOOTENS.COM GAME OF THE WEEK
No. 4 Bentonvillle at No. 3 Fayetteville.
Conference coaches voted Fayetteville to finish third in the West, but Hooten's Arkansas Football disagreed by ranking the Purple Dogs at No. 4 statewide to start the season. Thus far, the talented Purple Dogs have not disappointed. Senior QB Bladen Fike completes 59 percent of passes for 314 yards weekly with a star-studded receiving corps, led by senior Isaiah Sategna's 157 receiving yards weekly. Fayetteville linebacker Kaiden Turner (Indiana commit and University of Arkansas recruit) leads the Purple Reign D (allowing 22.6 points weekly) with 35 tackles, seven for loss, four sacks and an interception.
Bentonville rides a 35-game conference win streak and likely earns its 15th league title in 16 seasons with a victory this week. If Fayetteville doesn't end the Tigers' streak, it could go on for years considering Bentonville's undefeated junior high team outscores opponents this fall by an average margin of 35-5. 
Bentonville WR Chas Nimrod (6-3, 185), a Tennessee Volunteer commit, and junior RB Josh Ficklin lead the Tiger attack. Bentonville totaled 465 yards (mostly in 2.5 quarters) last week at Rogers Heritage. Coach Casey Dick, who owns a 14-14 record at Fayetteville, calls Bentonville "efficient up front" with a detail-oriented offensive line. 
Bentonville won this matchup 59-14 last season.
LAST WEEK
hootens.com correctly predicted 7 of 8 winners (88 percent) in Class 7A games. For the season, hootens.com is 58-6 (91 percent) in Class 7A.
WEEK 7 PREDICTIONS (favored teams in CAPS followed by points spread)
7A CENTRAL
CONWAY (7) at Fort Smith Northside: Conway coming off huge back-to-back wins over North LR (38-10) and Cabot (57-21) but can't "get big-headed," Coach Keith Fimple says. "Northside has it best offensive line in years." Conway owns a plus-21 turnover margin this season, playing more of a 4-Front base D. Northside, featuring a strong senior class, responded to its Week 4 loss to No. 1 Bryant (35-17) by beating winless LR Catholic and LR Central the past two Fridays by a combined 77-0. Watch extended highlights of Conway's 57-21 win over Cabot last week.
LR Southwest at BRYANT (51): Bryant scoring 44.6 points weekly this fall using less receivers and more tight end and H-back personal groups than a year ago. Bryant beat LR Southwest 70-0 last season. LR Southwest is coached by Bryant graduate and former head coach Daryl Patton.
Watch extended highlights of LR Southwest's 47-0 loss to LR Parkview earlier this year.
LR Catholic at NORTH LR (21): Watch North LR's defensive front dominate LR Catholic, get after strong-armed Rocket QB Preston Scott. LR Catholic won at North LR two years ago but must wait til next week when it plays host to LR Southwest for its first W of 2021.
CABOT (35) at LR Central: Cabot standout Braden Jay totaled more than 300 yards offense in last week's 57-21 loss at Conway. Cabot senior QB Grant Freeman has passed for 1,301 yards this season, completing 56 percent of his passes with 17 TDs and six INTs. Cabot committed four turnovers last Friday and gritty senior guard Cohen Green (5-9, 230) is out for the season after breaking a leg at Conway. Winless LR Central dismissed and/or sent four players from athletics to study hall last week. Watch extended highlights of Cabot's 47-27 win over Jonesboro earlier this year.  Watch extended highlights of Cabot's 57-21 loss at Conway last week.
7A WEST
Bentonvillle at FAYETTEVILLE (2): Game of the Week. 
Har-Ber at BENTONVILLE WEST (7): Har-Ber scored the game's final 16 points to rally past rival Springdale 37-36 last week. Har-Ber junior Luke Buchanan completes 54 percent of his passes for 268 yards weekly. Bentonville West blew a fourth-quarter lead last week, losing 33-28 at Rogers.  
FS SOUTHSIDE (4) at Heritage: There are five winless teams in Class 7A, including these two. Heritage totaled 247 yards and avoided the mercy rule at Bentonville last Friday until  10:36 left in the third quarter.
ROGERS (6) at Springdale: Rogers trailed by two TDs twice last Friday but scored the game's final 20 points to beat Bentonville West 33-28. Rogers senior QB Noah Goodshield completed 22 of 30 passes for 337 yards and three TDs and ran 38 yards for the game-winning score with 5:40 remaining. Springdale dominated for most of three quarters before losing at crosstown rival Springdale Har-Ber 37-36.