Class 7A Week 9 Rankings, Notes & Picks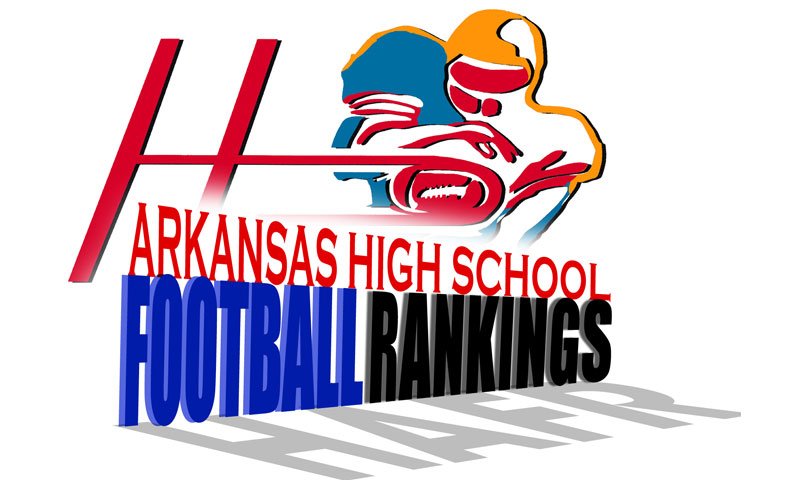 Hootens.com Rankings
Class 7A, Week 9, 2016
Copyright Hooten Publishing, Inc.
1. North LR (8-0)
2. Fayetteville (7-1)
3. Springdale Har-Ber (6-2)
4. Bentonville (6-2)
5. Bryant (6-2)
6. Cabot (6-2)
7. FS Northside (5-2)
8. Rogers (5-3)
9. Conway (2-6)
10. Springdale (4-4)
11. LR Catholic (2-6)
12. LR Central (3-5)
13. Bentonville West (2-6)
14. FS Southside (2-6)
15. Van Buren (2-6)
16. Rogers Heritage (1-7)

HOOTENS.COM GAME OF THE WEEK
No. 5 Bryant at No. 1 North LR.
Bryant rides a five-game win streak and looks to keep its conference championship hopes alive while North LR can clinch the league's top playoff seed with a win.
Undefeated North LR ended Fort Smith Northside's 5-game win streak last Friday 35-28 with a 1-yard TD run by QB Trey Cox with 18 seconds left. It was North LR's first four-quarter test of the season and its lowest points total. Senior Alex Day carried 33 times for 189 yards.
Bryant creamed Cabot 48-20 last week. Pulaski Academy transfer Ren Hefley completed 21 of 30 passes for 330 yards and four TDs, including two scores to Pocahontas move-in Reece Coates. Senior Landon Smith caught 10 passes for 126 yards vs. Cabot, while standout kicker Hayden Ray nailed 22- and 28-yard field goals. Bryant improves weekly, and outsiders say they've never seen a Hornet team tackle better. Bryant first-year coach Buck James calls senior outside linebacker Marvin Moody (6-3, 210) the "best linebacker in the state."

TV SHOW
Hooten's Arkansas Football TV show airs 10:30 a.m. Saturday's on KATV (Channel 7) this fall.

LAST WEEK
Hooten's Arkansas Football correctly predicted winners in 5 of 8 games involving Class 7A teams, nailing the 7-point spread on North LR over FS Northside (35-28). For the season, hootens.com is 59-21 (74 percent).

WEEK 9 PREDICTIONS (favored team in CAPS followed by point spread)
7A CENTRAL
Bryant at NORTH LR (7): See Game of the Week.
LR Catholic at CONWAY (8): Conway looks for its third win in four weeks and its first at home. Conway totals 302 yards weekly but managed 333 yards rushing in last week's 35-17 win at LR Central. Wampus Cat senior workhorse McCall Dail (5-19, 185) averages 4 yards per carry with seven TDs this fall. Catholic ended its five-game losing streak, forcing five turnovers to beat FS Southside 45-28 last Friday.
LR Central at FS SOUTHSIDE (3): LR Central remains winless in conference play, scoring 11.6 points against league opponents. Southside committed five turnovers last week and has dropped four straight since winning its conference opener over Conway, 23-20.
FS Northside at CABOT (1): Cabot has lost two of its past three games but standout Jarrod Barnes should return 100 percent from an ankle injury to play QB this week. Barnes, committed to the University of Arkansas, caught seven passes for 119 yards and two TDs in last week's 48-20 loss at Bryant. North LR scored with 18 seconds remaining to end FS Northside's five-game win streak last week, 35-28. Northside QB/CB Trey Norwood has committed to the University of Louisville. Norwood carried 22 times for 129 yards and two TDs against North LR.

7A WEST
BENTONVILLE (16) at Rogers Heritage: Bentonville, perhaps peaking at the right time, mercy-ruled old rival Rogers 49-7 last week and likely finishes as a No. 3 playoff seed. Bentonville junior Kam'ron Mays-Hunt Heritage caught six passes for 160 yards and three TDs. Heritage ended an 18-game losing streak last week but must pull off a major upset of Bentonville or at Har-Ber next Friday to keep its slim playoff hopes alive.
ROGERS (14) at Bentonville West: Rogers trailed 35-0 before halftime last Friday at Bentonville but can be home in the first round of the playoffs with a win at Bentonville West and over Springdale at home next Friday. Three more victories would equal the most for Rogers since 2006.
FAYETTEVILLE (21) at Springdale: Fayetteville stymied Har-Ber 28-0 last Friday and now only needs 13-point wins over Springdale and Van Buren to be assured a No. 1 seed. Fayetteville defensive tackle Akial Byers (6-4, 275), currently committed to the University of Alabama, dominates in big games. Springdale likely headed to the playoffs regardless of how its finishes the regular season.
HAR-BER (35) at Van Buren: Har-Ber grumbling after last week's 28-0 loss at home to Fayetteville, but the Wildcats are still guaranteed at least a No. 2 playoff seed with 13-point wins over Van Buren and Rogers Heritage to finish the regular season. Van Buren closes its season against two of the league's top three teams. The Pointers, with four conference losses by an average score of 41-11, finish at Fayetteville next Friday.