Eight teams that won 81 games last fall battle during Arkansas Blue Cross and Blue Shield Kickoff Classic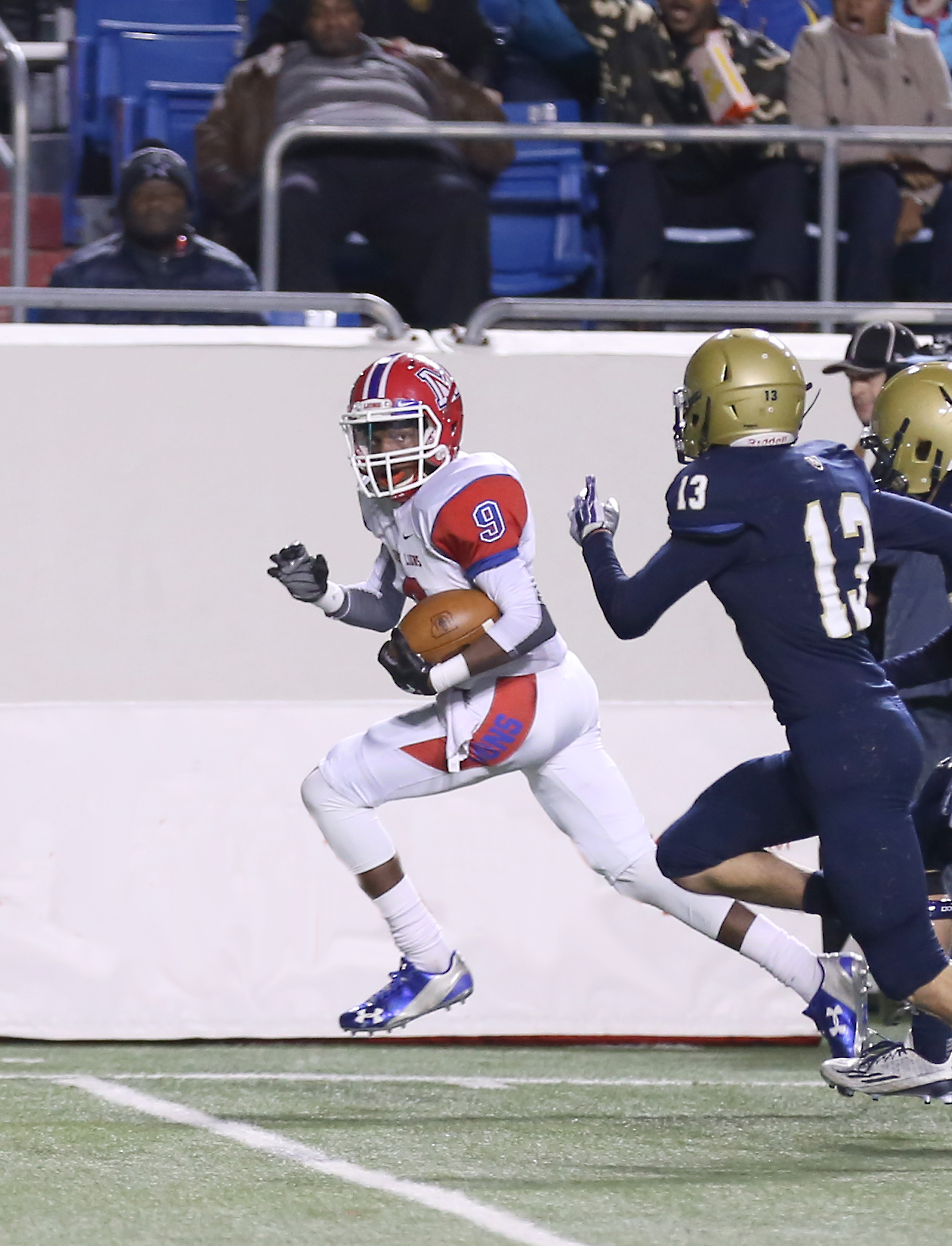 LR McClellan's Dalvion Childs races to the endzone in last season's Class 5A title game. McClellan opens 2016 against Texas powerhouse Dallas Parish Episcopal in the Arkansas Blue Cross and Blue Shield Kickoff Classic.
LITTLE ROCK – Eight teams that combined for 81 wins last fall kick start the 2016 season during Arkansas Blue Cross and Blue Shield Kickoff Classic (presented by hootens.com).

A defending state champion, a state runner-up and three conference champions headline the event that has produced 22 eventual state finalists over the past 16 years.

"Arkansas Blue Cross and Blue Shield is pleased to host four great football games as the title sponsor of the 2016 Kickoff Classic, presented by hootens.com," said Eric Paczewitz, vice president of Corporate Marketing for Arkansas Blue Cross. "High school football is a long-standing tradition in Arkansas and we are excited to support the students and communities that rally around them.

"In support of the seven Arkansas communities these gridiron greats call home, we are taking our Classic sponsorship to another level. Arkansas Blue Cross employee volunteers will work together with the football teams to pack 10,000 meals for the local food pantry. Then, we'll join hometown fans for a pep rally to cheer the teams on to the big game. These 'Pep Rally with a Purpose' events will be held during the month of August and are an investment in the communities where these students, coaches, sponsors, teachers and administrators, parents and other folks live, learn, work and play. It's a fearless win-win for all involved."

The Arkansas Blue Cross Kickoff Classic games begin Monday, Aug. 29 at Ouachita's Cliff Harris Stadium in Arkadelphia. Texas private school power Dallas Episcopal (11-2 in 2015) plays 2015 Class 5A runner-up Little Rock McClellan at 5:30 p.m., followed immediately by Class 3A Centerpoint against Class 2A Mount Ida.

Little Rock McClellan played in its first state title game since 1994 last winter and was the first Little Rock School District team (in any classification) to make the semifinals since Little Rock Central in 2004.

Centerpoint won eight games last season, and the Knights expect to compete for the 5-3A title this fall. Defending 7-2A champ Mount Ida won 12 games last season, losing in the state semifinals to Class 2A champion McCrory.

The Arkansas Blue Cross Kickoff Classic continues Tuesday, Aug. 30 at UAPB's Golden Lion Stadium in Pine Bluff with Class 2A preseason No. 1 England playing Class 4A Hamburg, followed by defending Class 2A champion McCrory against Class 6A Sheridan.

England won 13 games last season while advancing to the state quarterfinals. Hamburg finished second in the rugged 8-4A. McCrory went 13-0, while Sheridan advanced to the playoffs.

In the 16-year history, 22 teams started runs to the state finals during this kickoff event. Four teams that played in the 2009 Classic reached the state title game.