HOGS: Big plays jump start 45-10 rout of Ga. Southern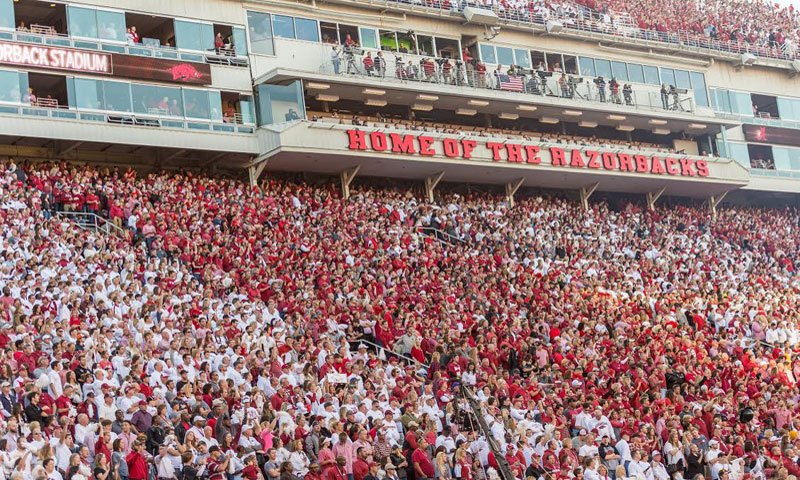 FAYETTEVILLE -  Asserting itself with big plays at the outset of each half Saturday, No. 20 Arkansas whipped 23-point underdog Georgia Southern 45-10 at Donald W. Reynolds Razorback Stadium.

The Hogs are 3-0 heading into Saturday's SEC opener against No. 7 Texas A&M (3-0) at the Dallas Cowboys' AT&T Stadium.
Underdogs similar to Sun Belt Conference's 1-2 Georgia Southern had embarrassed and derailed Arkansas in 2018 and 2019.  But second-year Arkansas coach Sam Pittman's Hogs jumped on the Eagles 14-0, and even with a shaky second quarter, led 28-10 at half.

Arkansas' defense was victimized by GSU's option game once on quarterback Justin Tomlin's 76-yard second-quarter TD run, and later on passes leading to a  second-quarter field goal. The Hogs pitched a second half shutout. 

"I thought we played well against the option," Pittman said offering kudos to Arkansas defensive coordinator Barry Odom. "Really proud of our defense. We were swarming to the ball. Loved the defensive game plan we had."

Offensively. Arkansas quarterback KJ Jefferson completed 13 of 23 passes for 366 yards and three TDs, one a 91-yarder to junior receiver Treylon Burks. Burks took a short pass the distance, marking the second longest pass in UA history. Matt Jones passed 92 yards to Richard Smith in 2002 against Tennessee.

Burks, an All-America candidate with just 79 reception yards on 10 catches in victories over Rice and Texas, logged 127 on three catches Saturday.

However, as he did with early big-yardage catches against Rice and Texas, Helena native/senior receiver Tyson Morris opened Arkansas' festivities.

After Arkansas' defense forced a game-opening series three and out, Morris caught a 47-yard bomb from Jefferson on Arkansas' first play from scrimmage that would have gone for a TD had not Jefferson fallen to catch it at the GSU 26.

Running back Trelon Smith ran the next three plays netting a 13-yard TD. With a fourth-and-3 offsides penalty gifting Arkansas a first down, plus a key roughing the passer penalty, Arkansas tallied its second first-quarter TD on running back Dominque Johnson's 11-yard run capping a 15-play, 94-yard drive.

Morris, after a Jefferson to Burks 24-yard pass and Johnson, 48-yard rum, put Arkansas up 21-0 at 8:42 of the second quarter by catching a 14-yard down the middle strike from Jefferson.

"It seems like he (Morris) makes at least one big play all the time," Pittman said.

Definitely more than one this game. Not only with that first big reception and then the  TD but Morris joined tight end Blake Kern in clearing Burks' downfield path on the short pass become 91-yard TD, Pittman said.

"I was really excited about Kern and Tyson Morris on that screen," Pittman said. "We worked the heck out of it this week, throwing it out there to Burks and then he went I think 91 yards."

Burks said: "I really want to thank Tyson Morris, KJ and Kern for the blocks and the (KJ)  throw. Without them, it wouldn't have even been a play. So I just thank them."

But it was a big play that Burks needed, Rusty from an Aug. 14 scrimmage injury that held him out of practice until two workouts before the Rice game, Burks dropped passes he just drop against Rice. Arkansas was so successful running the ball against Texas (333 yards) that Burks was more utilized as a blocker against Texas.

"Honestly I would say practice makes perfect," Burks said, "I knew exactly what I was looking at on defense and catching the ball."

Jefferson started Saturday's game looking for Burks and Morris.

"From preparation earlier in the week, we knew we were going to take shots down the field," Jefferson said. "Come out, start the game fast."

Burks caught his TD at 11:38 of the third quarter after Jefferson and receiver Warren Thompson, the transfer from Florida State, connected on a 60-yard TD pass.
Backup quarterback Malik Hornsby rushed Arkansas' final TD, a 6-yard jaunt.

Jefferson performed so well that Pittman confessed he was surprised when his QB threw incomplete. "Every time he misses a throw, it's like 'oh my gosh' in my mind!," Pittman said. "But when he throws one that goes 91, he throws a nice drop pass to Warren Thompson, 60 for a touchdown, I'm like 'well, that's what he's supposed to do.' I mean, I think (NFL Hall of Famer) Dan Marino missed a pass or two. So my mind has to work a little bit different. He's our quarterback and he's doing a nice job."

Jefferson would have have had four TD passes but an ineligible receiver downfield penalty deprived him of a  second-quarter scoring pass to freshman receiver Ketron Jackson.
The Hogs settled for Cam Little's 25-yard field goal.

Penalties, nine for 93 yards, was "a concern" and must be cleaned up heading into the A&M, Pittman said. Other than penalties (two late hits especially vexed PIttman) he lauded the defense led by safety Jalen Catalon's nine tackles and two pass breakups. Defensive end Tre Williams applied pressure "to be in their backfield all day," Catalon said.
Williams had two lost-yardage stops and a QB hurry for a defense that broke down just one play.
"Odom came in at halftime and kind of said that was a bad call he made," Catalon said. "But l we're a defense where if he makes a bad  call we've still got to do our job you know and make it right. It was just one those things that we had to shake off and move on. We did a great job with that and responded."

Arkansas' offensive line, so shuffled because of in-game injuries to right tackle Dalton Wagner and center Ricky Stromberg, saw senior Ty Clary start at right guard, play right tackle and finished at center. Arkansas rushed for  269 yards.

The early non-conference done, Arkansas takes on Texas A&M in a battle of nationally ranked unbeatens Saturday in Dallas.

"I'm proud of our team and our coaches to be 3-0." Pittman said. "Texas A&M is a great football team. We're excited to get down to Dallas. We've got a week to get prepared for them and we will."