HOGS: Hornsby will see first-team reps Saturday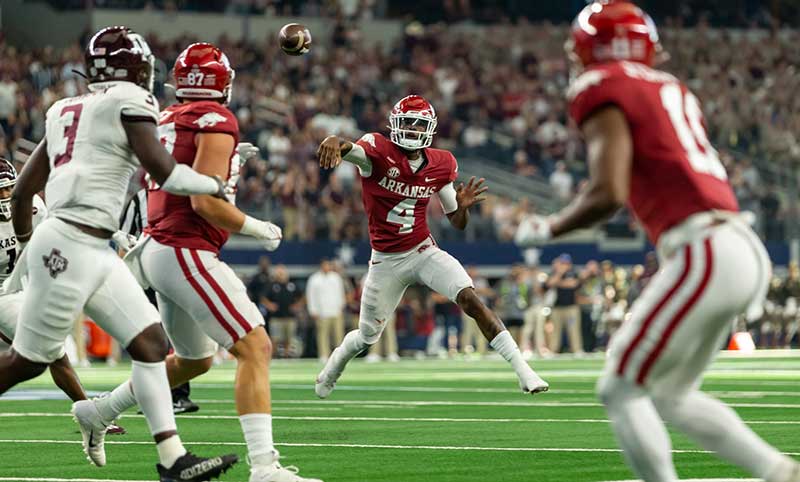 FAYETTEVILLE
— There will not be a Red-White game this spring, but there will be an open-to-the-public scrimmage at 11 a.m. Saturday at Reynolds Razorback Stadium. It will count as the 12th of the 15 practices allowed by NCAA regulations, with the final three workouts scheduled for next week.
Third-year head coach Sam Pittman said the veterans will "thud" for much of the scrimmage to minimize injuries, but the younger players and reserves will tackle to the ground.
Pittman said there will some tackling to the ground with first-teamers, especially when young reserves contending for starting positions are put in first-team situations.
An example cited by Pittman was wanting to see sophomore running back AJ Green at full speed.
"Somebody we need to tackle, see him live a little bit more," Pittman said. "The young guys will scrimmage."
Pittman said there will periods of the ones vs. twos, twos vs. ones and threes vs. threes,
"And then, we'll come back and do one vs. one, two vs two, in a thud situation," Pittman said. "Three vs. three with some of those twos in there in a scrimmage situation."
Pittman said to expect times when redshirt sophomore Malik Hornsby will run with the first-teamers in place of KJ Jefferson.
There will be periods spent on kickoffs, punts and red-zone situations, as well as working on getting the ball back in two-minute situations and two-minute drill for the offense.
FORMER BENGAL TIGER SIGHTING
LSU transfer defensive end Landon Jackson (6-7, 295), withheld the first nine practices because of injuries, did some drills on Tuesday.
"I've seen him run a straight line, but I wanted to see him move around," Pittman said of the sophomore from Texarkana, Texas.  "I thought I thought it looked pretty good, you know, especially for his first real movement since his injury. And I thought he looked good. He's long, big, a great kid. Works hard. So, I was happy that he was able to get back out there."
PAUL AND CROOK
Pittman was asked about young linebackers Chris "Pooh" Paul, a 6-1, 232-pound redshirt freshman from Cordele, Ga., and true freshman Jordan Crook (6-0, 227), a January enrollee at Arkansas.
Paul, behind first-team senior weakside incumbent Bumper Pool, and Alabama transfer Drew Sanders, practiced in a green no-contact jersey while going through the final stages of concussion protocol.
"I think he's one of our top three linebackers," Pittman said. "Obviously he was running with the ones before he was got the concussion. But I like his physicality. He's very bright, very smart. Can run. So, I think he's gonna really help us a lot, and it was good to get him back out there."
Pittman said he expected Paul to be at full speed Thursday.
"Obviously, the first day that the kids come back from concussion protocol is non-contact," Pittman said, "so that was his practice today in green."
Pittman said Crook from Duncanville, Texas, plays hard and wants to be coached.
"He's exactly what you want in a young guy," Pittman said. "He's one of the harder-working young guys I've ever seen, so he's going to be a good player."
BISHOP'S PROGRESS
Pittman was asked about redshirt senior LaDarrius Bishop (6-0, 200) of Ashdown, who alternated with Hudson Clark as a first-team cornerback last year — starting one game — but has been mostly with the second team this spring.
Pittman said it's been injuries, along with the emergence of LSU transfer Dwight McGlothern, that has slowed Bishop.
 "He hasn't done anything wrong," Pittman said of Bishop, who totaled 15 tackles and three passes defensed last season. "The other guys have just played some pretty good ball, and he's got to work his way back up to that first team. He's very talented. So, I think he'll work his way back up."
JOINTER CATCHES ON
Pittman has touted true freshman running back Rushod Dubinion (5-10, 189) throughout spring, but another true freshman running back, James Jointer (6-0, 217) of Little Rock Parkview, made his presence known on Tuesday.
Jointer made a 22-yard touchdown catch off a pass by Cade Fortin, the transfer quarterback via the University of South Florida and the University of North Carolina.
The Razorbacks are off Wednesday and have a Thursday practice leading into Saturday's scrimmage.