HOGS: Pittman praises talented true freshmen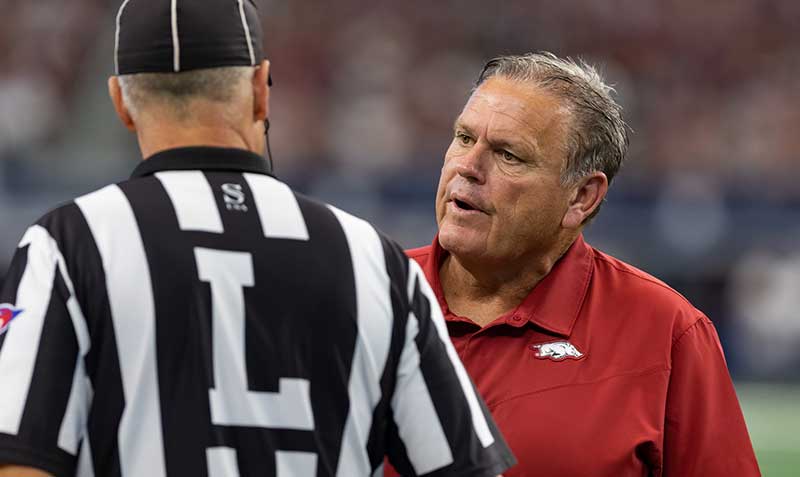 FAYETTEVILLE — There's a Crook among the early arrivals in Arkansas' freshman football class, but he's stealing nothing but praise.
Jordan Crook, one of the 16 December high school graduates practicing with the Razorbacks this spring, continues impressing Coach Sam Pittman after three of the Razorbacks' allotted 15 spring practices.
The Razorbacks, who worked Sunday, Tuesday and Wednesday, are taking off during spring break, which starts after classes come to an end on Friday.
Crook (6-0, 227), from Duncanville, Texas, drew praise Wednesday from Pittman one day after junior quarterback K.J. Jefferson took note.
"Certainly, Jordan Crook has really stood out on defense," Pittman says. "He made some plays today as well. I love Jordan Crook. I think he's going to be a player for us."
Jefferson pointed to Crook on Tuesday when asked if any of the young players are atching his attention.
"He plays really fast on the field," Jefferson says. "Very smart and very disciplined."
Crook's emergence as a true freshman would boost a linebacking group that must replace departed seniors Grant Morgan and Hayden Henry.
Senior Bumper Pool (349 tackles, including 23 TFL, in 44 games) is expected to lead the Hogs, along with Alabama transfer Drew Sanders (6-5, 232), who recorded 33 tackles in two seasons with the Crimson Tide.
Sanders, along with redshirt freshman Chris "Pooh" Paul (6-1, 232), continue catching the eye of the Hogs' head coach.
"I think we found something with Drew Sanders and Pooh Paul," Pittman says.


PHYSICALITY PREVAILS
The first three practices have been conducted in shorts and less than full pads "spiders," but Pittman says there is plenty of muted contact.
"We thudded today, and I thought  they thudded hard," Pittman says. "I thought they ran through tackles. I was really, really pleased with our first three days and the way we're progressing."


MORE FRESHMEN
True freshmen like Crook and offensive tackle Devon Manuel  (6-9, 366; Sunset, La.) are already seeing second-team opportunities.
" I think that's the beauty of how we practice," Pittman says.  "If you are a freshman, you are going to get an opportunity, especially in the spring, to play for us.  We are going to find out what you can do."
Other true freshmen who are impressing Pittman include running back Rashod Dubinion (5-10, 189) and tight end Tyrus Washington (6-4, 221), along with redshirt freshman defensive lineman Cam Ball (6-5, 313).
 "I think he's a good football player," Pittman says of Dubinion, who is from Ellenwood, Ga., "and I think he can turn into an excellent football player.
"Tyrus Washington is coming on each and every day."
Washington is from Leesburg, Ga.


HENDERSON FINDS HOME
Third-year sophomore Marcus Henderson (6-5, 287) worked as first-team center with senior Ricky Stromberg "banged up" and sitting out Wednesday.
Henderson, from Memphis, spent the past two seasons trying all the positions on the offensive line while working on the scout team.
"Isn't that something?" Pittman says of Henderson. "I think we've found his position. To get him those reps, that's what spring ball is about."


'BIG PEOPLE'
True freshman E'Marion Harris (6-7, 362), recruited as a guard from Little Rock's Joe. T. Robinson High School, has been moved to offensive tackle.
Henderson, 6-5, 287, is by far the lightest man on the second-team offensive line, which includes Manuel; third-year sophomore Jalen St. John (6-5, 334) and junior Ty'Kieast Crawford (6-5, 347), a transfer from Charlotte.
"I like big people," says Pittman, who coached Arkansas' mammoth offensive line of 2013-2015 under Bret Bielema. " I think the first time I was here, we had the biggest line in all of football, and they were pretty good too."
Pittman says he prefers linemen with extreme size and nimble feet, though he says several need to lose weight and gain quickness before fall.


NOTING MAUMELLE'S CHAMBLEE
Maumelle High School true freshman Andrew Chamblee (6-6, 311) is thrusting himself onto Pittman's radar. 
"What we found out about him is he's a little bit better in team settings than he is in individual right now." Pittman says. "Which is, to be honest with you, a good thing."
Pittman says he is impressed by all 16 of the true freshmen on campus.
 "We didn't recruit a dud," Pittman says.
'ESTABLISHING A BASE'
Pittman says Arkansas will resume practices after spring break knowing they have accomplished what they set out to do during the first three days.
"Our goal was to have the three best practices we possibly could have and I think we did that," Pittman says.