HOGS: RB depth; injuries; notes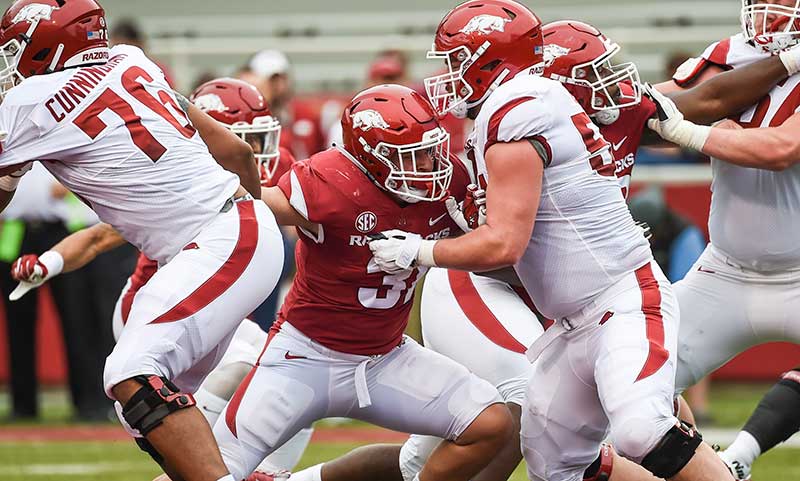 FAYETTEVILLE - The mandatory preseason first five practices in less than full pads didn't spare the Razorbacks from injury on the offensive line.
Arkansas junior starting center Ricky Stromberg injured a knee, the Arkansas Democrat-Gazette reported from sources.
Starting senior right guard Ty Clary, the Razorbacks' starting center in 2018 and 2019 and starting one game at center in 2020, practiced at center Monday.
Third-year sophomore Beaux Limmer practiced at Clary's first-team right guard spot Monday, while Clary worked at center backed by second-teamer Shane Clenin.
The Razorbacks practice Tuesday again in less than full pads, will use Wednesday as their mandated weekly off day and on Thursday don full pads for the first time leading into Saturday's scrimmage.
CHECKING THE IMPACTFUL
Last week before the UA first preseason practice, Coach Sam Pittman opined Arkansas' most surprisingly impactful player could be whoever claims the No. 2 running back spot behind fourth-year junior starter Trelon Smith.
As the UA running backs coach, Jimmy Smith didn't dispute his head coach Monday upon meeting with media after fourth consecutive August practice.
"I agree totally," Jimmy Smith said of having a top backup ready at one of football's most injury-prone positions. "Right now, we have three or four guys fighting for it. All of them bring different things between Rocket (freshman Raheim "Rocket" Sanders) and (freshman) AJ (Green). Josh (Oglesby) is doing a great job, Dominique (Johnson) has a role. We're going to continue through this fall camp, and we're going to find a 2 and a 3."
What's he looking for?
"Just somebody who can do everything," Smith said before followed to the media table by Trelon Smith and Oglesby. "Somebody who can catch the ball out of the backfield, protect and run inside and outside. I've got role players. We have role players. I want a guy who can do everything."
BIG SPEED
Oglesby may be a trifle small (5-8, 175) to do everything. But the 2019 All-America and All-SEC 4 x 100 relay sprinter, can do a lot of things with his track speed.
Pittman and the Smiths, Jimmy and Trelon, too, saw promise during the 2020 preseason when Oglesby crossed over from track sprint coach Doug Case's crew to try football.
Unfortunately a preseason toe injury cost Oglesby the entire 2020 football campaign. He returned rehabbing to health for football 2021 winter conditioning and spring practice and then ran the last of the 2021 outdoor season for the UA's SEC champions.
Jimmy Smith said the cooperative efforts of the football and track staffs not rushing Oglesby to compete in either sport helped him compete in both last spring.
On the gridiron in Oglesby, Jimmy Smith sees a football player with track speed rather than a track guy trying to play football without football quickness and instincts
"What's amazing about him is most fast guys are not as quick as him," Jimmy Smith said. "He's fast and quick. For me, fast is like a bonus. You need quickness and burst to be a good running back. You can't just be a guy who can run fast straight ahead."
Now when Oglesby springs into the open field and flashes that track speed, "he's something special," Jimmy Smith said.
Trelon Smith concurs.
"Man, Josh could be a great 'back," Trelon Smith said. "A lot of speed and I feel we need that in the backfield. He can also catch out of the backfield. I feel we can use him in the slot as well  He can do a lot for us."
FAMILY TIES
Case recruited Oglesby for track out of Katy, Texas, where Oglesby also played football, 2020 UA defensive lineman via Clemson transfer Xavier Kelly told Pittman's staff.
Seems Oglesby's and Kelly's fathers know each other from bygone days in Detroit, and that Josh already was interested in giving Arkansas football a whirl.
Jimmy Smith was skeptical, but he wasn't going to turn down track speed.
"When you say a track guy," Jimmy Smith said. "From the beginning, you're thinking of a guy who can run fast but he's not really — but I watched his film and he was running into people. He wasn't scared. He was a tough guy."
Oglesby never thought himself solely "a track guy."
"Football was always my first love," Oglesby said. "So when I was over on the track team, I already had it in my mind that I wanted to come over to football."
BIGGEST LITTLE MAN
As for size, Trelon Smith is listed 5-9, 190, but as Arkansas' leading rusher last year, he proved a tough, every-down 'back and team leader.
"He's got heart," Jimmy Smith said. "I call him Little Big Man. He doesn't have any mirrors around the house because he doesn't know he isn't big. When he plays ball, he plays like he's the biggest guy there."