HOGS compete for roles, PT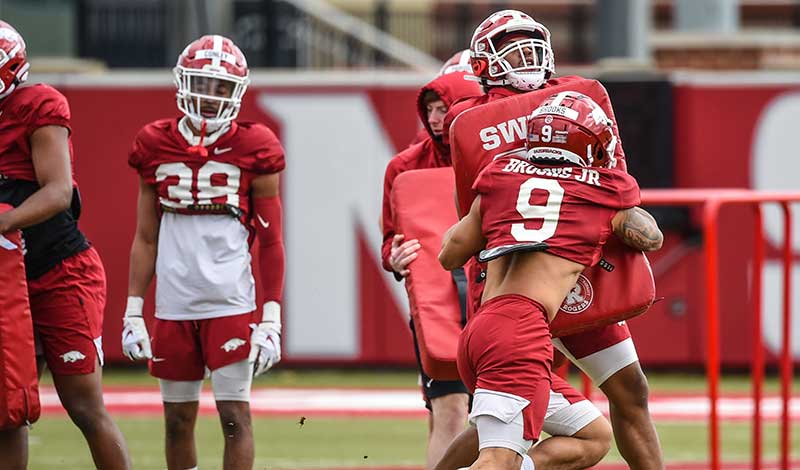 FAYETTEVILLE - So far so good, Arkansas coach Sam Pittman assessed Wednesday of his Razorbacks' bye week before their Nov. 6 game against visiting Mississippi State.
After last week's 45-3 non-conference victory over Arkansas-Pine Bluff, Pittman gave the Razorbacks Sunday and Monday off, put the regulars through a walk-through Tuesday and scrimmaged the redshirts and seldom-used reserves.
That also was the format for Wednesday's closed practice.
This week's workouts conclude with a Thursday afternoon practice similar to a light Monday prep for Mississippi State  coming off a game-week, Pittman said.
The players are off from Thursday night through Saturday while the coaches recruit. They will regroup Sunday, practice and full-padded Monday and take off Tuesday for Election Day.
Pittman said he originally had different things in mind for Wednesday's practice, but the format would be "identical" to Tuesday's because it went so well.
HOW IT WENT
"We had three different 10-minute segments of walk with the offense and defense, then we had 10-minute segments of special teams on Mississippi State," Pittman said. "Then we had a 29-play scrimmage with the young guys, and came out of it heatlhy, which was a big thing."
SCRIMMAGE STANDOUTS
Among the redshirting freshmen scrimmaging, Pittman cited defensive tackle Cameron Ball and tight end Landon Rogers. He also praised Kade Renfro, the walk-on transfer quarterback via Ole Miss.
Even in walk-throughs, Pittman sees ongoing competition in the secondary. Pittman and defensive coordinator Barry Odom used the UAPB game to give nickel back Jayden Johnson, a true freshman, and sophomore safety Malik Chavis of Rison their first starts of the season, ahead of veterans Greg Brooks and Simeon Blair. They reinserted LaDarrius Bishop of Ashdown, idled by injury the previous week in the 38-23 loss to Auburn, at cornerback.
"Certainly between Blair, Brooks, Jayden Johnson and (Myles) Slusher," Pittman said of competition at nickel and safety. "I think that's an ongoing competition as well as at corner (between Bishop and Hudson Clark). We have running back competition (Dominique Johnson, Trelon Smith, Raheim "Rocket" Sanders and AJ Green). At receiver, we have to figure out who we want to play as our No. 2 slot. It's a good week to find out about some of the younger guys and see if they do things well enough to be ready enough mentally to go play in a SEC game."
DELEGATING DUTIES
While the running backs compete, Pittman again asserted that Johnson, averaging 7.9 yards per carry with 309 yards and four touchdowns on 39 totes, should get more opportunities.
For just the second quarter and two early third-quarter rushes against UAPB, Johnson netted 91 yards on six carries.
"Dominique Johnson needs to carry the ball more," Pittman said. "His first four runs averaged 20 yards a carry."
Pulled quickly after those two early-third quarter runs, Johnson was one of the Arkansas first-teamers to play in last Saturday's second half with the Hogs up, 45-0 at intermission.
The offensive backups did not fare well.
Arkansas was shut out the second half against UAPB, but film showed good work from reserve offensive tackles Luke Jones and Ty'Kieast Crawford, Pittman said.
3 HOGS MENDING
Pittman said another week to heal helps defensive tackle Markell Utsey and offensive tackle Dalton Wagner, both withheld from the UAPB game because of injuries, and defensive tackle John Ridgeway, pulled early against UAPB because of injuries.
All three, Pittman said, should play Nov. 6 against Mississippi State. The SEC game will kick off at 3 p.m. at Reynolds Razorback Stadium in Fayetteville, and the SEC plans to televise it.
While the 5-3 overall/1-3 in the SEC West Hogs finish their bye week, the Bulldogs (4-3, 2-2) play host to Kentucky Saturday night in Starkville, Miss.
JOE LEE DUNN
Joe Lee Dunn, the Mississippi State defensive coordinator from 1996-2002 after serving as Danny Ford's defensive coordinator for the 1995 SEC West champion Razorbacks and previously the head coach at New Mexico and Ole Miss and defensive coordinator at South Carolina, has died at 75.
Dunn's tactics at Arkansas were unique, operating from the sideline without headset contact to coaches in the press box. Dunn earned a reputation for blitzing heavily.