HOGS: execution the goal for scrimmage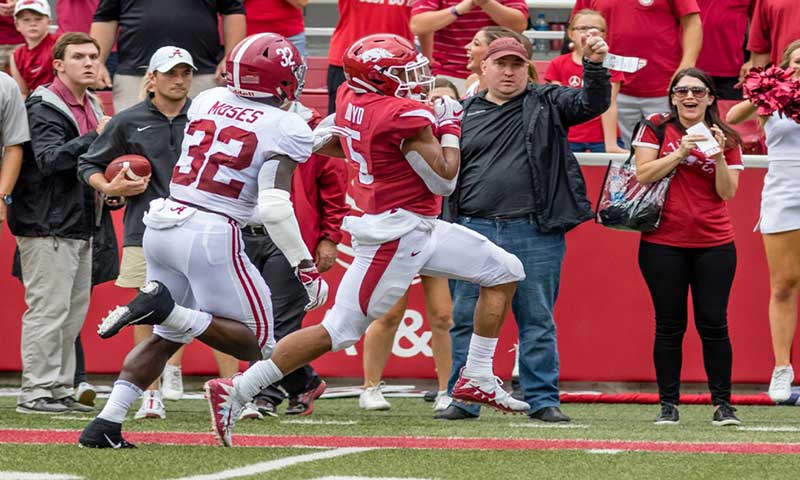 FAYETTEVILLE - Arkansas senior left tackle Colton Jackson of Conway and senior nickel back D'Vone McClure of Rixey were in yellow non-practicing jerseys Friday as the Razorbacks prepped for today's scrimmage.
The ailments to Jackson and McClure were not disclosed. Defensive coordinator John Chavis and offensive coordinator Joe Craddock will be available after today's scrimmage.
CUNNINGHAM AT TACKLE
Junior college transfer Myron Cunningham, who began spring drills behind Jackson at tackle but has worked at left guard this week while senior guard Austin Capps had the flu, worked in Jackson's tackle spot Friday upon Capps' return to practice.
Running back Rakeem Boyd (In Craven Whitlow photo), still in a yellow jersey rehabbing from off-season shoulder surgery, did do some non-contact drills Thursday and Friday.
KNOX AND NASH
December high school graduates and January enrolled freshman receivers Trey Knox and Shamar Nash have attracted attention all spring.
"Those guys have come a long way," junior receiver D'Vion Warren said after Thursday's practice. "They're learning the offense quickly, and they're making plays. We keep bringing them up each day. We keep telling them to just study more and take the fundamentals you have and put it into practice."
Knox particularly has been spotted for the tangibles and intangibles.
"He wants to learn," Warren said. "He's eager. He listens. He doesn't just come in thinking he knows everything. He's a really great guy. He's pretty smart to be a young guy. He knows coverages well, so he's real good. He's got a lot of potential.
"Nash is a fun guy to be around. He gets down on himself when he messes up, but that's everybody. He has a great motor, and he's really ready to learn. I like that about him."
SPRING OF GERALD
Though he lettered last season, defensive end Dorian Gerald is experiencing his first spring drills at Arkansas after not reporting to the UA until last summer's preseason.
"I didn't really know the plays that much last year because it was so late," Gerald said. "So, it's just been getting to know the plays and being in better shape than I was last year at this time."
What does he look for from today's scrimmage?
"I want to see all us on the same page," Gerald said. "I want to see all the guys execute the plays. Because last time Coach (Chavis) made a big deal about us we were flying to the ball, running to the ball. But we've got to focus on the little things, just executing."