HOGS launch their Rocket; Notes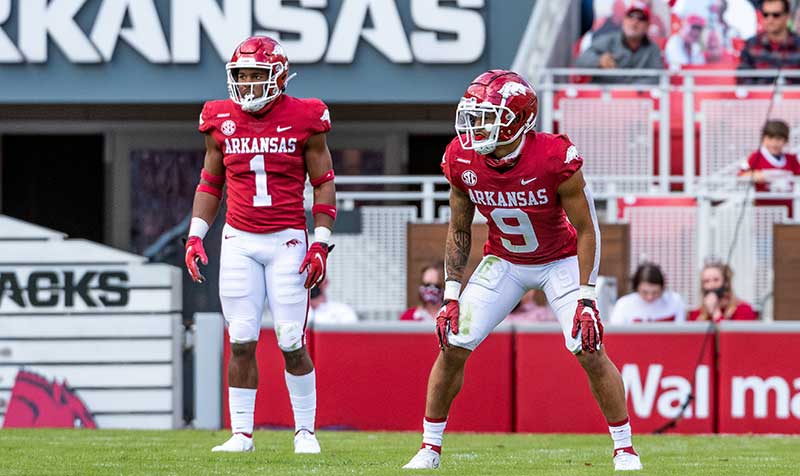 FAYETTEVILLE - To be the best requires being tested by the best.
So, Arkansas junior nickel back Greg Brooks (#9 in Craven Whitlow photo) does his best in practice to align against junior receiver Treylon Burks.
"I feel he's the best wide receiver in the country," Brooks said after Tuesday's practice. Burks is the 6-3, 225-pounder from Warren who caught 49 passes last fall for 804 yards and seven touchdowns in eight games.
"He's helping me get better," Brooks said. "We get better each and every day going against each other. Like man to man, one on ones and all that, that's the only person I really want to go with, knowing that's a good matchup where we both get better."
ROCKET'S RED GLARE
Regarding young offensive players off Saturday's scrimmage, Brooks marveled at January enrolled freshman Raheim "Rocket" Sanders, recruited out of Rockledge, Fla., as a 6-2, 210 receiver but switched to running back and already running No. 2 behind returning leading rusher Trelon Smith.
"For the young guys, I think Rocket has surprised a lot of people," Brooks said. "He's running that thing through."
KJ Jefferson, the sophomore No. 1 quarterback, also sees Rocket launched into the game plan.
"With Rocket coming in, he's just a bigger body, more explosive also and can make moves in the open field," Jefferson said. "So by bringing him in, he's a great athlete. He can do it all."
Since he was recruited as a wide receiver, Sanders presumably can handle passes thrown to a running back.
"Oh yeah, he has pretty good hands catching the ball out of the backfield," Jefferson said. "He can catch. He can run. He can block, so those are great assets for us bringing him in."
Following Saturday's first of three full-scale scrimmages that Arkansas coach Pittman has planned for spring drills, Pittman said Tuesday's practice was devoted to correcting the first scrimmage's mistakes.
D's GOOD DAY
The defense got things right in Tuesday's closed practice.
"The whole defense had a good day (Tuesday), Brooks said. "We were 7-of-8 on third down. The whole defense had a great day. Nathan Parodi (stood out). Malik (Chavis) got a pick today."
Chavis (6-2, 194) from Rison has moved from cornerback to safety and recorded an interception at his new position during Saturday's scrimmage.
"Malik looks like a big ol' goalpost standing back there with how tall he is," Brooks said. "I think it's been good for him. He's getting better each and every day."
Brooks said defensive coordinator Barry Odom has stepped up the defense's aggression.
"It's just a lot of stuff from last year that we didn't run as much," Brooks said. "Coach trusts us more man-to-man this year, so he feels like we need to come with the blitz this year. I feel like it's going to add another element to our game."
KJ IN CHARGE
Redshirting as a true freshman in 2019 but starting one game during that 2-10 overall/0-8 SEC campaign of QB roulette with five different starters, last season Jefferson backed up turned pro grad transfer Feleipe Franks.
With Franks injured and assisting him like a second QB coach, Jefferson played the entire 50-48 loss at Missouri and rushed for a touchdown and threw three TD passes among 18 of 33 for 274 yards.
"Going into that whole game week, Feleipe was with me," Jefferson said Tuesday. "On top of that, I had a good week of practice. Me and Coach Briles met a lot during that week. At the game, I just looked at my teammates and told them I was going to lead them and keep working."
Jefferson's momentum so carried over that Brooks said the defense feels it, too.
"Ever since January when we came back to workouts, he's been leading the team every day," Brooks said. "Like controlling it. You can tell it's his team. So he's going to lead us in the right direction."
TUESDAY CORRECTIONS
Jefferson said most of Tuesday's corrections were missed assignments Saturday.
"The linemen up front, just correcting on who they're pushing protection to," Jefferson said. "Knowing who the free runner is, the running back. For the skill positions, knowing what routes and seeing open windows and finding open windows. For the quarterbacks, recognizing the defense and knowing what coverage they're in and getting the ball out of our hands."
SPRING BREAK 
Taking their UA spring break, the Razorbacks don't practice again until April 1. They conclude spring drills with their 15th practice at the April 17 Red-White intrasquad game at Reynolds Razorback Stadium.