No. 13 HOGS at No. 17 Ole Miss preview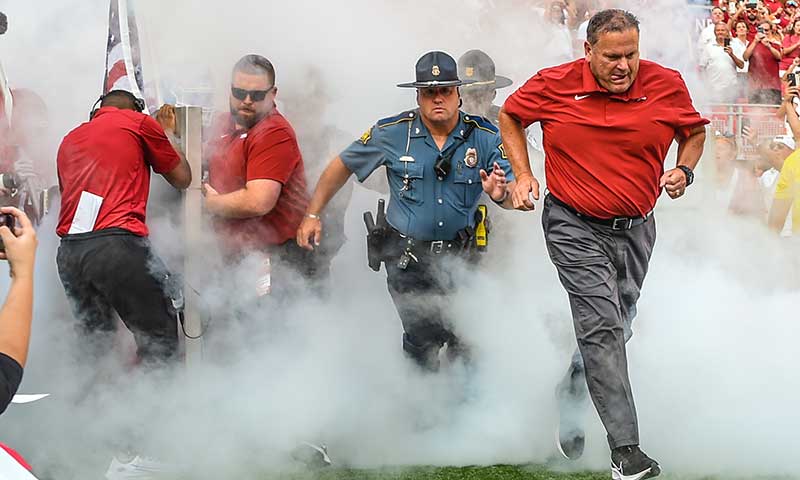 FAYETTEVILLE - Saturday's Arkansas vs. Ole Miss game could be titled the "Get Over It Bowl."
Seems the visiting Razorbacks (4-1 overall/1-1 in the SEC) and hosting Rebels (3-1, 0-1) both have much to get over going into this 11 a.m. ESPN-televised game at Vaught-Hemingway Stadium in Oxford, Miss.
No. 2 Georgia and its top-ranked defense annihilated Arkansas 37-0 last week, holding the Hogs to nine first downs, 75 rushing yards and 162 total yards.
Against No. 1 Alabama, Ole Miss trailed 35-0 before Alabama eased its foot off the fourth-quarter pedal in a 42-21.
Those defeats don't diminish what Coach Sam Pittman's Razorbacks and Coach Lane Kiffin's Rebels have accomplished thus far.
The Rebels rose to No. 12 in the country with  quarterback Matt Corral emerging as a Heisman Trophy candidate in 3-0 start over Louisville, Austin Peay, and Tulane. Corral, 21 of 29 against Alabama, remains a Heisman hopeful, even though outshone in Tuscaloosa by Alabama redshirt freshman quarterback Bryce Young.  Ole Miss remains a Top 20, falling only five places to No. 17 with Associated Press voters taking Alabama's prowess into account.
Similarly, the AP voters dropped Arkansas five places, eighth to 13th.
They appreciate the UA's unranked meteoric rise, rating the Hogs No. 20 after they trounced then-No. 15 Texas 40-21 and then-No. 7 Texas A&M 20-10.
So if each shakes off getting overmatched last week, which Pittman and Kiffin claim their teams have done, two confident teams should clash. Las Vegas oddsmakers have favored Ole Miss by 5.5 points.
That shouldn't daunt Arkansas. In his year and a half at the Hogs helm, Pittman points out Arkansas hasn't been favored in a SEC game, yet.
The Hogs are 4-8 in the SEC under Pittman and other than blowout losses last year to Alabama and Georgia this year, have stayed competitive in every SEC game.
Arkansas upset Ole Miss 33-21 last year in Fayetteville, while corralling Corral six passes for  interceptions. Kiffin was so impressed with Arkansas' defensive scheme that he adopted it this season.
Corral, determined rather than shaken by his flop in Fayetteville, has succeeded ever since. He hasn't thrown a pick this year in 125 attempts. Corral's completed 87 passes for 1,210 yards and 10 touchdowns, and he has rushed for six.
Pittman said the Hogs must add "new wrinkles" to their defensive package because Corral surely will be prepared to attack what he didn't master against last year at Arkansas.
Corral's mobility complements an Ole Miss running attack that features 'backs Jerrion Ealy and Henry Parrish, who average 5.1 and 6.2 yards per carry.
Ole Miss receivers Dontario Drummond, Jonathan Mingo and Braylon Sanders have caught a combined 49 passes for 840 yards and nine TDs. Mingo is questionable because of injuries. Drummond is a threat by himself.
"I really like Drummond," Pittman said. "He's a whole world of talent."
Sanders and Mingo aren't far behind.
"They remind a little bit of the guys we have," Pittman said of Arkansas' receiving corps headed by Treylon Burks (22 receptions for 383 yards and two Tis). "They can go catch contested balls, run really good routes."
Ole Miss' defense, a leaky sieve last season, added transfers and leading tacklers Otis Reese, a safety via Georgia, and linebacker Chance Campbell via Maryland. Defensive end Sam Williams has proven a quarterback's nightmare with five sacks in three games.
An improved Ole Miss defense ranks No. 67 nationally this fall in total defense (368 yards per game) and No. 86 in scoring defense (27.5 ppg allowed).
On Arkansas' behalf, its defense was nearly spectacular in its first four games. Arkansas ranks No. 32 nationally in scoring defense, giving up 19 point per game. It ranks No. 9 (second in SEC) in total defense, allowing 280 yards per game. The Hogs have forced just six turnovers this fall, the same number of picks Corrall threw last year in Fayetteville.  
The Razorback offensive line has proven proficient in run-blocking (No. 17 rushing offense in FBS) and pass-protecting (No. 34 in FBS with 1.6 sacks allowed per game).
Arkansas sophomore QB Jefferson hails from Sardis, Miss., near Oxford. Kiffin said Jefferson presents 245 pounds of power running and strong-armed quarterbacking. 
Correcting punt blocks (Georgia blocked one and recovered it for a TD) and reducing penalties (13 at UGA) load Pittman's agenda.
Penalties, the Rebels have committed 42 in four games, concern Kiffin, too.