Q&A w/two legendary Mikes: Vaughn and Malham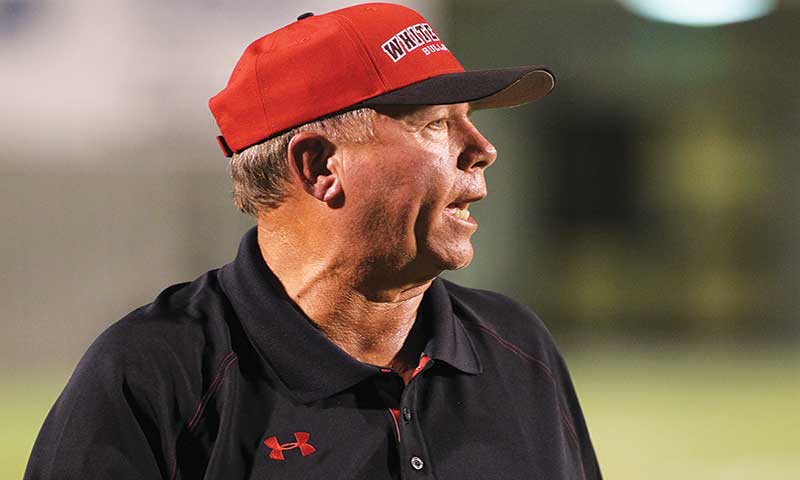 EDITOR'S NOTE: Feature first appeared in 2017 Hooten's Arkansas Football book.
By JON MARK BEILUE
They began their coaching careers when gas was 50 cents a gallon, and men's fashion included the regrettable bell bottom pants and leisure suits. It was before ESPN, 25 years before email, and if a phone call needed to be made while on the road, better find a pay phone.
In the decade of the 1970s, football game film was on 16 mm, 200 pounds was the benchmark of a hefty lineman, and teams ran the triple option and passed five times a game. Oh, and the Razorbacks of that decade were 79-31-4 while playing in a conference where they were the only team not from Texas.
It was in that decade that a pair of Mikes — Mike Vaughn and Mike Malham — started their high school coaching careers. Mike Vaughn (in photo above) began at White Hall in 1971, and Mike Malham was an assistant at Jacksonville in 1978.
Malham coached Cabot for 38 years and topped 300 career victories. Vaughn surpassed 100 wins in 16 years at White Hall.
After 1,000 Friday nights, more than 5,000 practices and 117,000 plays, both Malham and Vaughn have retired and will not return this fall as head coaches. Hooten's Arkansas Football interviewed both in 2017. Here is that Q&A:

HOOTEN'S: When/how did you know you wanted to coach?
MALHAM:  "My dad (Mike Malham, Sr.)  coached for 40 years, so I just grew up around it. But I did have a math degree and started working for Southwestern Bell after I spent a year-and-a-half with the Chicago Bears. I wanted to give pro ball one more shot and signed with Baltimore in 1978. When I got cut from Baltimore, school had just started. My dad said Jacksonville is a coach short, and they need a math teacher. Bill Reed was the head coach. We met the next day and he hired me the day after that."
VAUGHN: "It's kinda weird, but I knew about the seventh or eighth grade that's what I wanted to do. I never wavered and never thought about doing anything else. I lived on a farm so it was either farm or do something else. I wanted to coach."
HOOTEN'S: Why have you continued to coach for so long?
MALHAM:  "It's fun. It's competitive. Every Friday night, you get to find out if you did a good job in practice that week. The falls go pretty fast, and the springs go pretty slow. I've taught a geometry class for 33 years, and in that too, it's refreshing to see kids work hard and do well.
VAUGHN: "I've told all my friends the day I don't like it any more is the day I quit. I still love dealing with kids. Sometimes they can be a pain in the tail, but overall, I love what I'm doing. Why do something else when this is what you enjoy? There will come a time when I say I've had enough — and it may be closer than I think — but when the season is over, it doesn't take me long to get fired up. If we have a bad year, I'm down in the mouth for a month or two, but then I'm ready to go again."
HOOTEN'S:  What's the best advice you've received?
MALHAM:  "My dad always said that anyone can work hard, and that if hard work can get the job done, we'll get the job done. It's doesn't necessarily take any special talent to  work hard, grind and put in the hours. It pays off."
VAUGHN: "I've got so much from a lot of people, but one is to not carry the wins and the losses with you very long. Whenever you are able to, turn it loose. The only hobby I have is golf, and when the season is over, I turn my attention to that and let it go for awhile. If you dwell on results of a game too long, you can burn out."
HOOTEN'S: What has experience taught you?
MALHAM:  "Things come easier the older you get. Maybe not physically because I can't run the scout team any more. But you learn from experience. You find solutions quicker. You've been there before and you know what to expect. You can solve problems quicker and make adjustments because you've seen so much before."
VAUGHN: "Be patient. Patience comes with age. Sometimes the quickest decision is not the best one."
HOOTEN'S: What's your best memory?
MALHAM:  "I've been fortunate to have two teams win state, but the first one (in 1983) is always special. Those seniors were the first group we had for three years. We had been a class up for a two-year cycle and competed well, and then we dropped down with a bunch of them back. The second one (in 2000), my son (Matt) started and was a senior. That's something we have together. Anytime you can win it all with your son, personally, that's pretty neat."
VAUGHN: "Ever time I think of one, another happens. Coaching one of my sons (Scooter) is a highlight. The other son (Nick) got hurt in junior high and didn't get that chance. Hopefully, I haven't reached my biggest highlight yet."
HOOTEN'S: What was your lowest point?
MALHAM:  "In 1993, we may have had our best team. We were 12-0, and Pine Bluff was 12-0 and in the middle of their run. We played at their place and they beat us, 28-20. Pine Bluff beat Conway the next week 42-6 for the state championship, so we were the two best teams. Those kids were so tough. We had seven go both ways. I don't think Pine Bluff had any. We were down 28-7 at halftime. But our kids had a lot of resolve and made a game of it in the second half. I'm just as proud of that team had they won it all."
VAUGHN: "Scooter's senior year, we had a chance to beat Rison in the quarterfinals, and we let that one get away from us. They were really good and won the championship (30-29 in OT over Shiloh Christian). At the time, I thought I might get out of the coaching profession I felt so bad. But, like all of them, you move on. But that one took a little longer."
HOOTEN'S: Offenses have evolved so much, how different is the game offensively?
MALHAM:  "When I started, everyone ran three- and two-back offenses. The theory was if you run the ball and play solid defense, you had a chance to win. Now, of course, so much has transitioned to one-back and no backs and the ball in the air a lot more. Used to, you could hide a kid in the secondary because everyone ran the ball, but you can't hide one now. The secondary is the most critical part of your defense. You can teach a lineman good fundamentals, but in open space one-on-one, the best athlete has the advantage.That's why you see more scoring and a more wide-open game."
VAUGHN: "It's the same sport, but not even the same game. If I could point to one reason, it's the offensive linemen being able to hold now. When you allow the offensive linemen to hold, it improves the  passing game immensely. It's almost impossible to play defense. If you play a Spread team with a good quarterback and you hold them under three touchdowns, you've done a good job. Defense doesn't have much of a chance. We went to the Spread in 2011."
HOOTEN'S: Compare weight training and summer workouts to when you first began coaching.
MALHAM:  "We've always worked hard on weights, but when I first started it was Universal and Challenger machines. Now, it's free weights. Used to be, workouts weren't mandatory in the summer. Now we ask them for at least four hours a week —  two hours two times a week. We have a 5:30 a.m. workout, a 7:30, and for those who like to sleep in, one at 8 a.m. We will have four to five teams of 7-on-7 and do that five times in the month of July. We still run the variation of the T as our primary offense, but we do (7-on-7) as much for our defense and let them run against that."
VAUGHN: "We used to struggle to find weights to lift. The bars were awful, rusted. Now equipment is so much better. Nutrition is better. We know so much more about what makes you bigger and stronger. Lifts are more scientific. That's changed more than anything. We give them the month of June off. They can use that month for vacations, other things,  let them be kids, and then come back hungry and ready to go in July."
HOOTEN'S: Is it different coaching today's athletes, and how different is parental involvement?
MALHAM:  "Too many parents want to be their kid's friend. It's their job to discipline them and make them do right. You can be their friend when they are out of school and doing well. Our kids are pretty good although we have a few problems. Some of the kids want more discipline and need more discipline. If we teach them one thing, it's to work hard and be a good teammate. You'll have a better chance in life."
VAUGHN: "Thirty years ago, kids were probably better conditioned. They did more stuff that required conditioning, whether that be working or whatever. Today, it's hard to get them off the couch in free time. And a lot of kids today come from different homes. They used to come from more stable homes. Parents, depends on where you are. I've had parents get mad a few times. It's not playing time necessarily, but playing the spot they want to play. I've had parents get mad and their kid made all-state but not at the spot they wanted to play. But there's not been too much of that. I've been fortunate, real fortunate.
HOOTEN'S: What advice would you give a young coach?
MALHAM:  "I'm glad I'm at the end of the tunnel and not the beginning because so much has changed. But they grew up in this world. I do know that if you want to win, you got to put in the time. Most coaches know the X's and O's, but it takes time. A lot of time and in-season sacrifice."
VAUGHN: "More than anything, be dedicated to what you do and work hard at it. Don't sit around and wait to be told. Do it on your own. Be persistent. Young guys sometimes have to learn on their own."
HOOTEN'S: If you had not coached, what would you have done for a career?
MALHAM:  "That's a tough question. I tried the phone company for little bit, but didn't enjoy it. If you want to work , you ought to do something you know something about. I taught geometry for 33 years. Maybe straight teaching. When I was in college, I dug a pretty square ditch. I was pretty good with a back hoe. Maybe a ditch digger."
VAUGHN: "I have no earthly idea honestly. That sounds stupid, but I have no inkling as to what else I would do. In my 30's, I thought I might be good enough to be on the senior golf tour in my 50's, and you've seen how that's worked out."