RECRUITING: Shiloh relies on Wisdom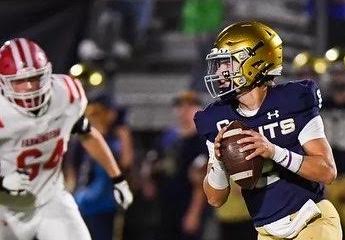 Few programs in the state can compare to Shiloh Christian's success over the past 25 years. The Saints have won 8 state titles since 1998 (third-most during that span behind Greenwood and Pulaski Academy).
A move into Class 5A this fall hasn't slowed Shiloh's success. The Saints (7-1, 5-0) face Prairie Grove (7-1, 5-0) this week for the 5A West championship. Both Shiloh Christian and Prairie Grove spent most of the past 2 decades in the 1-4A.
"We know each other well, played a lot of games with them since youth football," Shiloh Christian Coach Jeff Conaway says. "Same players and mostly the same coaches during that time. They have a lot of speed, more than we've seen this year."
Shiloh Christian's hopes for adding a state title this season hinge on the arm and feet of senior dual-threat QB Eli Wisdom (6-0, 175; pictured above).
Wisdom, a three-year starter who earned all-state honors the past two seasons, became the second Arkansas high school player to pass for more than 7,000 yards and rush for more than 3,000 yards in a career last week.
Wisdom joined former Nashville QB A.J. Whitmore in that two-man club with a monster effort in last week's 51-30 win over Farmington. The game was tied 30-30 in the fourth quarter. when Wisdom directed three late scoring drives to move the Saints within a game of winning the 5A West.

In 39 career games, Wisdom has completed 62.2 percent of his passes for 7,206 yards and 79 touchdowns with 24 interceptions. He has 368 carries for 3,180 yards (8.6 yards per carry) and 52 TDs. "You have to play a lot of games to put up those numbers," Conaway says.
Wisdom has completed 129 of 184 passes (66.5 percent) this fall for 2,090 yards and 20 TDs. He shredded Victory Christian (Okla.) in Week 2 by passing for 458 yards and 5 TDs and averaging 4.6 yards per carry.
"He's had a fantastic season, on and off the field, as a consistent leader," Conaway says. "It's the best job he's ever done of leading everyone on the team. He's matured so much in three years and taken a stronger approach and ownership of the program."
Central Florida and Tulane have extended scholarship offers to Wisdom, but more offers should flow in as the season closes. "The way he's playing, I think it would be absolutely crazy if he didn't get more Division I offers," Conaway says.
Senior receiver Bodie Neal (6-2, 185) has developed into Wisdom's go-to target this fall. Neal has 60 receptions for 1,100 yards and 12 TDs, and in limited action on defense has 19 tackles, 2 interceptions and 1 fumble recovery. He snagged 12 passes for 234 yards and 3 TDs against Victory Christian and last week had 10 catches for 177 yards and a TD against Farmington. Neal has generated at least 176 yards receiving each of the past 3 games.
Neal and Wisdom visited the University of Central Arkansas in early October. Ouachita Baptist has shown interest in Neal. "I could see him walking on somewhere if he doesn't get a scholarship," Conaway says.
Senior Cooper Daar (6-4, 250), a driving force on Shiloh's defense the past two years and a key offensive lineman this fall, owns an offer from Ouachita Baptist. Daar has recorded 214 tackles, 8 sacks and 4 forced fumbles in 38 career games. He's racked up 47 stops this fall, but Conaway expects his stats to soar as he stays on the field more (most Shiloh Christian starters haven't played in the second half of 4 games this fall). Daar registered 11 tackles against Farmington and could be set for a huge game this week against Prairie Grove's Wing T scheme. Daar made 8 tackles last year when the Saints beat Prairie Grove 42-14 for the 1-4A conference championship.
Junior running back Bo Williams (5-9, 190) has 106 carries this fall for 689 yards and 16 TDs, and he's snagged 27 passes for 320 yards and 3 TDs. He ran 27 times for 98 yards and 3 TDs to spark Shiloh Christian to a 35-28 win over Lincoln (Okla.) Christian in Week 3 (currently the only loss for Lincoln, the No. 1 ranked Class 3A team in Oklahoma). Williams carried 18 times for 186 yards and 2 TDs against Farmington.
"He has the desire and will get the opportunity to play in college," Conaway says.
There is no QB controversy at Shiloh Christian, but the Saints have one of the state's top sophomores with Garrett Odom (6-0, 165), who has 8 offers, including Arkansas, Purdue, SMU and Texas A&M. Odom, son of University of Arkansas defensive coordinator Barry Odom, has completed 15 of 23 passes this fall for 224 yards and 2 TDs.
Shiloh Christian could have more players emerge as college prospects, but for now Conaway's Saints are focused on trying to capture state title No. 9. "It's coach speak, but we are taking it one game at a time," Conaway says. "We hope to have a lot of football left."