UCA signs 20 high school players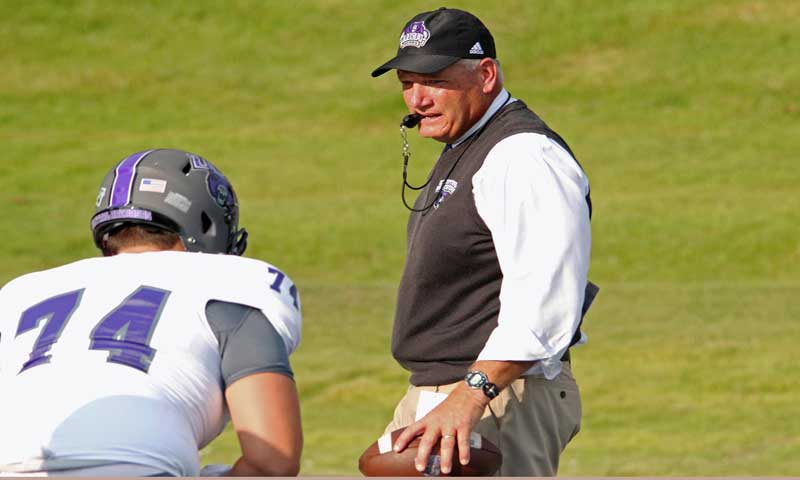 CONWAY - The University of Central Arkansas added 25 new Bears to the program on Wednesday, the first day of the national signing period.
UCA head coach Steve Campbell and his staff added four junior college transfers and one NCAA Division I transfer, along with 20 high school players to the fold. The breakdown by state includes: eight student-athletes from Arkansas, five each from Mississippi, Florida and Texas, and one each from Missouri and Louisiana.
By position, the largest group is defensive lineman with six, followed by defensive back (four), wide receiver (three), offensive line (two), quarterback (two), long snapper (two) and linebacker (two), with one each at tight end, running back, placekicker and athlete.
UCA is coming off a 10-3 season that saw the Bears reach the second round of the FCS Playoffs. The Bears' only losses were to three FCS playoff teams (Samford, Sam Houston State, Eastern Washington). UCA opens the 2017 season on Sept. 2 at Kansas State in Manhattan, Kan.

2017 UCA FOOTBALL SIGNEES
A'Javius Brown - DT - 6-2, 315 - Forest Hill (Miss.) HS
• In senior season had 57 solo tackles, 5 sacks, and 13 tackles for loss.
• 2nd Team All-State 6A (2016)
• 1st Team All-Region Class 6A (2016)
• Selected to Mississippi North/South All-Star Game
• 2 Time Max Preps Defensive Player of the week
• Selected to Max Emfinger All-American Bowl Game
• Chose Central Arkansas over: Southeast Missouri State & Jackson State

Caden Brown - DT - 6-1, 285 - Dardanelle HS
• Had 83 tackles, 25 tackles for loss, 3 forced fumbles as a senior.
• Hootens.com Top 50 Recruits
• Selected to the AHSCA All Star game
• 4A All-State (2015 & 2016)
• 2nd Team Arkansas Next Level All-State (2016)
• 2nd Team All-USA Arkansas Football Team (2015)

Vincent Butler - RB - 5-9, 175, Brandon (Miss.) HS
• 2,130 Career rushing yards and 25 touchdown
• 1 team All-Region (2015 & 2016)
• Max Emfinger Fabulous 40 Team (2016)
• Selected to Max Emfinger All-American Bowl Game
• 2 Time Clarion-Ledger Athlete of the week
• Max Preps Offensive Player of the week (2015)
• 10.9 100 meter
• 22.1 200 meter
• 22'6 long jump

Reggio Dean - LB - 5-11, 200 - NE Jones HS (Laurel, Miss.) - Miss. Gulf Coast CC
• Had 36 tackles, 9 tackles for loss, 4.5 sacks and 2 interceptions as a sophomore.
• 2nd Team NJCAA All-American (2016)
• Region 23 Most Valuable Player (2016)
• 1st Team All-Region (2016)
• 1st Team All-MACJC (2016)
• 3 time MACJC Player of the Week
• 2nd Team All-South Division (2015)
• 5A All-State in Senior season of high school.
• 1,900 yards rushing as a senior

Hunter Eskola - QB - 6-2, 180 - Joe T. Robinson HS
• Led team to 11-2 record and the Class 4A Quarter Finals as a senior.
• Threw for 3,095 yards and 38 touchdowns as a senior. Both school records

Koby Foster - DT - 6-2, 315 - Manvel (Texas) HS
• In senior season had 39 solo tackles, 4 sacks, and 3 tackles for loss.
• 1st Team All-District 23 Class 5A (2016)
• Chose Central Arkansas over: Southeastern Louisiana, McNeese State, Northwestern State, The Citadel & Grambling State

Cameron Gergley - CB - 6-0, 180, Winter Park (Fla.) HS - Univ. of South Florida
• Rated a 2 Star by Rivals
• Selected to the 2014 Orlando Sentinel Central Florida Super 60
• All-Orlando Metro (2014)
• Selected to Central Florida Senior Bowl
• Had 9 interception as a senior in high school (tied for most in the state)
• While at USF he appeared in 5 games with 7 tackles.

Luke Hales - QB - 6-2, 225 - Greenwood HS
• Threw for 3,289 yards and rushed for 1,320 yards with 56 total touchdowns in his career.
• 6A All-State (2015 & 2016)
• Led team to state championship game in 2015 & 2016
• Hootens.com Top 50 Recruits
• Chose Central Arkansas over: Missouri State & Southeast Missouri State

Deandre Herman - DB - 5-11, 175 - Baytown, Texas - Goose Creek Memorial HS
• 1st Team All-District Quarterback (2016)
• 1st team All-District Defensive Back (2015)
• Team MVP in (2015 & 2016)
• Ran 23.1 in the 200 meter
• Chose Central Arkansas over: Southeastern Louisiana, McNeese State, Lamar, Army and Yale

Sanderson Hines - OL - 6-2, 290 - Joe T. Robinson HS
• 1st Team All- Arkansas Preps Democrat-Gazette (2015 & 2016)
• Hootens.com Top 50 Recruits
• Matt Burdick Trophy (2016)
• 4 year starter (41 games)
• Chose Central Arkansas over: Southeast Missouri State

Dre Matthews - LB - 5-11, 225 - DeFuniak Springs, Fla. - Walton HS
• 1st Team All-State 4A (2015 & 2016)
• Led team in tackles for loss, and sacks
• Chose Central Arkansas over:
• UT Chattanooga
• North Carolina Central

Justin Morris - DE - 6-3, 225 - Dallas, Texas - Parish Episcopal HS
• Rated a 2 Star by 24/7 Sports
• Rated a 2 Star by Scout.com
• Made the TAPPS All-State team as both a Defensive End and Tight End (2016)
• Led Team in sacks and tackles for loss.
• Had 39 receptions for 700 yards and 7 touchdowns as a senior.
• Chose Central Arkansas over: Hawaii, Illinois State, Missouri State and Northern Iowa

Brandon Myers - WR - 6-3, 195 - Plant City, Fla. - Durant HS
• In 2015 & 2016 he accounted for 65 receptions for 984 yards and 16 touchdowns
• 2nd Team All-Hillsborough County (2016)
• Member of the National Honor Society
• All-Hillsborough County Academic Team
• Chose Central Arkansas over: North Dakota State, Montana State, Southern Illinois, Charleston Southern, New Hampshire & Bryant

Colby Peterson - CB - 5-11, 180 - Round Rock, Texas - Cedar Ridge HS
• Rated a 2 Star by 24/7 Sports
• Rated a 2 Star by Rivals
• Rated a 2 Star by Scout.com
• 1st Team All-District 13 Class 6A (2016)
• 2015 District 13-6A defensive newcomer of the year
• His brother Ian Peterson Plays at the University of Kansas and cousin Aaron Williams plays with the Buffalo Bills
• Chose Central Arkansas over: Texas State, Stephen F. Austin, Southeastern Louisiana & Incarnate Word

Jim Philistin - DT - 6-2, 270 - Lake Worth, Fla. - Park Vista HS - Highland (Kan.) CC
• Had 46 tackles, 4.5 sacks, and 4 tackles for loss as a sophomore.
• Had 73 tackles and 5 forced fumbles as a senior in high school.
• Chose Central Arkansas over: Southeastern Louisiana & Northwestern State

Hayden Ray - PK - 5-11, 160 - Bryant HS
• 1st Team All-State Class 7A (2016)
• Broke state record for Field Goals in a season with 19 (2016)
• 1st Team All- Arkansas Preps Democrat-Gazette (2016)
• 1st Team Arkansas Next Level All-State (2016)
• Saline County Athlete of the Week (2016)

Vidal Scott - DT - 6-2, 260 - Pensacola, Fla. - West Florida Tech HS
• Had 13 sacks and 54 tackles as a senior
• 1st Team Florida 5A All-State Team (2016)
• 1st Team All District (2015 & 2016)
• Pensacola New Journal All-Area Team (2016)
• East/West Pensacola Area All-Star Game
• Chose Central Arkansas over: McNeese State, Samford, Kennesaw State & Mercer

Jack Short - TE - 6-4, 240 - Bentonville HS
• 7A All-State (2016)
• Hootens Super Team (2016)
• Hootens.com Top 50 Recruits
• 2nd  Team All-USA Arkansas Football Team (2016)
• 2nd Team Arkansas Next Level All-State (2016)
• 2016 All Arkansas Varsity Team

Will Siler - LS - 5-11, 230 - Searcy HS
• Played Tight End, Fullback, and Linebacker aside from his Long Snapping duties at Searcy HS.
• Had 7 receptions for 82 yds as a senior

Caleb Stokes - ATH - 6-3, 230 - Russellville HS
• In 2015 & 2016 he accounted for 125 receptions for 1810 yards and 24 touchdowns
• 6A All-State (2015 & 2016)
• Hootens.com Top 50 Recruits
• 2nd Team Arkansas Next Level All-State (2016)
• Helped lead team to 6A State Championship in 2016

Michael Ware - DB - 5-11, 180 - Vicksburg, Miss. - Warren Central HS - Southwest Miss. CC
• Led team in tackles with 82, had three tackles for loss, 14 pass breakups and a forced fumble as a sophomore.
• 1st Team All-MACJC (2016)
• 1st Team All-Region 23 (2016)
• Had 51 tackles, 2 forced fumbles as a freshman
• All-District as a Jr & Sr in high school
• Selected to Mississippi North/South All-Star Game
• 2 Time Max Preps Defensive Player of the Week (2014)

Cameron Webb - OL - 6-4, 280 - Monroe, La. - Ouachita Parish HS
• 1st Team All-District Class 5A District 2 (2015 & 2016)
• 2nd Team All- Northeast Louisiana (2016)
• 1st Team All- Ouachita Parish (2015 & 2016)
• Selected to 2016 I-20 All-Star Game
• Ouachita Parish Scholar Athlete
• Team Captain (2015 & 2016)

Lester Wells - WR - 5-11, 180 - Natchez, Miss. - Adams County Christian - Miss. Gulf Coast CC
• In 2015 & 2016 he accounted for 82 receptions for 1,152 yards
• 2nd  Team All-MACJC (2016)
• 2nd Team All-South Division (2015)
• Had 62 receptions for more than 1,000 yards and 23 touchdowns as a senior in high school
• Selected to MAIS All-Star Game

Reid Williams - LS - 6-0, 220 - Saint Charles (Mo.) West HS
• 1st Team All-Gateway Conference North Division (2016) as on Offensive Lineman
• Aside from his Long snapping duties he also played OL/TE
• Max Preps top 100 players in Missouri

Lujuan Winningham - WR - 6-4, 185 - Humble, Texas - Atascocita HS
• Had 57 receptions for 923 yards and 13 touchdowns as a senior
• 1st Team All-District 16 Class 6A (2016)
• Finalist for VYPE High School Sports Top Houston Area Wide Receiver (2016)
• Led Team to State Semi-Finals (2016)