D2 teams sign in-state talent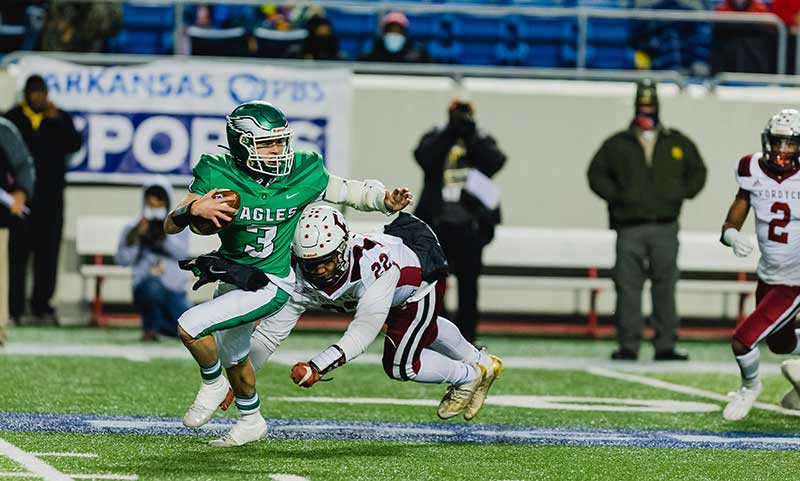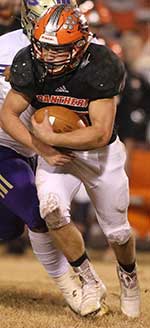 Division II football took the hardest hit from Covid-19, canceling its 2020 season due to the cost of testing and restrictions. The NCAA granted returning players an extra year of eligibility, which will limit the signing classes the next three seasons, too. Still, a wealth of in-state talent signed Wednesday with local D2s.
OUACHITA BAPTIST has won 27 straight conference games and eyes its fourth straight Great American Conference title this fall. The Tigers signed a deep class, loaded with in-state players and featuring several who played for state championships. Arkadelphia quarterback Braeden "Buster" Thomas, a finalist for the Farm Bureau Insurance Awards Class 4A Offensive Player of the Year, signed with OBU after passing for 2,119 yards and 24 touchdowns in 10 games last fall. The dual-threat QB also ran for 442 yards and five TDs. Thomas helped the Badgers capture consecutive state titles in 2017-2018, filling in multiple spots as a freshman and starting at safety as a sophomore. Drew Dudley helped Shiloh Christian play in back-to-back state title games as the second-leading receiver on the Saints' 2020 title team. Dudley grabbed 26 passes for 452 yards and three TDs. Linebacker/safety Josiah Johnson recorded 161 tackles last season, helping Pulaski Academy notch consecutive state championships. Prescott's Jacobi Nolen, a finalist for the Farm Bureau Insurance Awards Class 3A Defensive Player of the Year, signed with OBU as a linebacker. Nolen recorded 87 tackles last fall, 7.5 sacks and two fumble recoveries. At QB, Nolen passed for 1,969 yards and 29 TDs with only three interceptions. He ran for six TDs. Landon Stone (in Justin Manning photo right) amassed more than 5,000 career rushing yards at Magnet Cove.
Just across Highway 7 from Ouachita, HENDERSON STATE focused on in-state players. The Reddies signed Fordyce end/linebacker Gary Lewis, who amassed 64 tackles this fall when Fordyce repeated as Class 2A champs. Foreman offensive lineman Kaleb "Bubba" Kegley was a cog on the Gators' 2017 state title team as a freshman. Foreman notched 7-2A titles in 2018 and 2019. The Reddies signed North Little Rock running back Frederick O'Donald and linebacker Jordan Owens, who played in three straight state title games. O'Donald ran for a pair of TDs in last year's state title game, while Owens collected 115 tackles last season. Bentonville won three straight league titles with a trio of players who signed with Henderson State, including linebacker Keegan Stinespring (81 tackles, two blocked punts). Running back Keyshawn Stewart led Nashville to a conference title last season. Stewart sprinted for 3,142 yards and 47 TDs in three seasons.
ARKANSAS TECH coach Kyle Shipp landed a pair of Gurdon Go-Devils, running back Jameson Threadgill and linebacker Armando Harper. Gurdon won conference titles two of the past three seasons and this fall lost to Fordyce 27-24 in the Class 2A semifinals. Threadgill, a finalist for the Farm Bureau Awards Class 2A Offensive Player of the Year, owned Division I offers from Army and Navy. He rushed for 1,483 yards and 24 TDs last fall, averaged almost 30 yards per catch and a jaw-dropping 44 yards per kickoff return. Threadgill played his best in big games, running for 225 yards and two TDs against rival Prescott, 209 yards and three TDs in the 5-2A title game win over Poyen and for 179 yards and a TD in the semifinals. Harper paced the Go-Devil defense with 79 tackles and forced two fumbles. He also scored six TDs while lining up at H-back/fullback. Ozark two-way lineman Lawsyn Jackson and linebacker Keystan Durning helped the Hillbillies advance to the 2019 semifinals and 2020 quarterfinals. Durning, a finalist for the Farm Bureau Awards Class 4A Defensive Player of the Year, collected 122 tackles and intercepted three passes.
HARDING signed a pair of players who helped Harding Academy win consecutive state titles: lineman Adam Fager and receiver Ty Dugger (80 catches, 1,279 yards and 15 TDs). Harrison athlete Cole Keylon keyed the Goblins to 35 wins and three straight 5A West titles. Keylon took over at QB this fall, passing for 2,723 yards and 31 TDs, while running for 1,086 yards and 15 TDs.
ARKANSAS-MONTICELLO
 signed Sheridan running back 
Peyton Edwards (#26 in Ted McClenning photo),
 who totaled more than 1,000 yards each of the past two seasons. He tied a state record in 2019 by blocking six kicks. The Boll Weevils signed Prescott's Alex George, who ran for more than 1,500 yards and 29 TDs the past two seasons.
Fordyce QB Jaheim Brown headlines the first SOUTHERN ARKANSAS recruiting class under new coach Mike McCarty (hired in November). Brown triggered the Redbugs to consecutive state titles, and "no doubt about it, he was our leader," Coach Tim Rodgers says. Brown passed for 1,902 yards and 26 TDs this fall, ran for 354 yards and seven TDs and recorded 51 tackles, six sacks and two interceptions at linebacker. Luke Morton from Des Arc, who quarterbacked against Brown in the 2A state title game, also signed with SAU. Morton (#3 in top photo by Tommy Land) played in the semifinals and championship game after dislocating his elbow. Morton projects to play in the secondary for the Muleriders.
National Signing Day (list subject to change)
ARKANSAS TECH
Darrius Allison DB Morrilton
Caden Carothers DL Pottsville
Charles Davis WR Jessieville
Breckin Duck TE Harrison
Keystan Durning LB Ozark
Levern Floyd III DT Conway
Armando Harper LB Gurdon
Peyton Henderson OL Har-Ber
Seth Howard TE Beebe
Lawsyn Jackson DT Ozark
Brady James RB Lamar
Jayden Jasna DB Greenwood
Houston Motes TE Maumelle
C.J. Palmer WR Pocahontas
Jaylen Shephard TE West Memphis
Andre Sparks LB Springdale
Jameson Threadgill RB Gurdon
Reggie Toney WR Morrilton
Hunter Wilkerson RB Greenwood
HARDING
Darius Brown DB Salem
Landen Chaffey LB FS Southside
Ty Dugger ATH Harding Academy
Mike Ericson OL Pea Ridge
Adam Fager OL Harding Academy
Cole Keylon QB Harrison
Justin Livingston DL Nettleton

HENDERSON STATE
Jaden Bates CB Camden Fairview
Va'Sean Bishop LB FS Northside
Elijah Bradley S Pottsville
Payton Byrd S Warren
Fred Carthon DL Barton
Adrian Conway LB Hot Springs
Kolbi Crawford CB Bentonville
Andrew Edwards QB Bentonville
Kaimani Gray WR Hot Springs
Kaleb Kegley OL Foreman
Gary Lewis LB Fordyce
Dramer Lilly OL Sylvan Hills
Hunter Lowery DL Mills
Fredrick O'Donald RB North LR
Jordan Owens LB North LR
Keyshawn Stewart RB Nashville
Keegan Stinespring LB Bentonville
Andrew Weatherford OL Glen Rose
Jeffery Williams WR Prescott
OUACHITA
Nathan Adams OL Jonesboro Westside
Bruin Barnes S Hamburg
Jaxson Carter LB Poyen
Dalton Curtis WR Charleston
Canaan Davis OL LR Central
Drew Dudley WR Shiloh Christian
Cauy House LB Mena
Josiah Johnson LB Pulaski Academy
Eli Livingston QB Batesville
Jacobi Nolen LB Prescott
Malique Reliford WR Malvern
Landon Stone RB Magnet Cove
Buster Thomas WR Arkadelphia
Conner Whipple OL LR Christian
Gaylon Williams OL Texarkana
Jacolby Williams DB Ashdown
SAU
Jack Arnette OL Prescott
Jaheim Brown QB Fordyce
Dashaire Ford-Burton WR Maumelle
Michael Jones DL Magnolia
Vincent Jones DL Ashdown
C.J. Mock LS C. Harmony Grove
Luke Morton QB Des Arc
Easton Welch WR Hampton
Layne Warrick WR Lake Hamilton
Billy Tillery LB Har-Ber
Austin Goodwin DB Smackover
Micheal Jones DL Ashdown
UAM
Collier Bush OL Stuttgart
Peyton Edwards RB Sheridan
Alex George RB Prescott
Nathan Juhl OL Maumelle
Cameron Raggio DL Magazine
Asa Westerman ATH Fountain Lake