UCA signs 23 total, 8 from Arkansas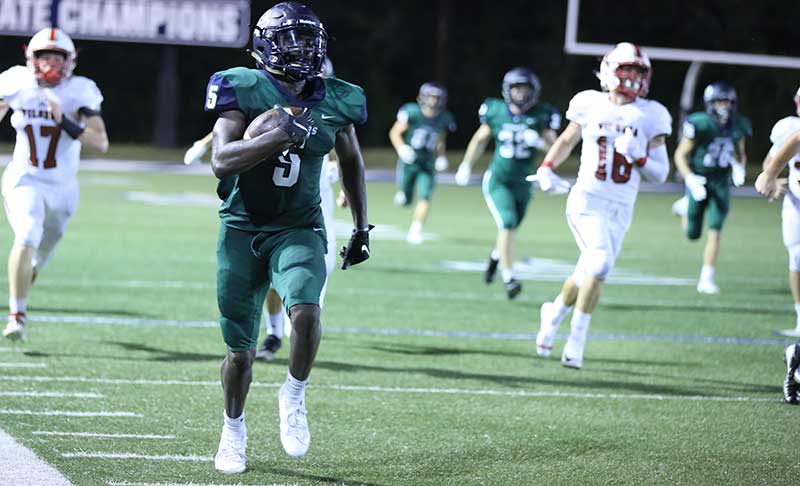 CONWAY - The University of Central Arkansas added 23 new football Bears to the program Wednesday, the first day of the NCAA national signing period.
UCA head coach Nathan Brown and his staff added eight mid-year transfers, along with 15 high school players. The breakdown by state includes: eight student-athletes from Arkansas, five from Texas and Mississippi, two from Florida, and one each from Alabama, Tennessee and Colorado.
By position, the largest group represented is offensive linemen with five student-athletes, followed by defensive back (4), defensive line (3), running back, wide receiver and linebacker (2) and one each at quarterback, punter, tight end, long snapper and athlete.
UCA, which shared the 2019 Southland Conference championship and advanced to the FCS Playoffs for the third time in the past four years, opens the 2020 season on Saturday, Aug. 29 against Austin Peay in the Guardian Credit Union FCS Kickoff in Montgomery, Ala.
2020 Mid-Year Enrollees
Christian Cain
Safety, 6-2, 200
Northwest (MS) Community College (Grenada, MS)
• MJCAA All-state selection
• Rivals 2-star Prospect
• 3 Time Northwest Defensive Player of the week
• Soph season: 67 Tackles 4 INT
Other offers: Idaho, Austin Peay, UT Martin, Jacksonville State, Northwestern State, Northern Arizona
Jalen Bedell|
Defensive Tackle, 6-2, 315
Copiah Lincoln (MS) Community College (Greenwood, MS)
•  All MACJC 2nd Team
•  Topps Rated Junior College Defensive lineman
•  247 Listed Prospect
•  Trench Award 2019
•  Soph season: 38 Tackles 9 TFL 4 Sacks
Other offers: Troy, South Alabama, Louisiana Monroe, Southeast Missouri, Stephen F. Austin, Alcorn State, Lamar, Morgan State
Kamryn Cuevas
Cornerback, 5-11, 190
Kilgore (TX) College (Gilmer, TX)
•  247 & Rivals Listed Prospect
•  Texas NJCAA Defensive Back Hot 25
•  2 Time Kilgore Defensive Player of the Week
•  Soph season: 41 Tackles 3 INT
Other offers: Lamar, Western Illinois
Seren Hughes-Ford
Punter, 6-4, 200
Coffeyville (KS) Community College (Fort Collins, CO)
•  1st Team All Jayhawk League Punter
•  Kohl's Rated Punter
•  Redshirted at the University of Colorado
•  Freshman season stats: 41.6 yard average punt, 80% touchbacks on kickoffs 
Justin Keijers
Long Snapper, 6-1, 210
Coffeyville (KS) Community College (Valrico, FL)
•  All Jayhawk league Snapper
•  5 star rated long snapper
Other Offers: Southern University, Rhode Island
Derrick "Deuce" Wise
Running back, 5-10, 190
Fort Smith Northside High School (Fort Smith, AR)
•  247 3 Star Prospect
•  Rivals 3 Star Prospect
•  Hooten's Ark Football Magazine AR 12th rated prospect|
•  170th rated athlete by 24
•  12th rated prospect in AR by 247
•  7A West Back of the Year 2019
•  Landers Award Finalist 2019
•  High School stats: 6,200 career total yards 56 Career TD
Other offers: Missouri State, Arkansas Pine Bluff
William Mayo
Offensive Line, 6-5, 325
Sylvan Hills High School (Sherwood, AR)
•  247 & Rivals Listed Prospect
•   Hooten's Ark Football Magazine Top 20 Prospect
•  5A AAA All State 2018 & 2019
•  AAA All Star Selection
Other offers: UT Martin, Southeast Missouri, Eastern Illinois 
Derek Haupt
Offensive Line, 6-4, 300
Dr. Phillips High School (Orlando, FL)
•  247 & Rivals Listed Prospect
•  Orlando Sun All District 2019
•  8A District 5 1st Team Selection 2019
•  Orlando Listed Top OL
Other offers: Bethune Cookman, Bryant, Sacred Heart, Campbell, Florida Tech, West Florida
2020 HIGH SCHOOL SIGNEES
Hunter Loyd
Quarterback, 6-3, 200
Rogers High School (Rogers, AR)
•  247 3 Star Prospect
•  Rivals 3 Star Prospect
•  14th Rated Player in AR by 247
•  38th Rated Dual Threat QB in the country by 247
•   Hooten's Ark Football Magazine 11th rated Prospect in AR
•  AAA 7A All State Selection 2018 & 2019
•  VYPE AR Top Rated QB in AR
•  Hero Sports Top 10 FCS QB Prospect in the country
•  2019 Stats: 3,033 Pass Yards 33 TD
•  Career Stats: 7,643 Yards 75 TD
Other Offers: Arkansas State, Louisiana Monroe, Cornell, UT Martin, Missouri State

Trysten Smith
Running back, 5-10, 215
Duncanville High School (Duncanville, TX)
•  247 3 Star Prospect
•  Rivals 3 Star Prospect
•  264th Rated Prospect in TX by 247
•  115th Rated Running back in the country by 247
•  ESPN All Texas Prep 3rd Team Running back
•  6A Region 1 District 8 Offensive Player of the Year 2019
•  6A Region 1 District 8 Back of the Year 2019
•  2019 SportsDay News Newcomer of the Year
•  Hero Sports 3rd Ranked FCS Running back recruit in the country
•  2019 Stats: 1,816 Rushing Yards 30 TD
•  Career Stats: 3,841 Rushing Yards 61 TD
Other Offers: Kansas, Liberty, UTSA, Army, Navy, Houston Baptist, Stephen F. Austin, Lamar, Grambling State
Jared Long
Wide Receiver, 6-3, 190
Heritage Academy High School (Columbus, MS)
•  247 Listed Prospect
•  MAIS 5A District 1 Player of the Year 2019
•  MAIS 5A All State 2018 & 2019
•  The Dispatch Offensive Player of the Year 2019
•  MS Gridiron Prep 50 Player List
•  Hero Sports Top 10 FCS WR Prospect
•  2019 Stats: 54 catches 1,080 yards 11 TD
"•  Career Stats: 112 catches 2,290 yards 22 TD
Other Offers: UAB, South Alabama, Louisiana Monroe, Austin Peay, Alcorn State, Jacksonville State, Jackson State, Southern University
Chris Hightower
Wide Receiver, 6-2, 195
Little Rock Christian High School (Little Rock, AR)
•  247 3 Star Prospect
•  Rivals 3 Star Prospect
•  12th Rated Prospect in AR by 247
•  10th Rated Prospect in AR by Rivals
•  134th Rated Athlete in the country by 247
•  2019 Farm Bureau Insurance Awards Player of the Year finalist
•  Arkansas Gatorade Player of the Year Finalist 201+
•  Hero Sports Top 5 FCS WR Prospect
•  2019 Offensive Stats: 56 Catches 1,074 Yards 12 TD
•  2019 Defensive Stats: 92 Tackles 2 INT
•  Career Stats: 150 Catches 2,705 Yards 33 TD
Other Offers: Kansas, Liberty, Memphis, Tulane, SMU, Louisiana Monroe, Missouri State, Tennessee Martin
Haze Denton
Tight End, 6-3, 250
Conway High School (Conway, AR)
•  7A Central All Conference 2018 & 2019
•  7A All-State Selection 2019
•  MaxPreps All Arkansas Selection 2019
•  Faulkner County Prep Selection
Other Offers: Arkansas Tech, UAM, Northeastern State, Ouachita Baptist
Jalan Henderson
Offensive Line, 6-2, 285
Everman High School (Everman, TX)
•  5A-2 Region II District 5 Team 2018 & 2019
•  Fort Worth Star Telegram All Prep 2nd team
•  Two-time Dallas Commercial Record Player of the Week
•  MaxPreps Star prospect list
Other Offers: Abilene Christian, Texas Southern, Prairie View A&M
Bakarius Collier
Offensive Line, 6-5, 295
Central High School (West Helena, AR)
•  Rivals Listed Prospect
•   Hooten's Ark Football Magazine Top 30 Prospect
•  AAA 4A All-State Selection 2018 & 2019
•  4A Region 8 Lineman of the Year 2019
•  AAA All Star Selection
Other Offers: Mississippi Valley State, Alcorn State, Henderson State, UAM 
Justin Lairy
Offensive Line, 6-4, 285
Madison Central High School (Madison, MS)
•  Rivals Listed Prospect
•  6A Region 2 All District 2019
•  6A All State Honorable Mention
•  1st Team All-Metro (Jackson)
•  Madison County Journal Dream team selection
•  MaxPreps MS 2nd Team
•  Clarion Ledger All Prep Preseason Team 2019
Other Offers: Samford, Jackson State, Alcorn State
Jamal Mull
Defensive End, 6-6, 260
Northwest High School (Clarksville, TN)
|•  247 & Rivals Listed Prospect
•  5A Region 7 All Region team 2018 & 2019
•  5A Region 7 Lineman of the Year 2019
•  5A Region 7 All-Academic Team
•  Montgomery County 1st team 2018 & 2019
•  Elite Raw Talent All American Bowl Selection
•  2019 Stats: 73 Tackles 4.5 Sacks 18 TFL 1 INT
Other Offers: Tennessee Tech, UT Martin, Eastern Illinois, Lindenwood
Jy'Kevious Hibbler
OLB/Bandit, 6-2, 225
Louisville High School (Louisville, MS)
•  4A Region 4 All District Team 2018 & 2019|
•  4A Region 4 Player of the Year 2018 & 2019
•  4A MHAA All State First Team
•  Mississippi Gridiron Top 50 Prospect
•  Clarion Ledger Top 5 Defensive Line Prospect|
•  2019 Stats: 61 Tackles 15 Sacks 25 TFL
•  Career Stats: 119 Tackles 27.5 Sacks 46.5 TFL
Other Offers: South Alabama, Louisiana Lafayette, Louisiana Tech, Jacksonville State, Samford, Austin Peay, Jackson State, Alcorn State
J'Mani Gibson
Defensive Tackle, 6-3, 325
Fort Bend Travis High School (Houston, TX)
•  ESPN 3 Star Prospect
•  247 Listed Prospect
•  Rivals 2 Star Prospect
•  136th Rated DT in the country by ESPN
•  6A Region 3 District 20 Defensive Player of the Year|
•  Region 3 District 20 1st Team Selection 2019
•  Fort Bend Daily 1st team Selection 2019}
•  KHOU Prep 150 Team
•  2019 Stats: 45 Tackles 6 Sacks 17 TFL
Other Offers: Houston, Lamar, Houston Baptist, Prairie View A&M
Kendarrius Moore
Linebacker, 6-0, 215
West Memphis High School (West Memphis, AR)
•  247 3 Star Prospect
•  Rivals 3 Star Prospect
•  ESPN 3 Star Prospect
•  9th Rated Prospect in AR by 247
•  103 Rated Outside Linebacker in the country by 247
•  96th Rated Outside Linebacker in the country by ESPN
|•   Hooten's Ark Football Magazine 8th Rated AR prospect
•  AAA 6A All State Selection 2018 & 2019
•  6A East Defensive Player of the Year 2019
•  2019 Stats: 70 Tackles 4 Sacks 10 TFL 2 INT
•  Career Stats: 189 Tackles 7 Sacks 32.5 TFL 6 INT
Other Offers: Oklahoma State, Vanderbilt, Tulane, Arkansas State, UTSA, Liberty, Louisiana Monroe, Louisiana Lafayette, Austin Peay, Missouri State
Tamuarion Wilson
Safety, 6-2, 205
Bryant High School (Bryant, AR)
•   Hooten's Ark Football Magazine Top 25 prospects
•  7A Central All Conference 2018 & 2019
•  AAA 7A All State Selection 2018 & 2019
•  VYPE AR Top Rated Safety
•  All Arkansas Team (Arkansas Democrat Gazette)
•  AAA All Star Selection
•  2019 Stats: 41 Tackles 3 Sacks 12 TFL 1 INT 9 PBU
Other Offers: Southern Illinois, UT Martin, Missouri State, Northwest Missouri, Northeastern State
Laquez Embry
Cornerback, 6-2, 180
Minor High School (Adamsville, AL)
•  Rivals Listed Prospect
•  NCSA All District Selection 2019
•  6A Region 5 All District Selection 2019
•  BBB Adamsville Dream Team Selection
•  Star Selection Defensive back 2018 & 2019
•  Minor High School Most Valuable Player 2019
•  2019 Stats: 40 Tackles 4 INT 11 PBU
Other Offers: North Alabama, Samford, Jackson State, Kennesaw State
Myles Kitt-Denton
Athlete, 6-1, 185
Dawson High School (Pearland, TX)
•  247 Listed Prospect
• Rivals 2 Star Prospect
•  District 23-6A Most Valuable Player
•  District 23-6A Team 2018 & 2019
•  6A TXHSAA All-State Honorable Mention
•  2019 Stats: 2,300 All Purpose yards 23 TD
•  All State Track selection (100 Yard time – 10.5)
Other Offers: Stephen F. Austin, Tarleton State, Texas Southern, Blinn College, Midwestern State, Mary Hardin Baylor