HOGS: Morris says new culture installed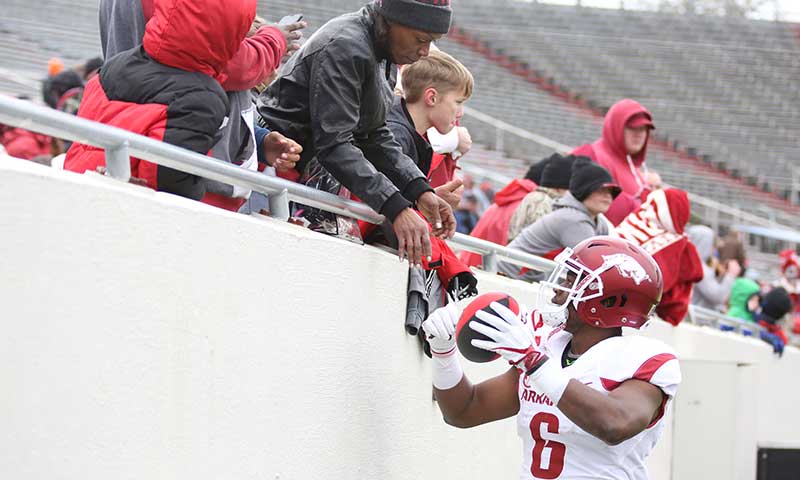 FAYETTEVILLE - Junior two-year letterman running back T.J. Hammonds (in photo above) no longer is part of the Razorbacks, Arkansas coach Chad Morris said without elaboration during his pre-spring presser.
Hammonds played in four games last season because of a knee injury.
UA offensive coordinator Joe Craddock revealed last week that Morris would have a statement Monday regarding Hammonds.
"He's just not on the team," Morris said. "That's kind of where we're at."
Running back, with top returning rusher Rakeem Boyd recovering this spring from shoulder surgery and Maleek Williams transferred, will be a depleted spot as Morris' Razorbacks commence the first of their 15 spring practice dates on Friday.
The Red-White spring game is set April 6 at Reynolds Razorback Stadium.
UA cornerback Jordon Curtis, a sophomore letterman and a running back at Jenks (Okla.) High School has been moved to running back joining senior Devwah Whaley and junior Chase Hayden as this spring's running backs returnees.
Also recovering from injuries are linebacker Hayden Henry, safety Micahh Smith, offensive linemen Kirby Adcock and Audry Horn and Bryant walk-on defensive Cameron Vail who will not have contact drills this spring, Morris said.
Cornerback Britto Tutt and defensive tackle Briston Guidry along with Boyd have long been ruled out of spring ball while recovering from medical issues they hope have healed by the start of the August preseason.
Morris suffered a 2-10 debut last season after inheriting a 4-8 team from predecessor Bret Bielema. Morris talked at length Monday of teaching a culture change last season and seeing it implemented in the winter off-season.
Morris said the culture has tangibly made its mark in the second year of winter conditioning and strength workouts set forth by strength coach Trumain Carroll who accompanied Morris from Morris' 2015-2017 tenure head coaching SMU.
"I've been pleased with the second winter conditioning under Coach Tru and our strength staff," Morris said. "It's  amazing to see the transformation from Year One going through it the first time and now where these guys are coming out of  the second winter of conditioning. So excited to see there is a noticeable difference in their bodies and their conditioning and the expectations you would expect in Year Two."
Morris said he's been pleased with the reception graduate transfer quarterback Ben Hicks, Morris' SMU starting quarterback in 2016 and 2017, has received from returning quarterbacks Connor Noland, John Stephen Jones, Daulton Hyatt and Jack Lindsey, a walk-on lettering as the holder for Connor Limpert's place-kicks.
Noland, a freshman of Greenwood, pitches in the weekend rotation for Dave Van Horn's baseball Razorbacks but will practice when he can midweek, Morris said, pegging next Tuesday's practice for a Noland football session.
While all of the nationally Top 25 recruiting class signed during the December and February signing periods won't officially practice together until August, enough junior college transfers and December high school graduates have arrived to already make an impact, Morris said.
Morris cited defensive backs, Greg Brooks and Devon Bush, and linebacker Zach Williams, all freshmen, and on offense Hicks, junior college transfer offensive linemen Myron Cunningham and Chibueze Nwanna, and freshman wide receivers Trey Knox and Shamar Nash.
Senior left offensive tackle Colton Jackson of Conway and third-year sophomore Shane Clenin have especially responded to the newcomers' challenge, Morris said, seeing a similar rise among the returning receivers because of Knox and Nash.
"Those guys have brought a lot of energy and a lot of competition to our wide receiver room," Morris said. "I have seen De'Vion Warren and Deon Stewart and Mike Woods, Jordan Jones, Koilan Jackson have to elevate their game. There's a sense of urgency in that wide receiver room, which is good to see."
The urgency is exemplified coming off a winless SEC season with 17 players on the 2018 roster departing as transfers or for medical reasons.