Arkansas springs into action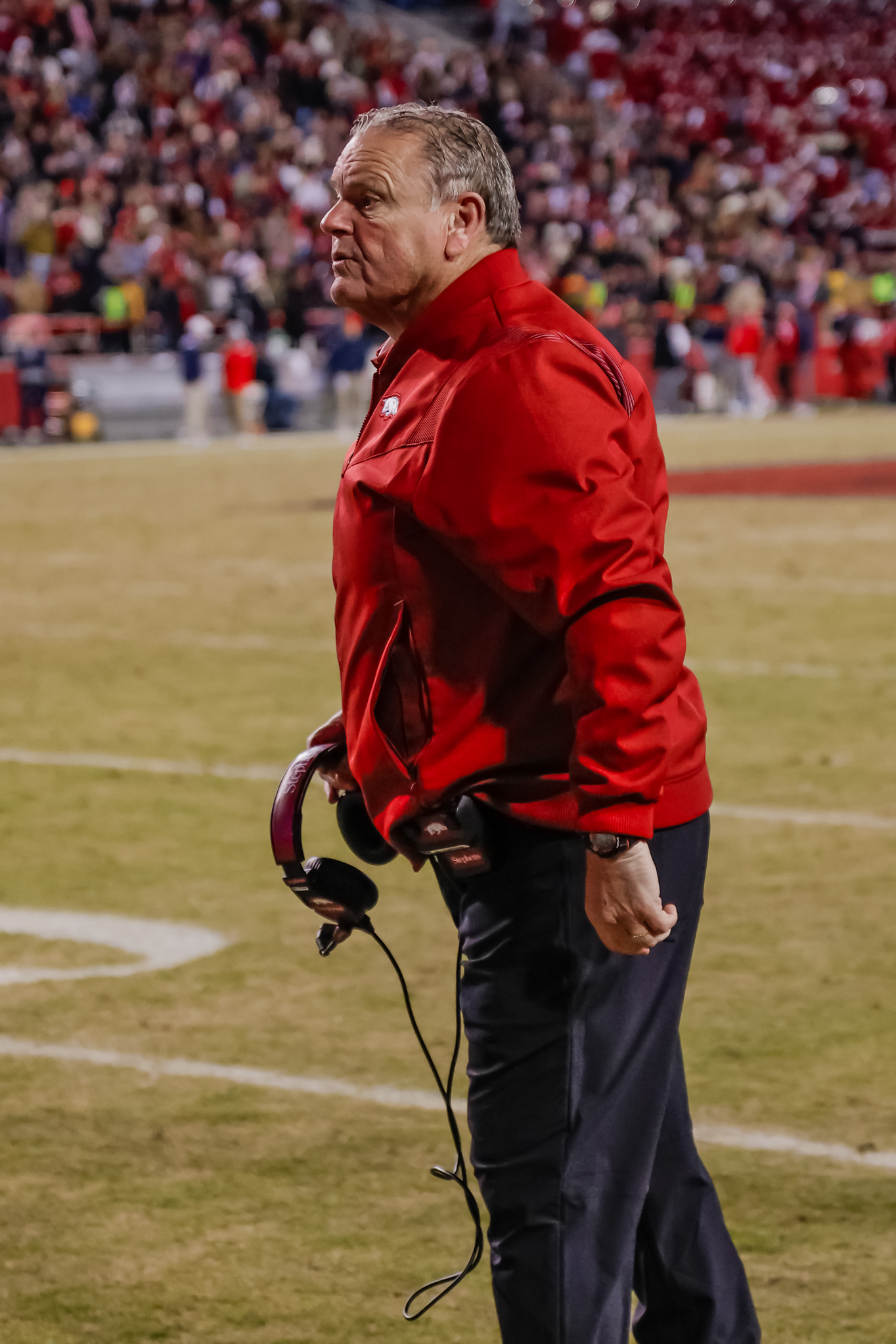 FAYETTEVILLE — March Madness has spread beyond the basketball court.
Welcome to spring football, Division I style, flush with early enrolling freshman and transfer portal signees.
Arkansas Coach Sam Pittman will be integrating 23 new players — 11 transfers and 12 members of the 2023 freshman class — along with 6 new coaches, when the Razorbacks begin the first of 15 workouts on Thursday afternoon.

"I think some guys come in and see that they're not going to be able to play," Arkansas Coach Sam Pittman said of the 25 players leaving through the transfer portal "Maybe they've been overrecruited and have gotten to a spot to where they don't want to wait or compete for 2 to 3 years to get on the field."

The newcomers have been working out under the supervision of new strength and conditioning coach Ben Sowders and his staff.

"They're buying into what we're selling," Pittman said. "They're training and doing a really good job."

Pittman said he has especially been impressed with how the freshmen have transformed into Razorbacks.

"They're never in trouble, they work hard, and they're good citizens and students," Pittman said. "I think that class, as long as we can keep them together, is going to be a very special class.

Pittman said the Razorbacks will practice five times before the UA's spring break begins March 20. The remaining 10 practices, culminating with the April 15 Spring Game, will restart when school goes back in session March 27.

PITTMAN HIGH ON NEW COACHES

The Razorbacks will have 6 new coaches to go with the 23 new players when practice begins Thursday.
Pittman replaced last year's offensive and defensive coordinators after Kendall Briles (TCU offensive coordinator) and Barry Odom (UNLV head coach) left the program with Dan Enos (offensive coordinator) Travis Williams (defensive coordinator) and Marcus Woodson (co-defensive coordinator).

Additionally, Pittman has hired Deron Wilson to coach the secondary, Morgan Turner to coach tight ends and Sowder as the new strength and conditioning coordinator.

"They're very loyal, hard workers, and great recruiters," said Pittman on the new coordinators. "I feel like we've hit a home run with our hires."

Williams, the first coordinator hire on Dec. 22, had spent the previous two seasons as the defensive coordinator and linebackers coach at the University of Central Florida while also working in a variety of positions at Auburn from 2013-2020. Pittman commented on how Williams is already at work with the defense.

"He has installed field and boundary blitzes and things of that nature," Pittman said. "We haven't gotten too extreme, but we are also running multiple fronts with movement. I think what he does will fit us very well."

Woodson, the defensive backs coach at Florida State in 2021-2022, was hired Jan. 4 at co-defensive coordinator.

Enos was hired Jan. 19 as the new offensive coordinator less than 24 hours after Briles left for TCU. 

This will be Enos' second stint at Arkansas, where he was Bret Bielema's offensive coordinator 2015-2017.

Enos spent time at Alabama and Miami before coordinating the offense at Maryland the past two seasons.

Enos and Pittman were on Bielema's 2015 coaching staff, with Enos serving as offensive coordinator and Pittman as the offensive line coach.

Pittman said he believes Enos, who worked with Tua Tagovailoa at Alabama and Brandon Allen with the Razorbacks, can help current Hogs QB KJ Jefferson develop with the 2024 NFL Draft on the horizon.

"I think KJ believes that Dan can coach him to be not only a better quarterback at Arkansas but to have a better opportunity at the National Football League by understanding pro-type checks and schemes," Pittman said. "I certainly think KJ has bought into that and I think that they have a really nice relationship."

TOUTED TRANSFER SIGNS

Pittman announced Tuesday that former Georgia cornerback Jaheim Singletary has signed with Arkansas and will be joining the Razorbacks for the 2023 season. Singletary became the 11th player to transfer to the Razorbacks this offseason.
Pittman said Singletary arrived for his official visit on Sunday and Monday before leaving Fayetteville Tuesday morning.

Singletary (6-2, 170; Jacksonville, Fla.) was a 5-star recruit as well as the fourth-ranked cornerback in the 2022 class. He signed with Georgia but made two appearances for the Bulldogs last season and did not register any stats. Singletary entered the transfer portal four days after the Bulldogs won their second consecutive national championship. According to 247sports, Singletary was the eighth highest-ranked cornerback in the portal.

"We're excited about him," Pittman said of Singletary. "He's a big-time player out of Georgia."

Singletary's signing marks back-to-back seasons that Pittman has gotten a former Georgia defensive back from the transfer portal after Latavious Brini last season.