HOGS: RBs cut loose on leaky D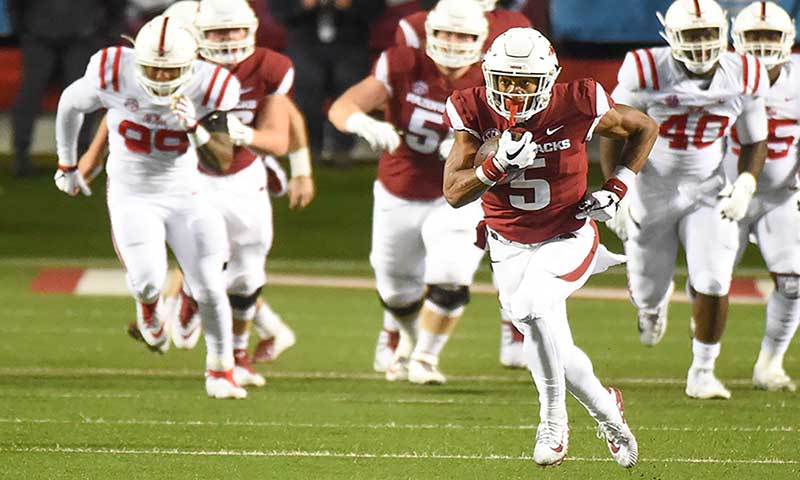 FAYETTEVILLE - Though short on running backs, Arkansas' top two active running backs measured tall during Saturday's first spring scrimmage.
In the first 10 minutes of the scrimmage, senior running back Devwah Whaley broke a big run followed by junior running back Chase Hayden's touchdown run.
Whaley and Hayden get plenty of work this spring with leading returning rusher Rakeem Boyd (in Craven Whitlow photo above) idled all spring while recovering from shoulder surgery and two-year letterman running back T.J. Hammonds no longer on the squad.
"I was really proud of those guys," Arkansas offensive coordinator Joe Craddock said post scrimmage. "And not just from running the football. I thought they did a really nice job of that. We're working a couple of new protections and doing some things different, and I remember Chase Hayden really picking up a couple of really good blitz pickups. And doing a nice job to get the ball out. So I was really proud of that. I can't brag on those guys enough."
Whaley was up front about the bragging.
"It all starts with the offensive line, the big guys up front," Whaley said. "They are doing a great job getting better every day. They are going to continue to get better, and we are going to get better as a whole."
UA defensive coordinator John "Chief" Chavis, linebacker Grant Morgan of Greenwood and defensive end Jamario Bell of Junction City said the defense settle in Saturday, but the slow start gnawed at Chavis.
"Defensively, we surely didn't start the way you want to start a ballgame," Chavis said. "I'm glad it was a scrimmage. We had a miscue on the first play and then I don't know what happened on the next play, but we gave up two long runs. Those are things we have to eliminate if we ever want to become a good defensive team."
On the positives, Chavis said he "saw some guys flying around trying to compete and that's what we want to do."
The defense recovered three fumbles from the second-team offense, the four players media available postgame said, and the defense got the belt that second-year head coach Chad Morris has started awarding after each practice to the unit deemed to practice or scrimmage the best.
"It was the first scrimmage, and as you can expect there were some mess-ups," Morgan said. "But the belt, the defense got it. We got three turnovers, which trumps everything. When we get those turnovers, you know Chief's going to get all real happy about it. Energy was really high and that's what Coach Morris wanted."
Eric Gregory (6-4, 270), a freshman defensive end from Memphis practicing as a December high school graduate, recovered one of the fumbles and recorded at least one sack early Saturday.
"He's one of those guys that's going to have to play this year," Chavis said. "If he gets to 300 pounds, he may be inside. But right now he's doing everything we're asking from a defensive end, and he's doing a good job. He's a guy who can give us depth wherever we need it."
Another freshman and December high school graduate Trey Knox (6-5,218) of Murfreesboro, Tenn., has drawn raves from Morris and Craddock. On Saturday, Knox earned public praise from Ben Hicks, the graduate transfer quarterback running first team at Arkansas after being Morris' starting QB in 2016 and 2017 at SMU.
"Really kind of a freak for his age," Hicks said. "I still think he has to grow into his body. He's long, and I think can put some weight on but overall just a great athlete and great player. I think he'll continue to get better and I think he'll help us out this year."
Knox helped himself Saturday to a TD on a screen pass.
"I just dished it to him pretty early," Hicks said. "The offensive line got out and was able to get their hands inside and block downfield, and Trey was able to find his way into the end zone."
After playing for Morris at SMU after they redshirted him as a freshman in 2015, Hicks quickly has again picked up the nuances of their offense.
"I think the first couple of days it was kind of different being back with them," Hicks said. "I had to get reacquainted with what was going on and how we used to do things. I feel like as the days have gone on I continue to get more and more comfortable."
Especially getting more comfortable with his new teammates, he said.
"I really enjoy being with these guys," Hicks said. "Great teammates. Great friends. I think the biggest thing for me is I'm having fun playing and enjoy playing with these guys."
The Razorbacks, with 10 practices left of the 15 allotted by the NCAA, practice Monday and Wednesday before taking off the remainder of the week and next week's UA spring break.