HOGS better but need toughness, speed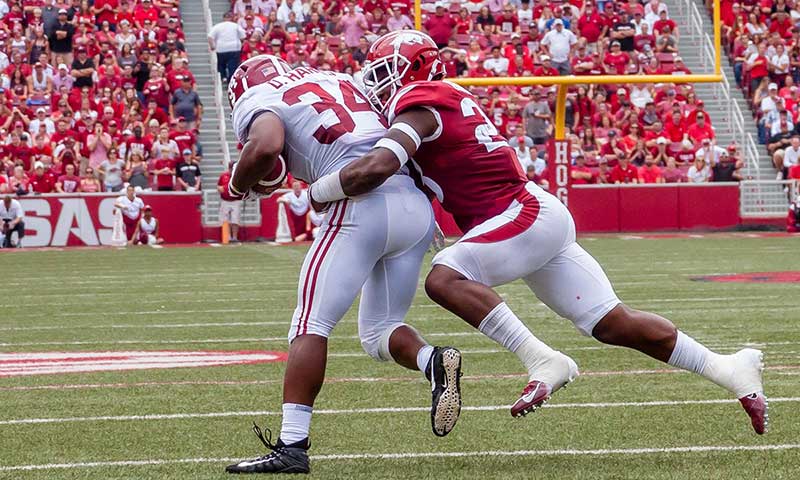 FAYETTEVILLE - Regarding the Razorbacks' running back situation, you can quickly cut to the Chase.
For with Devwah Whaley and Jordan Curtis ailing from last Saturday's scrimmage and returning rusher Rakeem Boyd idled all spring because of shoulder surgery, junior Chase Hayden soloed Monday as the lone scholarship running back who started Arkansas' spring drills.
Senior Hayden Johnson, a fullback in the Bret Bielema era and a tight end in Coach Chad Morris' one-back offense, worked Monday at running back to give Chase Hayden some relief.
The Hogs next practice on Wednesday.
Given Chase Hayden played only seven games in 2018 before a season-ending injury, he's glad to get all the reps he can. Hayden broke a long touchdown run early Saturday and excelled at a variety of tasks during the 105-play scrimmage.
"It was good to see Chase Hayden," Morris said. "I thought he ran the ball really well and pass protected extremely well."
Morris cited Hayden again when asked about Hayden Johnson at running back Monday.
"What a great opportunity," Morris said. "If I am him (Chase Hayden), I am wanting every rep. If I am Chase Hayden, I am seeing an opportunity to get as many reps as I can get to get better.
"Hayden Johnson moved from tight end to running back today. We took a couple of receivers and put them back there. That's OK. You have to improvise.  Chase and Hayden did some good things."
That Whaley, who broke the first big run Saturday, "was impressive," Morris said, and he should return Wednesday.
CLENIN OUT
The news wasn't good Monday for Shane Clenin, who had been running first-team right guard but rode an exercise bike during practice and couldn't scrimmage Saturday.
"Shane Clenin will be out for the rest of spring with a foot injury," Morris said.
Tight end Grayson Gunter and safety Myles Mason, who missed Monday, should practice Wednesday, Morris said.
QBs PRAISED
Morris praised quarterbacks Ben Hicks, the graduate transfer from SMU running first team, redshirt freshman John Stephen Jones and Jack Lindsey, the walk-on lettering last season as the holder for Connor Limpert's place-kicks.
"I was pleased as we were productive on Saturday, even today," Morris said. "Obviously what Ben Hicks has done in that room. I was pleased to see some of the decision making he had Saturday. I was very pleased with John Stephen. I thought he had his best day Saturday since he has been here. Jack Lindsey got the third reps and threw the ball really well."
NEWCOMERS FARE WELL
Morris continues to praise freshman receiver Trey Knox, a December high school graduate enrolled at the UA in January.
"Trey Knox had a really good scrimmage on Saturday," Morris said. "He continues to impress us."
Morris also praised another January enrollee, junior college transfer and left offensive tackle Myron Cunningham.
"I've been very, very pleased with Myron Cunningham," Morris said. "Every practice you're seeing something a little bit different out of him.
Defensively, Morris cited senior tackles McTelvin "Sosa" Agim, and T.J. Smith, and inside linebackers Grant Morgan and Bumper Pool.
"I thought Sosa showed some exceptional effort Saturday in the D-line," Morris said. "Bumper Pool did some really good things. Grant Morgan was disruptive. T.J. Smith had some flashes I really liked to see."
NOT CURED, YET
While praising individuals on both sides of the ball, Morris harbored no illusions the Hogs are cured from all the ills afflicting their 2-10 season of 2018.
"We've got to continue to improve and be a tougher team and demand a tougher team," Morris said.
Tougher and faster.
"We're not nearly as fast as we need to be," Morris said, "but we're getting there."