HOGS: Saturday scrimmage open to fans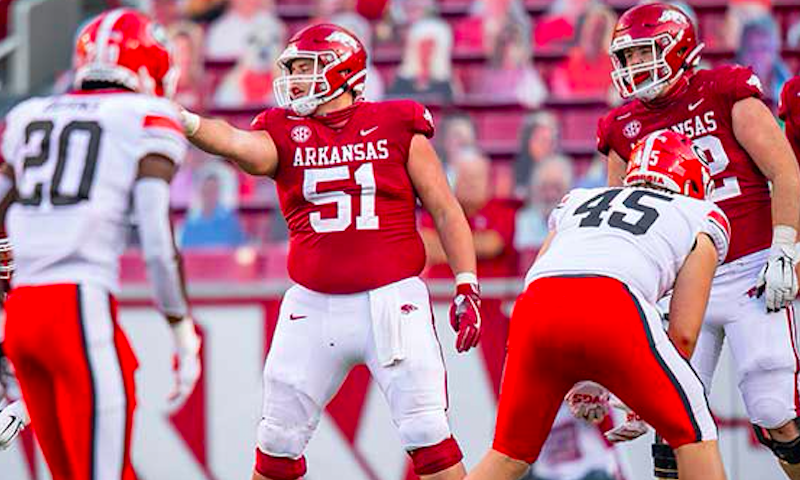 FAYETTEVILLE - Arkansas coach Sam Pittman and offensive line coach Brad Davis are exercising tough love to push their front line this spring.
"Coach Davis has been harping, absolutely harping about our physicality, and making sure we're the baddest offensive line in the SEC," says fifth-year senior tackle Dalton Wagner says. "That's his goal and what we need to practice like and what we've been practicing like. He pushes us to our absolute limit every day."
Tuesday's ear witnesses could vouch for that.
"I'm sure those of you out there heard him yelling and getting after us," Wagner says. "It's what we need, a guy that's like that to light a fire under us and get us going. Coach Pittman puts a lot of strain on us to make sure that we really do our job. To protect the quarterback. We've been making sure that we we've been taking sacks really to heart this spring. Coach Davis doesn't tolerate a single one of them. We make sure we handle it and address it in the room.
"He said, 'It's never personal. It's 'I'm here to push you to be the best you can be.' You're playing college football in the SEC West. It's never going to be an easy day."
Before spring drills, Pittman challenged the offense to show they can consistently run instead of pass on third down and get the first down. The Hogs converted just 34 percent of the time on third down in 2020 (their opponents converted 47 percent).
"He's directly called us out," Wagner says. "It's what he wants to do. And Coach Davis takes it to heart. We take it to heart. It's our goal to be a dominant, physical run offensive line and to make sure that there's no doubt in situations like that, that we can convert. (All the linemen) are really focused on, just harping in and trying to ingrain it into our brains. It's a direct challenge. We won't shy away from it."

A year ago, Arkansas finished No. 9 in the SEC with 151 yards rushing weekly.
SATURDAY SCRIMMAGE
Wagner said he and the team are "absolutely" excited that Saturday's 10:30 a.m. scrimmage has been made open to the public.
"I didn't even know we were doing it until yesterday (Monday) when Coach Pitt told us," Wagner said. "I was as excited as could be. I feel it's what the fans, it's what everybody needs right now. Everybody needs a little football in their life. I hope as many people as they can fit will come."
Senior safety Joe Foucha says: "To us, the defense, we treat every day like it is a scrimmage. But Saturday we are going to be full force. We are just going to be more physical."
FOUCHA PHYSICAL, TOO
Foucha (60 tackles, two interceptions and a fumble recovery in 2020) says improvement in a formerly ailing shoulder allows him to be more physical this spring than as a starter last fall.
"Pretty much for me it was adding my muscle definition," Foucha says. " I had that shoulder surgery so I wasn't really lifting throughout the whole season heavy.  So that was the main focus for me getting back physical and getting back to my normal self."
SPRINGING FORWARD 
Given the Hogs couldn't have spring practice last year because of the covid, Foucha says just having spring practice is huge for these Hogs starting Year Two under Pittman and defensive coordinator Barry Odom.
"That kind of hurt us (last spring) because we were in a transition with coaches," Foucha says. "We didn't get to know our coaches as much and had to go home. I feel like this spring is going to help us a whole bunch because we are breaking bad habits. We are picking up tendencies of defense, we are learning each other's jobs."
ROOKIES LEARNING
Foucha was asked about defensive backs newcomers Jayden Johnson and Jermaine Hamilton-Jordan.
"Those young guys are picking up pretty fast," Foucha says. "Jayden Johnson has great size (6-2, 206). He's got two picks already so he's picking things up pretty fast. And Jermaine Hamilton - he's coming along every day.  He's showing coaches why he deserves to be here"
The Razorbacks next practice Thursday leading into Saturday's scrimmage.