HOGS' first scrimmage revealing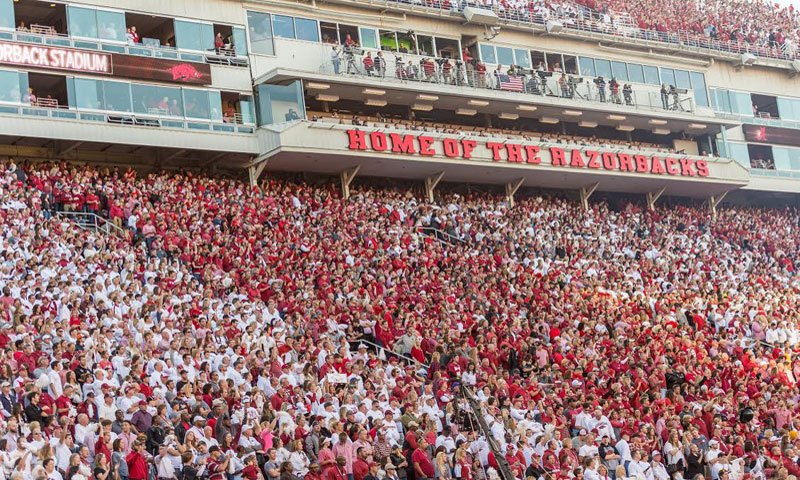 FAYETTEVILLE - Arkansas head coach Sam Pittman saw the improved pass rush he was looking for during Saturday's open scrimmage at Reynolds Razorback Stadium.
However, his inexperienced quarterbacks did not respond well to the extra pressure.
"We're holding on to the ball too long," Pittman said after the scrimmage he gratefully said up to 3,000 fans attended. "We're either not getting open, or we're not understanding the defensive coverage. We just missed too many open receivers. None of those guys have had much game experience, and that's why I wanted to scrimmage three times this spring."
Sophomore first-team QB KJ Jefferson has started two games in his career, albeit one impressively in the 48-45 loss last season at Missouri. Redshirt freshman and No. 2 QB Malik Hornsby played just a couple of series last fall on goal-line situations behind graduated starter Feleipe Franks and Jefferson.
Pittman said the Hogs will scrimmage again Saturday, April 3, plus the April 17 spring game.
"I thought we did a good job of running the offense," Pittman said of his quarterbacks. "But obviously, there were some guys open out there. I wish they had thrown and caught the ball a little bit better."
Sacks can be speculative in scrimmages since there are quick whistles to protect QBs from getting hit, but Pittman deemed five inescapable.
"I thought, at least early, the sacks were the quarterback's fault," Pittman said. "I thought we could have gotten rid of the ball. We were out of the pocket on a couple of them that if we just throw the ball past the line of scrimmage we're in good shape. We had a running back get beat on a sack once."
Pittman said while the pass rush improved, defending the run needs work.
Conversely, the second-year head coach liked how the first-team offense ran with top returning tailback Trelon Smith.  Raheim "Rocket" Sanders (6-2, 210), the January enrolled freshman initially recruited as a receiver, also impressed.
"We need a little faster big back," Pittman said. "He is a couple of hundred pounds, a little bit more probably. I thought he played well today. He is still struggling in pass protection. Not about the physicality of it, but understanding protections."
Smith isn't very big, but the 5-9, 185-pounder is fast. He netted a team-leading 710 yards on 134 carries last season after redshirting in 2019 upon transferring from Arizona State.
Pittman smiled when asked about Smith and top receiver, junior Treylon Burks, the leading returning receiver from last year when he caught 51 passes for 820 yards and seven TDs.
"Yeah, isn't it amazing how guys who have played before play pretty good in the spring?" Pittman said. "Burks is a talented, talented kid. Everybody knows that. He went up and got one in the end zone today. And then Smitty, he's got one gear and it's full throttle. That's what makes him a good football player. He's a physical kid. Not big, but he plays more physical and heavier than what he is."
Pittman said both sides of the ball displayed "physicality" Saturday, but neither dominated, which he appreciates. He  said sixth-year senior defensive end Dorian Gerald "had a good day."
He also cited defensive ends Zach Williams and Mataio Soli, but collectively said the D-line has work to do.
"We've just got to get better at stopping the run," Pittman said. "And we've got to get help with on the edge coming up a little bit faster to turn the ball into our linebackers."
Third down was a scrimmage emphasis.
"It's not just the offense," Pittman said repeatedly the Hogs must be able and willing to run the ball on third and 3 unlike last fall. "Our defense wasn't very good on third down last year. We've made a big, big emphasis on third down. We're trying to do a little bit different on offense. We're trying to help ourselves a little bit more with some protections. On defense, we're trying to be able to play man coverage, which we didn't try a lot last year. It was drop eight and pray we get home or pray we can cover them.
Special teams also got special attention Saturday.
"We have to get better on special teams," Pittman said. "A lot of that has to do with your kickers and returners. We've got to find a punt returner. We have to find somebody that they're scared to kick off to. We've got to find elite guys who can return. We've got to get kickoff guys we trust that won't kick it out of bounds. We have to get punters we trust will punt it with length, height and in the right area, the right field zone. We're trying to make them compete."

Asked by Pittman to take the 2021 covid-affected season option of returning as a sixth-year senior, linebacker Hayden Henry fits into 2021 plans though he's limited this spring.
Pittman said he wants Henry to heal this spring and not risk re-injuring a chronically ailing shoulder.
"We want him to get his shoulder strong," Pittman said.  "He's really had a good off-season. Our linebackers as a whole are improving big time."
The Razorbacks, with nine practices left of the 15 allotted by the NCAA, next practice Tuesday.
"We're going to get after it again," Pittman said. "We're going to try to correct the mistakes we made in this scrimmage."