HOGS: Sosa buys in at DT; more notes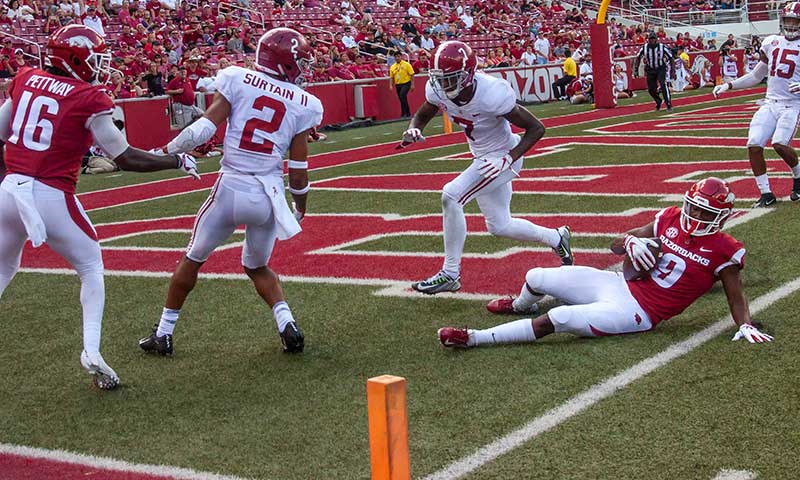 FAYETTEVILLE - The Razorbacks practiced Tuesday for the first time since last week's University of Arkansas spring break but did so minus sophomore receiver Mike Woods (#9 in Craven Whitlow photo above).
Woods, 18 catches for 206 yards and a touchdown last season, is sidelined for the spring's duration because of a broken wrist.
"He had surgery on his wrist. He'll be back in early summer," Arkansas coach Chad Morris said. "I know Coach (Justin) Stepp is excited about his receivers room but disappointed that Mike Woods is not going to be out here. He really needed spring."
The Razorbacks are off Wednesday and will practice Thursday and Friday and scrimmage Saturday.
Morris said the Razorbacks used their spring break well and looked more ready than rusty.
"I thought our energy level was the best it's been all spring, and we've had some good energy days," Morris said. "I thought we started out strong and remained strong."
CUNNINGHAM AT GUARD
Senior first-team left guard Austin Capps of Star City missed Tuesday's practice with the flu, but that created an opportunity for Morris and offensive line coach Dustin Fry to see junior college transfer Myron Cunningham.
Cunningham has been contesting at left tackle with incumbent senior Colton Jackson of Conway, but Morris and Fry have wanted to check him out a guard.
Shane Clenin, who began spring drills at first-team right guard, is out for the remainder of spring drills with a broken foot, so redshirt freshman Ryan Winkel worked at right guard Tuesday with Cunningham at left guard.
"Really pleasantly surprised with Myron and excited about him," Morris said. "He's going to be a great addition to this football team. He's definitely creating depth and he's pushing guys. It's really showing watching Colton Jackson play right now."
So is Cunningham a guard or a tackle?
"As far as our long term plan for Myron, he's getting into our top five (linemen), and we've got to find a place to put him on the field," Morris said. "He's got a chance to be a really special player. We're very pleased with him. He looks good at tackle. He's pushing Colton Jackson, and Colton is having as good a spring as he's had. So that's great. What we're trying to find is his (Cunningham's) best fit inside for our football team."
Morris mentioned Winkel and right tackle Dalton Wagner.
"Ryan is growing as you would expect of a redshirt freshman," Morris said. "He's got his ups and downs but I'm really excited about him. Dalton Wagner is doing some really good things. I'm excited where our offensive line is going, but we are a long way away."
In the first practice opened fully to media this spring, the defense appeared to get the best of it.
POINTS OF EMPHASIS
However, Morris said there scripted plays for "emphasis" designed to put one side of the ball and then the other at a disadvantage.
"We did a lot of emphasis today, which consisted of some hard looks on both sides of the ball," Morris said. "So it was great to see both sides of the ball be strained in some different areas. And that will continue that way through these next few practices."
Morris said the contact work included unscripted open plays seeing who got the best of it on equal footing.
SOSA STARS
Regardless the situation, it seemed senior defensive tackle McTelvin "Sosa" Agim of Hope stood out.
"It's tough to block Sosa," Morris said. "Sosa has been disruptive all spring."
Agim has played defensive end and tackle the past three years but strictly defensive tackle this spring.
"I think he has accepted the moving inside and understands if he can continue to focus every day on just his technique and fundamentals, he can be as good as there are in our league," Morris said.
Standout defensive plays Tuesday included cornerback Montaric "Buster" Brown of Ashdown intercepting a pass by first-team quarterback Ben Hicks, and linebacker Bumper Pool recovering a fumble by quarterback John Stephen Jones. There were a couple of successive second-team defense vs. second team offense stops by D-lineman Jonathan Marshall.
Walk-on Jack Lindsey lettered last season as the holder for Connor Limpert's place-kicks, but the former Springdale High QB alternated on the second-team offense Tuesday and surprised the second-team defense with a long bomb to receiver Koilan Jackson.
"He's as smart a quarterback as we've got," Morris said when asked about Lindsey, the son of former Razorbacks tight end Lyndy Lindsey and grandson of 1964 Razorbacks national champion great Jim Lindsey. "He understands the offense. He's truly a coach out there on the field for these guys, and he's done a good job and got quite a few reps so far this spring. I feel comfortable with Jack."