HOGS: D dandy but O protects ball; notes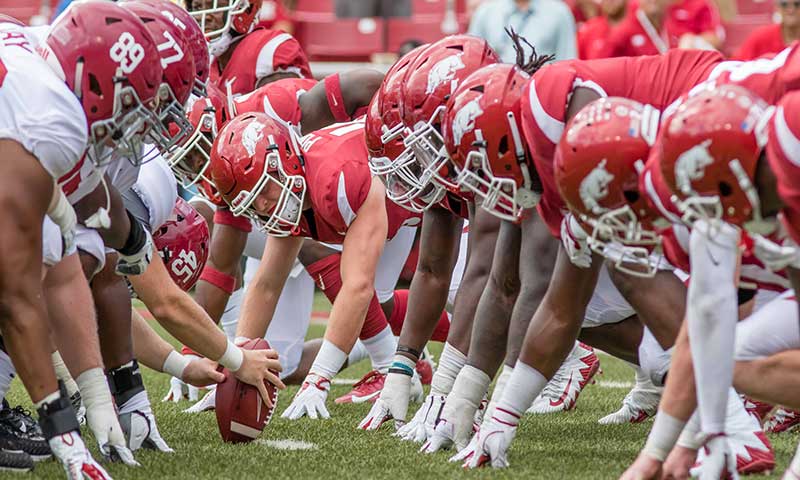 FAYETTEVILLE - Other than just spitting drizzle at Saturday's 11 a.m. outset instead of the jolt-you-out-of-bed 5 a.m. downpour, the scrimmage conditions were sufficiently 41 degrees with a 33 degree wind-chill miserable at Reynolds Razorback Stadium.
"I thought the elements were incredible," Arkansas head coach Chad Morris said after his Razorbacks scrimmaged. "I wish it could have rained a little bit more early on. But again, we forced those guys to be out in those elements. We needed that. I thought the energy level on both sides of the ball was good."
The offensive players, behind the defense throughout the spring, probably felt they dealt with enough misery without  miserable weather.
With Chase Hayden the only scholarship running back healthy this sprig and incumbent senior left offensive tackle Colton Jackson of Conway (knee), redshirt freshman No. 2 center Silas Robinson (knee), and promising walk-on freshman tackle Drew Vest (shoulder) the latest offensive linemen out for the remainder of spring drills, Morris said Saturday it's been a tough go for the offense to sustain springtime continuity.
Morris did say that while Jackson will require surgery, it's of the "clean-up" arthroscopic kind that will have him ready to start conditioning in four weeks for the season ahead. He said the others are expected to participate in summer conditioning.
Third-year sophomore guard Shane Clenin, earlier in the spring expected to miss the remainder of spring drills with a foot injury, scrimmaged full go Saturday.
"Shane did get some scrimmage work and that was good," Morris said. "And Austin Capps (the left guard afflicted earlier in the week by flu) was back."
The lack of offensive continuity and a spirited defense showed up early Saturday when media were allowed to view the 140-play scrimmage.
Wide receiver Deon Stewart opened with a 13-yard gain, but for the bulk of it the defense dominated, particularly senior defensive end Gabe Richardson with at least one sack and Hope High School grad senior defensive tackle McTelvin "Sosa" Agim up front and linebacker Bumper Pool with a pass breakup apiece.
"Yeah, they (defense) got after them pretty good today," Morris said. "Early on in the scrimmage, when we're backed up, I think we were on the minus-28 or 31, I definitely thought the energy was brought from the defensive line."
Morris cited linebacker Grant Morgan of Greenwood, logging more spring time with leading SEC tackler Scoota Harris sitting out the spring while injured and cornerbacks Jarques McClellion and Montaric "Buster" Brown.
"Buster and Jarques at corner, last year they were forced into some action that maybe they weren't ready for," Morris said. "But that experience has provided so much benefit to them for spring. They're playing with great confidence, which is good."
Gabe Richardson, media available Saturday with right tackle Dalton Wagner, cited safeties Kam Curl and Myles Mason, especially Mason for his big hits.
"Myles Mason has balled all spring," Richardson said.
The offense reportedly fared better later in the scrimmage.
Morris and offensive coordinator Joe Craddock cited a big touchdown run by Chase Hayden and first-team quarterback Ben Hicks' TD pass to Trey Knox, the 6-5 January enrolled freshman receiver impressing the staff all spring.
"It wasn't a play call that was scripted but we had a good play into a pressure they brought," Craddock said when asked to recall explosive plays. "We were able to hat it up, our offensive line did a really nice job. Chase was able to find a big hole there and go ahead and put it it in the end zone. I'm sure there were others, but the only other one I can remember was a very positive one was Trey Knox making a play in the end zone." 
Of Knox, Craddock said, "Just a young guy but with a great future ahead of him."
While the defense won the daily "belt" trophy Saturday, Morris, Craddock and Wagner noted the offense never turned it over Saturday.
"We did a good job of protecting the ball for the most part," Craddock said. "We didn't have any fumbles, which I think that first Saturday practice we didn't."
Morris cited redshirt freshman quarterback John Stephen Jones' scrimmage with the second offense.
"I thought John Stephen Jones had his absolute best practice," Morris said. "He was comfortable, was confident, moved the football."
Starting junior nickel back D'Vone McClure, also withheld from Friday's practice, is in concussion protocol, Morris said.