HOGS mixing and matching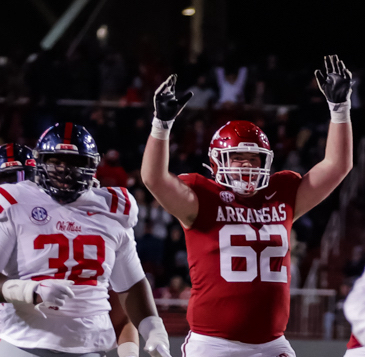 FAYETTEVILLE – The Arkansas Razorbacks' offensive line, a model of consistency as far as personnel is concerned the past few seasons, will have a new look with three of their five starting linemen from last season no longer on the roster.
Razorbacks head coach Sam Pittman, a former offensive line coach, and offensive line coach Cody Kennedy, have been mixing and matching with the pieces available, including returning starters Brady Latham (6-5, 310; Jenks, Okla.) and returning right guard Beaux. Limmer (6-5, 306; Tyler, Texas)
Latham (photo above), a four-year-starter, has been seen in multiple practices playing as an offensive tackle, differing from his normal position of offensive guard.
"Coach Pittman and Coach Kennedy have been moving everybody around trying to see what works and what doesn't work," Latham said. "I played guard and both tackle spots and I've enjoyed it. I think everyone is having fun trying out new positions."
Ty'Kieast Crawford (6-5, 317, Carthage, Texas) returns after serving as the Hogs' sixth linemen last season. Crawford made his only start at right guard in the Autozone Liberty Bowl against Kansas.
Pittman said Tuesday that Andrew Chamblee (6-6, 30;  Maumelle), Patrick Kutas (6-5, 303; Memphis), and Florida transfer Joshua Braun (6-6, 335; Live Oak, Fla.) all have a significant chance of making the starting rotation for the upcoming season.
"You know, we're moving that quite a little bit with Ty'Kieast, Chamblee, and Kutas," said Pittman. "We've worked those three with the 1s quite a bit and Braun has been a big-time addition to us. We feel like we are 8 or 9 deep right there."
Pittman said that he is in no rush to make a starting lineup anytime soon.
 "There's several reasons for that," Pittman said, pointing to the reopening of the transfer portal on April 15. "You start setting deadlines on who's 1 and all that stuff in spring ball and you start getting guys going into the portal. They don't feel like they have a chance to win that position. So, we really don't need to know who that is."
MCGLOTHERN LOOKING TO IMPROVE
Defensive back Dwight McGlothern said there is a simple reason he is forgoing the NFL Draft to return for his senior season.
"I felt like I needed to improve more and better my game," said McGlothern, who transferred to Arkansas before last season from LSU. "I felt like I needed to learn more and get a coach that could get hands-on and teach me through every mistake that I make and help to develop a stronger mindset."
McGlothern (6-2, 181, Houston, Texas) said improving his tackling is one of his top priorities. 
 "When they run, I need to be that person that can get them on the ground without any help," McGlothern said. "I have to show that I want to go do it."
McGlothern registered 42 tackles, 10 pass deflections, 2 forced fumbles and intercepted 4 passes last season.
McGlothern ranked second in the SEC in interceptions, but he said there is a lot to improve upon in preparation for a possible pro career.
 "The numbers are very good, but whenever I would watch film after the game there were mistakes that I left out there that I felt like could've made me a first-round pick," McGlothern said. "So having another year under my belt and good coaches to help me on and off the field will help me all around."
McGlothern anchors a Razorbacks secondary that struggled mightily against the pass game last season. The Hogs gave up 294.7 passing yards a game, ranking them last in the SEC and all of FBS.
PRO DAY RESULTS
Fourteen former Razorbacks participated in Pro Day  on Wednesday. These are the results of the drills and the former Hogs that participated in them.
BENCH PRESS Latavious Brini (11), Dorian Gerald (16), Terry Hampton (33), Bijhon Jackson (32)
BROAD JUMP Brini (9 feet, 10 inches), Gerald (8-9), Hampton (8-3), Drew Sanders (9-10)
VERTICAL JUMP Brini (32-5), Gerald (29-5), Hampton (29-5), Drew Sanders (37-0), Dalton Wagner (27-5)
40-YARD DASH Latavious Brini (4.57), Dorian Gerald (4.97), Terry Hampton (5.12), Jadon Haselwood (4.47), Bijhon Jackson (5.37), Tyson Morris (4.56), Drew Sanders (4.59), Dalton Wagner (5.25)
20-YARD SHUTTLE Brini (4.29), Gerald (4.53), Hampton (4.72), Matt Landers (4.34), Sanders (4.38), Ricky Stromberg (4.47),  Wagner (4.81)
L-DRILL Brini (7.19), Gerald (7.71), Hampton (7.53), Landers (6.72), Sanders (7.15), Stromberg (7.41), Wagner (8.00)
Former Razorbacks long snapper Jordan Silver and Jake Bates participated only in position drills, along with Arkansas' all-time leading tackler Bumper Pool, who he is still recovering from hip surgery.
Five of the former Razorbacks used Pro Day as an opportunity to improve on their results they received at this year's NFL Combine.
Jaden Haselwood (4.47) knocked 0.19 seconds off the 40 time he recorded at the Combine.
Haselwood wasn't the only former Razorbacks to improve on Pro Day: offensive lineman Dalton Wagner added an additional 3 inches to his vertical leap, going from 24-5 to 27-5.