Hogs add pads to the spring equation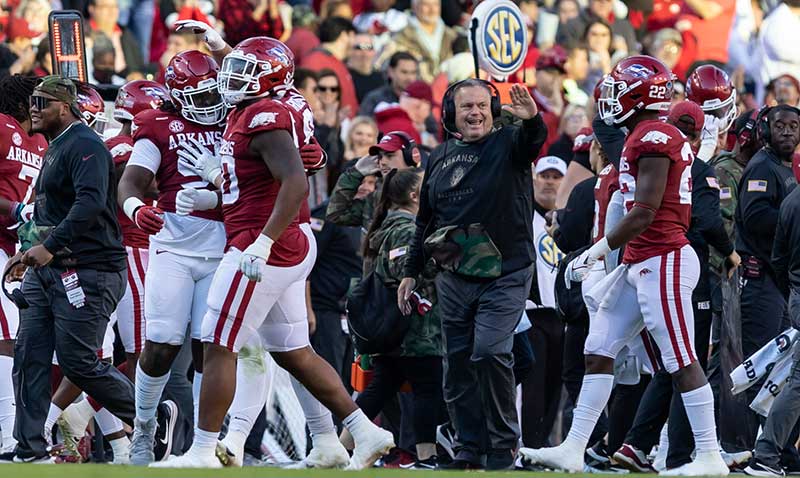 FAYETTEVILLE - Arkansas' first spring scrimmage Saturday will be closed to the public, but Coach Sam Pittman talked about the format.
"We're going to have a rack of ones, twos, threes," Pittman said after Thursday's first practice in pads.  "We go good on good every day.  So, we go one-one, two-two, three-threes. ... Saturday, we're going to go one-two, two-one, three-three.  Then a combo period, and then three-three again."
Extra points and field goals will be kicked as the occasions arise during the scrimmage, but Pittman said there will be separate periods to work on punting, punt coverage and returns, as well as kickoffs, kick coverage and returns.
COMBO PERIOD EXPLAINED
Pittman said a "combo" period will be used to mix and match certain players, like Charlotte transfer Ty'Kieast Crawford (6-5, 347) at right offensive tackle and backup Malik Hornsby (6-2, 187) at quarterback.
HORNSBY'S DUAL ROLE
Pittman discussed the usage of third-year sophomore Hornsby, regarded as one of the fastest Razorbacks,  at wide receiver.
Hornsby rushed 24 times for 136 yards and completed 5 of 12 passes for 46 yards in limited action behind starting quarterback KJ Jefferson last season.
Hornsby briefly submitted his name in the transfer portal between semesters, but asked to come back.
Pittman previously has said if a player opts for the portal it's taken that he irrevocably wants out.
That was not the case with Hornsby.
"The thing that bothers me is if we've got guys working for three weeks and a guy goes into the portal," Pittman said, "And then he says, 'Can I come back to the team?' 'No. You missed three weeks of work.' Malik didn't do that.   Malik didn't miss any practice.   Didn't miss anything."
Hornsby came back knowing he wouldn't practice strictly at quarterback.
"I said we're going to give you every bit of opportunity to win the starting quarterback job," Pittman said, "but also, if you come back, I need you to be open to playing wide receiver.
"We certainly want to give him every opportunity to win the starting quarterback job. But I think you've seen it, and we certainly have seen, that he can help us tremendously as a wide receiver.
"To his credit he's doing a really good job with it."
Pittman pointed out a Hornsby catch of a Jefferson pass during Thursday's practice. There was also an interception by freshman defensive back Jaylen Lewis (6-0, 172; Brownsville, Texas) of a pass thrown by reserve quarterback Lucas Coley that was tipped by freshman linebacker Jordan Crook.
Pittman said Hornsby will wear the same no-contact jersey as a receiver Saturday that all Razorbacks quarterbacks wear during scrimmages.
Cade Fortin, the transfer via the University of South Florida, has impressed Pittman among the reserve quarterbacks.
Fortin, Pittman said, "is coming on a little bit more and more."
Fortin started his career at the University of North Carolina before transferring to South Florida for the 2021 season.
Fortin has seen action in 10 games over three seasons, completing 61 of 121 passes for 611 yards, one touchdown and three interceptions. Fortin (6-3, 222) has also rushed 27 times for 152 yards and two TDs.
CAPTAIN KJ
Pittman said last year he "was a little bit surprised" when Jefferson was voted as one of the team's captains despite serving in a backup role behind Felipe Franks in 2020.
Not anymore.
"I understand how the team feels about him," Pittman said of Jefferson, who passed for 2,676 yards, 21 TDs with four interceptions last year. He also rushed for 664 yards and six TDs for the 9-4 Razorbacks. "He'll be a captain again.  He leads the football team."
CATALON, HASELWOOD LIMITED
Junior All-SEC safety Jalen Catalon, coming off a shoulder injury that sidelined him for the second half of 2021, and University of Oklahoma transfer receiver Jadon Haselwood  both will scrimmage in no-contact jerseys Saturday.
Pittman said it's difficult evaluating players who have not been cleared for full contact during  spring scrimmages.
"The worst part is guesstimating plays involving players not cleared for full contact," Pittman said, but added: "Getting them work with less injury risk is worth the tradeoff.
KNOX, WELLS SIDELINED
Senior tight end Trey Knox (6-5, 233) was involved in an automobile accident during last week's spring break and is in concussion protocol, Pittman said.
Redshirt freshman offensive tackle Terry Wells (6-5, 297) of Parkin is sidelined by injury and being medically evaluated, Pittman said.
PROMISE JUST AROUND THE CORNER
The Hogs are showing depth at the cornerback position.
LaDarrius Bishop of Ashdown and Hudson Clark were co-first team corners at one spot last year with Montaric Brown, the All-SEC corner from Ashdown, at the other corner.
Brown recently participated in the NFL Combine in Indianapolis and is a candidate to be drafted or signed as a free agent in the upcoming NFL Draft
Bishop (6-0, 200) and Clark (6-2, 218) alternated at a corner Thursday with  Dwight "Knutie" McGlothern, a transfer from LSU, at the other first-team corner. Junior letterman Khari Johnson (6-0, 191) moved from corner to safety.
McGlothern (6-2, 182) made 41 tackles in two seasons at LSU, with 34 unassisted, seven passes defensed, and one interception return for a touchdown.
"McGlothern has played well," Pittman said. "He's a long, confident guy and we moved (Malik) Chavis to corner as well. ... We feel pretty good about our corners. We need a little help at middle safety, so we moved Khari back there."
OTHER NEW ADDITIONS
Drew Sanders, a transfer from Alabama, is challenging for a first-team linebacker spot next to bonus senior Bumper Pool.
Pittman was also asked about two others who have transferred in from SEC schools —  Latavius Brini via Georgia, and defensive end Landon Jackson from LSU.
Jackson, 6-7, 273, of Texarkana, Texas,  has been observing but not practicing because of injuries.
Brini (6-2, 211) appeared in 17 games the past two seasons at Georgia and accounted for 49 tackles and nine passes defended.
"Brini played the nickel at Georgia," said Pittman, who served as Georgia's offensive line coach before taking over at Arkansas.  "When we recruited him, he wanted the chance to play safety.  I think it's been a little bit of a learning curve for him.  Over the last couple of practices, we've seen the Brini that we thought we recruited and the Brini that we knew when we were at Georgia."
Jackson is likely to man a spot at defensive end with healthy.
"We recruited him for rush ability," Pittman said.  "He certainly is big enough to play run. But our thoughts are him and for that matter Nico Davillier (the incoming 6-5, 275 freshman reporting this summer from Maumelle)  would be a defensive end."