HOGS: O finally wins daily belt; notes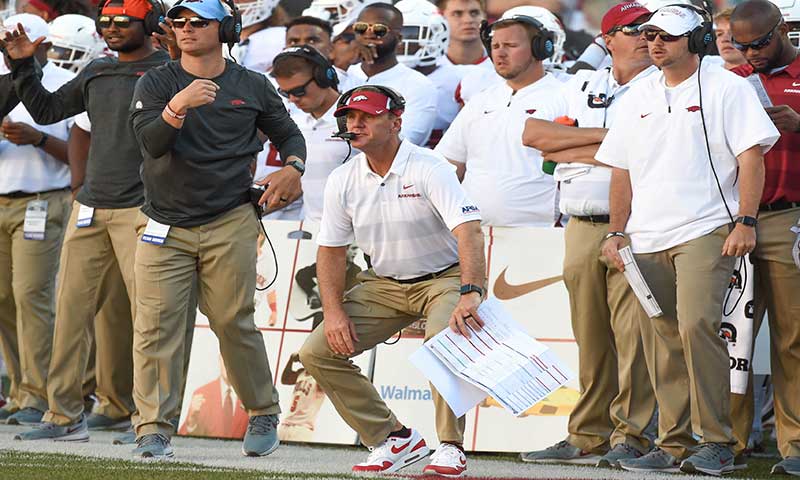 FAYETTEVILLE - For the first time since Arkansas coach Chad Morris awarded a belt for the unit most prevailing in practice, the offense won the belt following Tuesday's closed practice.
"I thought it was a really good day offensively," Morris said. "Probably one of the best days they've had this spring. They won the belt today. They've been close, but turnovers have prevented that. Today they did much better on the turnovers, while we still had two turnovers, they were able to execute on first down, and some big plays gave them the opportunity to win the belt. That was good to see.
"Again, these guys continue to improve on both sides of the ball. So I'm excited about where this football program is going."
What set the offense apart Tuesday?
"The biggest thing I saw was consistency you know," Morris said. "The lack of TFLs (tackles for losses) which is a big thing that we count, tackles for loss, was huge. There were some big plays. (Running back) Chase Hayden had a big play to start a drive and they scored. Just things like that. More or less consistency and positive yards on first and second down."
With third-year sophomore Daulton Hyatt out with the flu and redshirt freshman Connor Noland with the UA baseball team, graduate transfer (from SMU) first-teamer Ben Hicks and redshirt freshman John Stephen Jones were the lone scholarship quarterbacks working Tuesday.
"I thought they both had a really good day," Morris said.  "Ben was comfortable today, and his consistent play has just continued to bring the offense along and progress all the quarterbacks. I think the quarterbacks had a good day - all of them did. One of the things we did today was we finished up and we had a big scrimmage on Saturday, so over the last two days we've really challenged our guys through watching the film of things we have to improve on. How they came out today at practice was a big response and a big test, because some of the guys did not perform as well Saturday, so we challenged them - as we do every week and every day. Those guys came out and they did a really good job responding, and that's what I would expect and they would expect."
On defense Morris praised senior defensive tackle McTelvin "Sosa" Agim and junior safety Kamren Curl.
"(Curl) is doing some really good things right now, and you can just see a complete and overall different buy-in with him," Morris said. "He understands he's a vocal leader on the defensive side. I think he's been one of our top performers this spring, especially on the defensive side. He and Sosa, because I think both guys have been challenged and they have responded to the challenge. The challenge has been we've got to have more consistency out of both of you, and they've done that."
The Razorbacks' remaining spring football schedule comprises of a practice Thursday, Saturday's Red-White game at Reynolds Razorback Stadium and a Monday corrections practice after viewing the Red-White film.
Regarding some Razorbacks not practicing Tuesday because of injuries and their availability for the Red-White game  Morris said, "We'll know more on CJ (O'Grady the tight end not practicing) probably later today or tomorrow. Daulton had the flu we hope to have him back. (Running back) Devwah (Whaley) we hope to have him back Thursday and to be back out there practicing and playing some on Saturday. We'll know more tomorrow. I know he's feeling better. (Walk-on freshman offnsive Drew Vest should be back. Silas (Robinson, a redshirt freshman center ) is a possibility.  D'Vone McClure  (the nickel back  concussion protocol last week) is back so he'll be back out there."
Senior left tackle Colton Jackson of Conway has had what Morris has called comparatively minor knee surgery and should be ready for the summer conditioning workouts.
"It wasn't near what we thought it was so he'll be back a lot quicker," Morris said. "He'll be back probably in a couple of weeks, which is good."