HOGS: Alabama transfer makes presence felt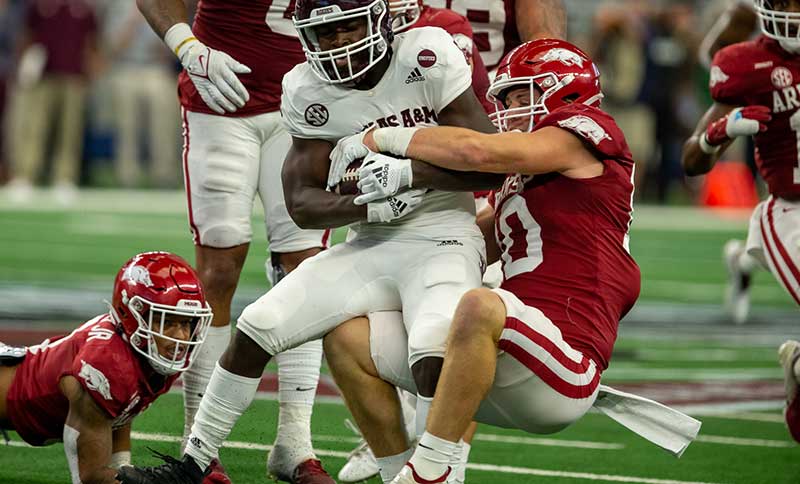 FAYETTEVILLE — Sam Pittman didn't detail any outstanding plays from Saturday's scrimmage, but Arkansas' coach mentioned a few standout players after Tuesday's practice.
Linebacker Drew Sanders (6-5, 232), a heralded transfer from Alabama, was one who caught Pittman's eye.
"I really liked the way Drew Sanders played," Pittman said of Sanders, who totaled 24 tackles with 2.5 tackles for loss in 12 games with the Crimson Tide last season. "I like the way he played for us."
Sanders appears to be in line to join fifth-year senior Bumper Pool as a starter for a linebacker unit that will be without stalwarts Grant Morgan and Hayden Henry, who have graduated.
"Drew is  instinctive," Pittman said. "He can really run. He kind of fits us. He's tough and smart. I really like the kid. I like him a lot and think he's going to be a really, really good player in this league. "
CARTER, NICHOLS EXCELING
Returning defensive tackles Isaiah Nichols (6-3, 302) of Springdale and Taurean Carter (6-3, 298) also drew praise.
Pittman not only noted their performances in Saturday scrimmage, but also in Tuesday's practice, which was dominated by defense.
Nichols, a redshirt senior, accounted for 24 tackles in nine games last season; Carter, a redshirt junior from Mansfield, Texas) totaled 11 tackles in eight games.
Their emergence should allow defensive coordinator Barry Odom to incorporate more 4-man fronts, Pittman said.
" I think the rise of Taurean Carter has allowed us to go to that four-man front faster," Pittman said.  "I think he and Nichols are playing the best of the entire defensive line."
PAUL, KNOX CONCUSSED
Redshirt freshman linebacker Chris "Pooh" Paul (6-1, 232; Crisp County High School, Cordele, Ga.), also stood out in last Saturday's scrimmage before suffering a concussion, Pittman said.
Paul joined tight end Trey Knox on the sideline Tuesday. Knox (6-5, 233) has been in concussion protocol since suffering injuries in an automobile accident last week.
JOHNSON SITTING OUT SPRING
Junior running back Dominique Johnson (97-575 rushing, 7 TDs in 2021) won't practice at all this spring while recovering from injuries, Pittman said Tuesday.
The running back room is still well stocked with Rocket Sanders, AJ Green and true freshman Rashod Dubinion, one of 16 signees who enrolled in January and are participating in spring drills.
"Dubinion continues to play well," Pittman said Dubinion (5-10, 189; Ellenwood, Ga.).  "He's a good football player."
LATHAM AT TACKLE, TOO
Pittman said  Brady Latham (6-5, 303), a starting guard last season, is also working at left offensive tackle along with senior Luke Jones, who has previously played guard and center.
Jones, a 6-5, 327-pound redshirt senior from Little Rock's Pulaski Academy, transferred to Arkansas after spending his freshman season at Notre Dame.
QUARTERBACK TID BITS
Redshirt sophomore Malik Hornsby, who has practiced at quarterback and receiver last week, scrimmaged last Saturday at quarterback, Pittman said.
Pittman praised the Saturday scrimmages of Hornsby (6-2, 187) and South Florida transfer Cade Fortin —along  with redshirt sophomore Lucas Coley — who worked behind starter KJ Jefferson.
OFFENSE GETS AN EARFUL
Pittman said he didn't like what he saw from the offense on Tuesday.
"I just didn't like our effort, and I didn't like our competitiveness," Pittman said.  "And I told them after practice, 'There's going to be series that you lose, there's going to be plays that you lose. But your mind has to get you out of, 'I've lost' or 'I'm tired.' Nobody cares. It's 'fix the problem.'  I thought we were not as tough mentally as what Arkansas Razorbacks should be."
Tuesday's practice was the seventh of the 15 allotted by NCAA regulations. Arkansas finishes the week with practices Thursday and Saturday.