HOGS: Tight ends gotta block; Notes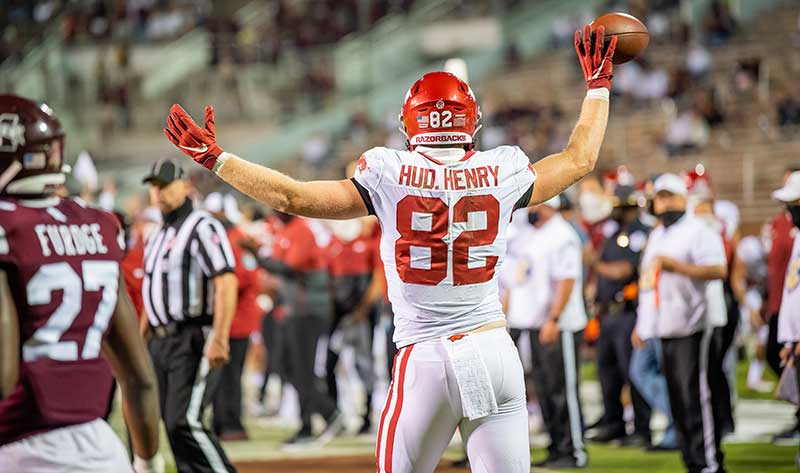 FAYETTEVILLE -  Cody Kennedy, formerly the offensive line coach at Tulane and Southern Miss, now coaches tight ends for the Razorbacks.
Kennedy expects Arkansas' tight ends to block as tackles do, and sophomore tight end Hudson Henry said he learned that quickly this spring.
"He came in and really took control, and we just gathered around him," Henry said after Tuesday's practice. "He came from being an O-line coach, so that was a big transition for him. But it's really not."
Not with the emphasis UA head coach Sam Pittman places on running the football.
"I think one thing we needed to work was just physicality and being real nasty on the field," Henry said. "Something that every day we talk about in our room is finishing everything. Finishing blocks, finishing routes. Being the last guy to put a shove on a guy. Coach Pittman brought him in to help our run game be a force for good. As I said earlier, we are bullies in the run game and can help (leading returning running back) Trelon Smith and all those guys run the ball and break away for big plays this season."
Henry grows into his more physical role, now listed 6-5, 255, and putting the knock on superb safety Jalen Catalon during Saturday's scrimmage.
BULLY FOR HENRY
"We don't want to get bullied," Henry said. "We want to be the bully."
Bully for Henry, on that play, Catalon acknowledged Tuesday.
"He has definitely gotten stronger," Catalon said. "I learned that the hard way."
Catalon likens the give and take of practices against Henry as "iron sharpening iron."
ALL IN THE FAMILY
Razorback football has long been a Henry family affair.
Hudson's father, Mark Henry, lettered as as center for Ken Hatfield and Jack Crowe in the late 1980s and early 90s. Oldest brother Hunter won the Mackey Award as the college football's best tight end and turned NFL star. Older brother and linebacker Hayden Henry finished his senior season in 2020 and was set for grad school but took the option of an extra season in 2021 that the NCAA bestowed on 2020 seniors because of covid-19 virus circumstances that delayed, shortened or cancelled their seasons.
"He had his mind made up that he wasn't going to play, that he was just going to do his MBA and go to school and get a job," Hudson said. "But I got a call one night and he told me he was coming back. I almost started crying. I was just really happy and so pumped. I got to play with him in high school for two years, and I knew I was only going to be able to play with him two years in college. Now it's going to be three."
FEWER FLAGS
Off Saturday's scrimmage, Henry vows the offense will be less flagged.
"I think we were just shooting ourselves in the foot with penalties," Henry said. "Just mental errors. That's something this week we've been we've been trying to minimize."
NOT SATISFIED
Catalon said defensive coordinator Barry Odom bestowed praise on the defense for its scrimmage Saturday, yet left much room for improvement.
"Coach Odom is never a satisfied person," Catalon said. "He's always going to nitpick things we can improve on, so that's what we're going to emphasize going into this week and pick up on stuff we've got to work on before we get to the (April 17) spring game."
BLAIR SURPRISES
Former walk-on Simeon Blair of Pine Bluff received high praise as a first-team safety this spring.
"A lot of people from the outside would say (they're surprised), but I'm not," Catalon said. "Because I've seen him from behind the scenes and how much work he has put in in the film room, seeing him progress and his hunger to get better every day."
SECONDARY DEPTH
Odom sometimes employs six defensive backs simultaneously with, in Catalon's view, plenty of secondary depth to spare.
"A whole lot deeper I feel, and a lot more effective this year," Catalon said. "Everybody knows what they're doing, and the young guys are starting to pick up the defense quicker. I think we are deeper, and it's showing this spring so far."