HOGS: Trey Knox revival; Notes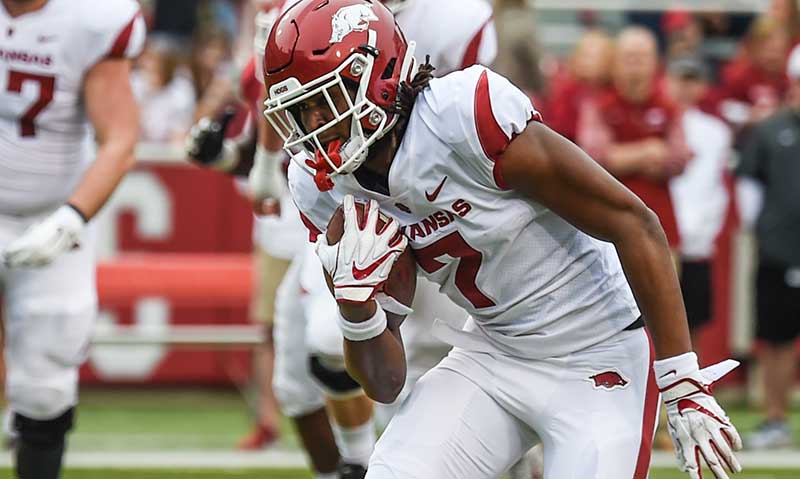 FAYETTEVILLE - Call it the School of Hard Knox.
Arriving in January 2019 as a high school graduate, Trey Knox drew rave reviews that spring and was featured in preseason publications that summer.
The 6-5 freshman wasn't all-world in Fall 2019, but he did catch 28 passes for 385 yards and three touchdowns for the 2-10 Razorbacks.
Last fall, Knox played little on first-year head coach Sam Pittman's Razorback resurgence. Against an entirely SEC schedule, the 2020 Razorbacks went 3-7 that should have been 4-6. An officiating blunder allowed Auburn to keep a fumble lost and kick a game-winning field goal.
Yet, Knox was nearly negligible with seven catches for 70 yards and no touchdowns with some wincing drops.
TOO MUCH
Did his spring 2019 highlights raise expectations too high?
"That's a good question," Knox replied as he and safety Simeon Blair spoke to media after Thursday's practice. "I would say yes, just high expectations. But honestly, I hold myself to a higher standard. My freshman year was a good year, but we're just trying to expand upon that. I'd like to try to meet those expectations because I know I can. I'm going to push myself every day to do it."
A NON-FACTOR
Reviewing 2020, Knox figures it started off track with a new head coach and offensive coordinator with no spring drills cancelled by the covid-19 pandemic. Then, he got sick as the summer preseason began and just never clicked.
"I don't want to make excuses, but I think not having a spring really hurt me," Knox of Murfreesboro, Tenn., said. "I need repetition, repetition. Because I want to know exactly what I'm doing play in and play out. I think not having that spring and not being 100 percent at the beginning of fall camp really put me a step behind everyone else."
He knew that Pittman and offensive coordinator Kendal Briles took note. They're going to play those they see producing.
"I think I just didn't get off on the right foot with the coaching staff, not playing fast and going out there and thinking (too much)," Knox said. "I think those are the things that really held me back last year."
STICK IT OUT
With the transfer portal jammed like New York traffic during Friday rush hour, Knox could have left Fayetteville.
"I feel like that goes through a lot of people's minds," Knox said. "It obviously did. But I love it here in Fayetteville. I love the staff. I love my teammates. I really care about how my teammates view me, and so I want to be here. I want to help this program go back to the top, be at the top. I feel like it's best to just stick it out."
PHYSICALLY FIT
Knox said he's not only sticking it out but showing out by gaining good off-season weight. Last summer's illness cost him 10 pounds as the 2020 preseason drills began.
"I've been focused on getting faster and putting on weight," Knox said. "I've already gained eight pounds. Just trying to better myself, keep my head down and work because I've got faith in myself. The coaches have faith in me. I think we're going to be all right."
BLAIR'S ENDORSEMENT
Blair, the junior safety from Pine Bluff High, said he's practicing against a different Knox this spring.
"He's worked his butt off," Blair said. "He's got better at running routes, just trying to take his entire game to the next level. We did some one-on-one drills before the spring even started, giving each other pointers on what a DB is looking for with a receiver, and what the receiver looks for in a DB. I've seen him use that on the field in his route-running, in his speed and everything he's done."
ENDORSING BLAIR
Knox avidly praises Blair, gone from walk-on to a two-year letterman running this spring among three first-team safeties in 3-2-6 defense.
"Oh, Simeon is a great player," Knox said. "He will not hesitate to hit you. The boy's smart. I mean he's calling out plays just off of our alignment, and they're jumping routes and they're over there making plays."
Blair's willingness to hit earnes him a scholarship.
"I've always played like that," Blair said. "There's only one way you can play defense. You've got to play defense violently  and fast. I just try to keep that in my mind every play. Even if we're in practice, I try to be in game mode."
REST OF SPRING
The Razorbacks have an entirely closed practice Saturday and will practice twice next week before completing spring drills with the April 17 Red-White spring game at Reynolds Razorback Stadium.