HOGS: O line progress report; Notes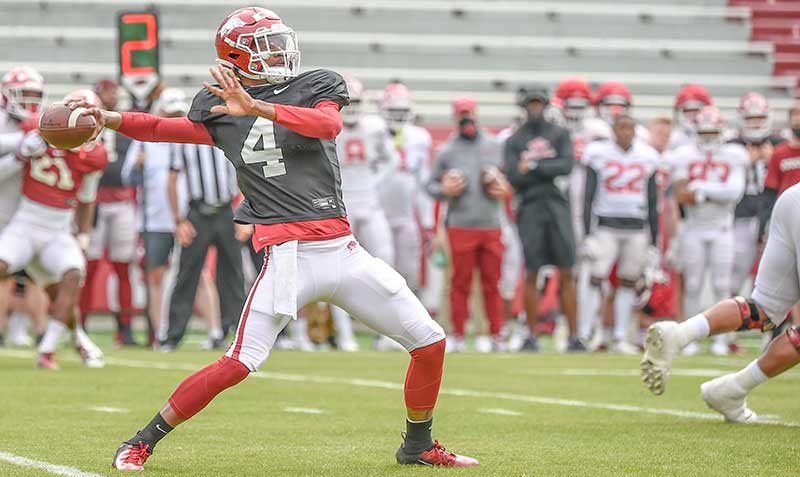 FAYETTEVILLE - The run-blocking emphasis Arkansas head coach and longtime offensive line guru Sam Pittman put on his line this spring has indeed improved run-blocking, Arkansas junior center Ricky Stromberg said.
Stromberg and defensive lineman Taurean Carter addressed media Thursday after the Hogs' final practice before Saturday's 2 p.m. Red-White game at Reynolds Razorback Stadium.
"I think I have progressed in the run game mostly," Stromberg said. "Like combo fits with the guards, I think I progressed in that. I think last year I was decent at it, but I think I have gotten a lot better this spring."
Not that he's neglecting pass-protection for quarterbacks KJ Jefferson and Malik Hornsby (in Craven Whitlow photo above).
"I still want to work on pass protection more," Stromberg said. "I think that was one of my strong suits last year, but I want to continue to grow in every aspect of it."
STROMBERG ON CARTER
Stromberg said Carter, the 6-3, 300-pound sophomore noseguard succeeding 2020 graduate Jonathan Marshall, uses his hands well.
"He is able to grab my hands sometimes," Stromberg said. "Sometimes I shoot my hands, and he grabs them. Not a lot of D-lineman I have faced have been able to do that. He uses his hands really well as a D-lineman. That is a big thing for a defensive linemen."
CARTER ON STROMBERG
Carter lauded his 6-4, 316-pound center and teammate.
"Ricky (Stromberg) is the best center I ever went against," Carter said. "I don't tell him that, but he's the best I ever went against. He uses his body so well. He'll let you do what he wants you to do and seals you off."
CARTER FITS SEC
After a redshirt year, Carter lettered in 2020 as a reserve who played most extensively when injuries afflicted the defensive line before a 27-24 loss to LSU.
"I felt that I could fit in this conference," Carter said. "That I was able to compete. I've got to work on finishing and making an impact in the game."
Carter logged three tackles against LSU.
"It helped me a lot," Carter said. "It helped me feel where I was at. There are a lot of things in football that I picked up that day, and I'm glad they happened the way they did. I know what that's like, so I'm trying to get adjusted now."
Carter mostly wants to win Saturday's game.
"I'm on the Red team (the first-team defense and second offense)," Carter said, "and we're going against the White team with the first offense. We are going to bring our best and try to win this thing."
HENDERSON SURGES
Stromberg said second-year freshman Marcus Henderson, getting a White team start Saturday at offensive tackle, "has come a long way." Both incumbent right tackle Dalton Wagner and transfer Ty'Kieast Crawford are injured.
"Marcus is really smart and super athletic," Stromberg said. "Ray (Curry, a second-year freshman offensive tackle) is doing pretty well, too. All of the young guys are doing pretty good, and they just need to keep going and buying in."
Stromberg has two goals for Saturday with an obvious result.
"Just try and dominate as an offensive line and have a good game and have a lot of fun, too," Stromberg said.