HOGS: Pittman praises vets and newcomers after scrimmage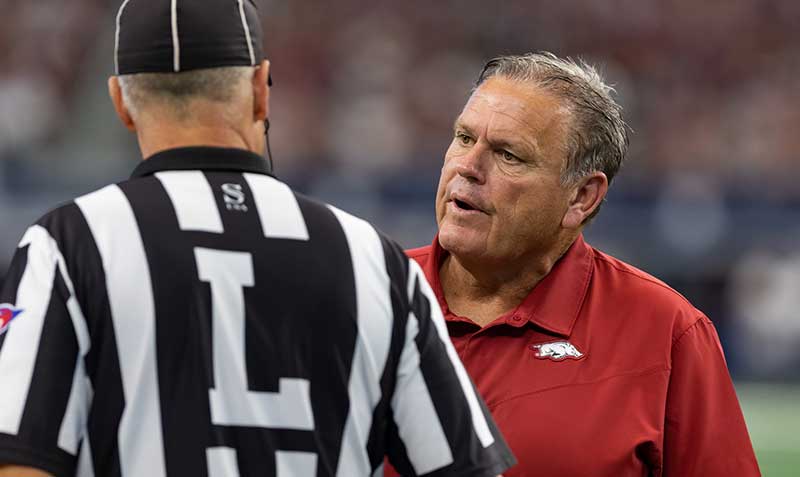 FAYETTEVILLE — Arkansas Coach Sam Pittman moved Saturday's scrimmage from Razorback Stadium to inside the Walker Pavilion because of predicted storms.
Unfortunately, the move inside couldn't protect all the players.
Fourth-year junior defensive tackle Taurean Carter (6-3, 298), of Mansfield, Texas, required assistance to get off the field, injured during the scrimmage's third play.
"Taurean, I think is going to be OK," Pittman said. "I don't think it's an ACL or anything of that nature, but there is something there we have to tend to. I don't know, but I don't think it's a major, major injury."
Carter (24 tackles, 3 TFLS and 1 sack in 2021) has posted his best spring as a Razorback and was operating alongside senior Isaiah Nichols as the first-team defensive tackles.
"Changed his body," fifth senior weakside linebacker Bumper Pool said of Carter.  "He was already strong but got even stronger. Has a little more twitch to him. His progress has been great.  You hate to see guys get hurt, but hopefully he's gonna be all right.  The way we practice is physical and it's hard."
Saturday's scrimmage was the 12th of 15 allotted practices for the Razorbacks. Arkansas will conclude spring with practices on Tuesday, Thursday and next Saturday.
NICHOLS STANDS OUT
Pittman has cited Carter and Nichols (6-3, 302) for good play several times this spring, and he cited Nichols (22 tackles, 3.5 TFLs in 2021) again on Saturday.
""I thought Isaiah Nichols seemed like he was back there in the backfield  quite a bit in the pass rushing game," Pittman said.
Pittman had praise for linebackers Pool and Drew Sanders, the Alabama transfer, and had good things to say about defensive end Eric Thomas (6-3, 259; Pensacola, Fla.) and redshirt freshman cornerback Keuan Parker (5-11, 178; Tulsa).
"Eric Thomas flashed a few times," Pittman said. "Drew Sanders flashed a lot. He can run. He's a good player. Bump, Cat (veteran All-SEC safety Jalen Catalon), but the guy who really made a lot of plays today was Keuan Parker. He's moved up at corner because of his physical, hard-playing style. He made a lot of plays."
PARKER, THOMAS SEE THE LIGHT
Pittman said there is a difference in the play of Thomas and Parker, who have gone from working on the scout team to competing for second-team spots this spring.
"A lot of times your performance has to do with how high you think you can go," Pittman said.  "So, I think with Keuan and Eric, at some point last year, they said, 'Well, I can't get off scout team.' They tried to do well on scout team, but that drive's not there. Now I think this spring, Eric's like, 'I'm getting on the plane, I've got a chance to play a lot.  He's not putting a governor on his mind about how far I can go. I think it's the same thing with Keuan."
ROCKET LAUNCHES
Sophomore running back Raheim "Rocket" Sanders rushed for touchdowns of 64 and 16 yards.
Cade Fortin, the transfer reserve quarterback from the University of South Florida, threw a 28-yard touchdown pass to freshman running back James Jointer of Little Rock Parkview.
Sanders, recruited as a receiver, made a productive transition to running back as a true freshman (114 carries for 578 yards and five touchdowns).
Pittman said he is even better this spring because he is more polished.
"Now you can see that he understands what his role is," Pittman said.  "He seemed to be a little quicker in making decisions this spring. I told him he turned from being a hard runner to a running back. I think that's what he's done."
FLASHY FRESHMEN
Pittman has praised early arriving true freshman running backs Jointer and Rashod Dubinion (5-10, 189) of Ellenwood, Ga.
"He (Dubinion) is  really a shifty runner," Pittman said.  "He's a mature kid. There's no doubt in my mind he'll help us next year - in games. Not just special teams, but he'll be one of the backs toting the mail because he's a good player."
NEW OLD HAND
Fortin's progress behind starter KJ Jefferson has factored in allowing speedster backup quarterback Malik Hornsby also to practice at wide receiver.
"His strengths would be that he's older, mature," Pittman said of Fortin, who has played at North Carolina and South Florida. "He's been in major-college games. He's got a way of getting the ball to a player. Some quarterbacks, they just want to fire it as hard as they can all the time. They want to show their arm. Fortin wants to complete the pass."
Jefferson and Hornsby did not throw the ball particularly well Saturday but overall has posted excellent springs, Pittman said.
Jefferson led the Hogs to a 9-4 record last season and is more seasoned now, Pittman said.
"The biggest improvement that I've seen is just knowledge of seeing the game before it happens," Pittman said.  "Pre-snap looks, things of that nature. He's much better in his reads right now than what he was at any time last year. He's more confident.  He's had a really good spring."
CRAWFORD IMPRESSING
Pittman praised Charlotte transfer Ty'Kieast Crawford (6-5, 347) filling in for limited (ailing back) incumbent right offensive tackle Dalton Wagner but acknowledged it's still unsettled replacing graduated Myron Cunningham at left offensive tackle.
Former Notre Dame transfer Luke Jones of Pulaski Academy and Devon Manuel have competed there, along with the versatile Brady Latham. Crawford could get a chance at left tackle once Wagner's back heals.
GETTING THEIR KICKS
Incumbent sophomore place-kicker Cam Little and Jake Bates, a transfer from Texas State, were given ample opportunities Saturday.
Little made field goals from 37 and 47 yards, missing from 53.
Bates made field goals of 35, 37, and 47 yards and also missed from 53.