HOGS: QBs, special teams shine in spring game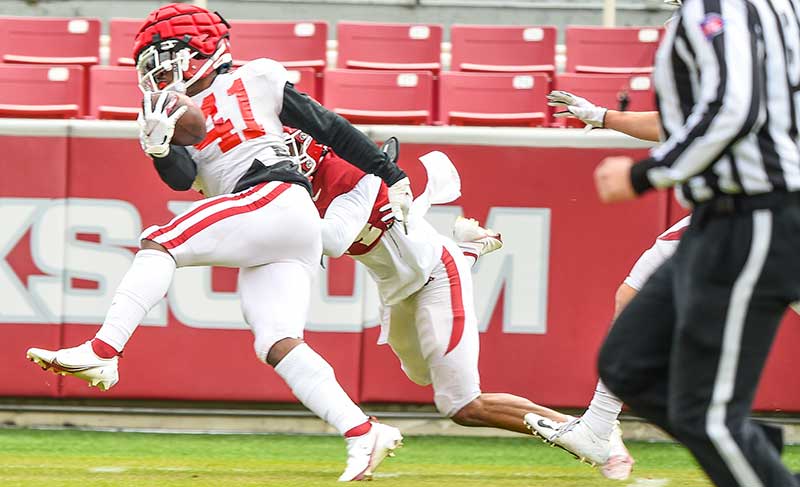 FAYETTEVILLE - Presumably most of the announced 18,874 attending Arkansas' Red-White spring game came to see new starting quarterback KJ Jefferson connect with big-play receivers Treylon Burks and Michael Woods.
Those fans, who UA head coach Sam Pittman gushed over for attending, were instantly rewarded.
Jefferson, not new to Arkansas as a third-year sophomore but the first time approaching a season as the starting QB, set the tone for Saturday's spring finale.
Against the first-team defense, Jefferson on third-and-4 threw 36 yards to Burks, immediately followed by a 33-yard touchdown to Woods.
Just what Pittman and offensive coordinator Kendal Briles ordered, and what Jefferson gladly delivered.
"The connection on the deep ball with Treylon and Mike is pretty good," Jefferson said. "We've been working all spring about it.  Coach Briles is a huge believer in giving guys a chance on the outside to go up and make plays. We've got playmakers. So why not give them a chance? I put my trust in those guys. They trust me to put the ball in good spots, and they are going to make plays."
And they did. 
Working entirely first (White) offense vs. first (Red) defense  Jefferson completed six of 11 for 153 yards without a turnover. He also threw a 31-yard TD pass to Burks and a 42-yard pass to wideout Trey Knox.
"I thought KJ couldn't have had a better start," Pittman said.  "He did some really nice things. I think he's certainly maturing. He's got command of this team. His teammates believe in him.  You have to earn that at quarterback and he certainly has."
Of course as a head coach also concerned with defense was it discouraging that Burks and Woods were so wide open on their first series catches?
"Well, I mean, you're always concerned about guys wide open," Pittman said.  "But we have one of the best secondary coaches (defensive coordinator Barry Odom and secondary coach Sam Carter) in the country and they'll get it fixed. Hopefully it was just a throw and a catch. Barry and Sam will get that fixed. I'm not concerned about it at all."
Pittman has bragged on the secondary throughout the spring and said the receivers and quarterbacks have had to improve to meet the challenge.
"They (receivers) had a good spring," Pittman said. "They have to because the secondary forces you to. I've said it multiple times that I'm so proud of the way our secondary plays, and the way that they're a unit back there.
All-SEC safety Jalen Catalon said the defense can ill afford to start as it did Saturday, but it did improve as the scrimmage continued.
The first half, featuring either the White first offense vs. the Red first defense or the Red second offense against the White second defense closed in a 20-20 tie.
The final score, with mostly reserves playing for both the Red and White in the second half, finished with Red ahead 30-20.
While Pittman acknowledged the offense got more of the best of it in the first half, he noted the defense consistently stopped the offense on third and short and fourth and short.
Jefferson also wasn't satisfied.
"In the running game, I feel like we could have done a lot better than we did," Jefferson said. "We still had some great runs on both sides of the field, but I feel we could have done a lot better just as far as correcting stuff up front. The O-line recognizing who to block. Just some of that stuff, but I feel overall both teams did a great job."
Pittman said the running game will improve when running quarterbacks Jefferson and second-year freshman backup Malik Hornsby can run fill tilt in games rather than be whistled down in caution jerseys as was the case as tacklers approach in spring and preseason scrimmages to avoid injuries.
Though nearly intercepted a couple of times by Myles Slusher, the safety tried at cornerback Saturday, Hornsby did not commit a turnover while completing 11 of 18 passes for 144 yards.
Pittman said: "I'm becoming a believer of Malik Hornsby more and more each time he goes out there."
Hornsby completed a 24-yard TD pass to reserve receiver John David White, who caught five balls for 87 yards.
"Don't you like him?" Pittman said when asked about White. "I mean, I love him. He can separate in his routes. He catches. He blocks. He's tough. There'll be a place for him because he's earned that."
Hornsby and running back T.J. Hammonds didn't mesh on a pitch recovered by defensive back Nathan Parodi.
Hammonds (in Craven Whitlow photo above) also fumbled, stripped at the end of what would have been a good 9-yard run. 
On the plus side, Hammonds was the game's leading rusher with nine carries for 67 yards, including an 18-yard TD.
Running back Reid Turner of Farmington ran for a 15-yard TD during a third unit vs. third unit second half clash.
The Hogs went five for five on field goals. January enrolled freshman Cameron Little kicked 20 and 38-yarders. Returnee Matthew Phillips kicked 27, 24, and 26-yarders.
"To be honest with you, our team needed that," Pittman said. "We needed to see our guys make field goals. It was a positive for me, you know, of where we could kick from and things of that nature. I thought Sam Loy punted really well today, and then the kickers all did a nice job. Vito (Calvaruso) kicked the one (kickoff) out of bounds, which we can't do, but other than that, I thought they had a nice day."