HOGS: 240-pound Knox creates mismatches at tight end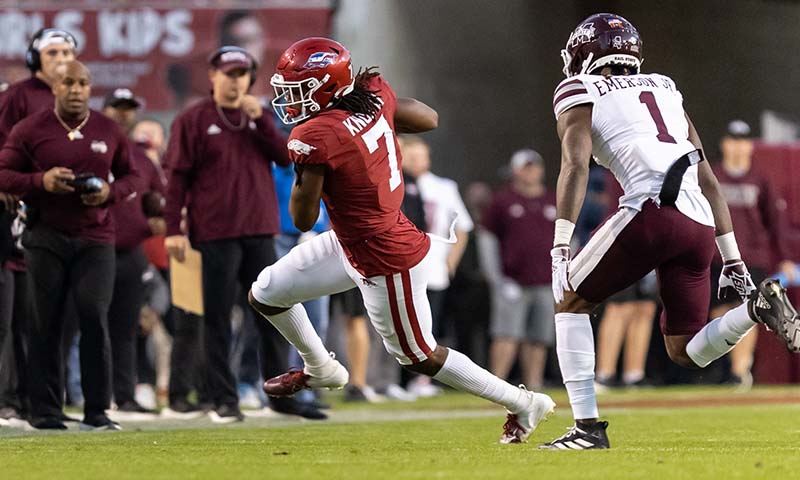 FAYETTEVILLE — Senior tight end Trey Knox, the former wide receiver who had been in concussion protocol for three weeks, took part in Saturday's scrimmage inside Walker Pavilion.


Knox, who had been out since being injured in an automobile accident during spring break in late March, said it was good to take part in a scrimmage that included full contact but stopped short of tackling to the ground.

"Had to get my head right," Knox said, acknowledging the concussion. "But I felt great."

Knox (6-5, 233; Murfreesboro, Tenn.) said he has gained 20 pounds in his transition.

"So I'm weighing about 240," Knox said. "It was pretty hard, but you know, gotta keep eating. That's really the biggest thing is eating and eating.
"Especially when you get in times like this, and you're going and going, you have to eat or you'll lose weight. The transition has been very fun. I love playing tight end.
"I think I can make a lot of money playing tight end. So I've been having my fun with it and, you know, just gonna see what it does this next season."


JEFFERSON'S ENDORSEMENT
Returning quarterback KJ Jefferson, a fourth-year junior, said Knox has retained the speed he flashed at wide receiver even as he has bulked up to play tight end,
"I consider him a flex tight end because we still line him up outside at receiver," Jefferson said, "Maybe a linebacker comes out there on him or a nickel or something like that. I mean with the size he has and the hands that he has, I mean, he's a mismatch problem."


PITTMAN ON KNOX
Coach Sam Pittman said Knox brings the skills of a wide receiver to tight end.
"It's like a running back that you put him on the field and he does something different than the other ones you have," Pittman said "Trey's kind of the total package in there. He's got a little more speed when he's on the field. He looks great. He's gained quality weight. He allows us to stretch vertically the nickels, the safeties, the boundary, field safeties. I think he's a good matchup, his speed on that speed. I think he becomes a good matchup for us."


KNOX PRAISES PITTMAN
Knox's best statistical season came as a true freshman, the year before Pittman arrived, when he caught 28 passes for 385 yards and three touchdowns. No matter, Knox (27 catches, 211 yards under Pittman) said the Razorbacks' coach has restored hope as the Hogs improved to 3-7 in 2020 and 9-4 last season.

"We say it all the time," Knox said. "This man, he could finish his coaching career here. We love him, the fans love him, and he's brought that grittiness, that toughness that we're going to go out there every week and hit you in the mouth until you quit. I think that's what he's brought."


FINALIZING CONTRACT DETAILS
Pittman said there will be a "no compete" cause in his soon-to-be-announced contract extension.

"They can fire me whenever they get good and ready to, but I can't leave if that makes sense," Pittman said. "Don't want to anyway."

Pittman enters his third Arkansas season with defensive coordinator Barry Odom and offensive coordinator Kendal Briles intact from 2020.

"You have 130 schools," Pittman said. "Eight of them have their head coach, offensive and defensive coordinators still there in the last three years is what I read somewhere. Eight schools that have the head coach, OC and DC of 130 going into their third season. So, we're trying to sell this contract as stability."


SPRING COUNTDOWN
Arkansas held the 13th of 15 allotted spring workouts on Tuesday, and the Razorbacks are scheduled to work Thursday and Saturday. All three workouts — closed to the public and media — are set for Walker Pavilion with the Reynolds Razorback Stadium preparing for Saturday's Garth Brooks concert.