HOGS: best Day 1 install of Morris career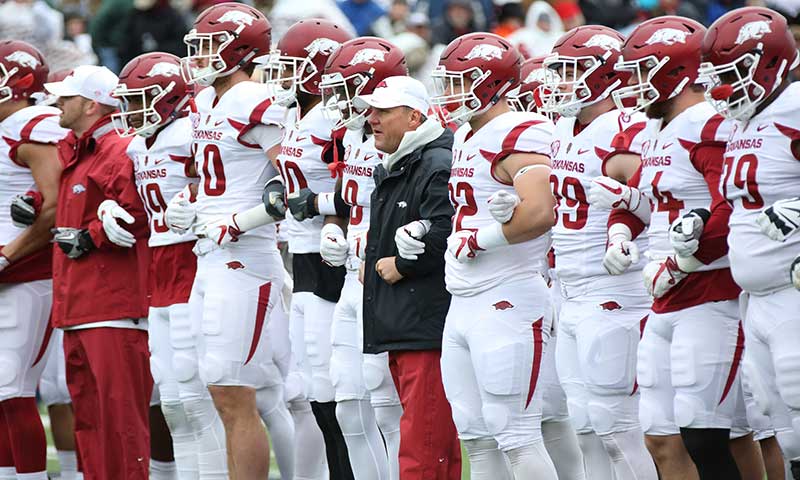 FAYETTEVILLE - Other than a not-fully ascertained injury to freshman tackle Noah Gatlin, all went well Friday night in the opening to Arkansas' preseason.
Arkansas coach Chad Morris talked with media after the two-hour workout. Media witnessed for the first 20 minutes of the practice.
Gatlin "went down" late in practice with what Morris said he believed was a knee injury. The Jonesboro product redshirted after playing the maximum four games last fall while retaining eligibility. 
Friday's drills were all non-contact as the NCAA mandates the first two practices with helmets as the only standard football equipment and then gradually adding pads for the first five days until the first full contact practice.
"I think it was his knee, but I don't know," Morris said. "It was three-quarters into practice. I don't know how big a deal it is. We'll find out about that and reevaluate and hope to get him back."
Gatlin has been challenging third-year sophomore Dalton Wagner for first-team right tackle.
Beyond Gatlin's setback, second-year coach Morris saw his  Razorbacks enthused to rebound from their 2-10 season of 2018 that include 0-8 in the SEC.
"When these guys came back out here yesterday (Thursday) and had our big weigh-in and our team meeting and going through our expectations, the atmosphere was different," Morris said. "A lot more comfortable. I think you saw that with a coaching staff today. Everybody was more comfortable in  our environment, and players understand exactly what we're asking them.  A lot of great energy."
Morris saw a good blend of old and new.
"A lot of  excitement and new faces and new numbers, and obviously that new energy that's out there," Morris said. "I'm excited. I thought we had a really good Day One. And tomorrow we'll get back out here and have another Day One.  That is the challenge of this football team to keep that energy and that attack mode 100 percent of the time."
Intangibly and tangibly, former SMU head coach Morris, previously the offensive coordinator at Clemson and Tulsa, said he saw a first day difference from past teams he's coached calling Friday  "the best first day install."
"Year Two, you expect that," Morris said. "And the second part of that is the work that these guys have put in. We really commended these guys. Coach Tru (Carroll the strength coach overseeing the summer conditioning program)  gave us the keys to the truck so to speak. The truck was in the parking lot and it's time to go put in work. That's what we did today, and that's what we'll do Saturday."