HOGS: O line shuffle begins; notes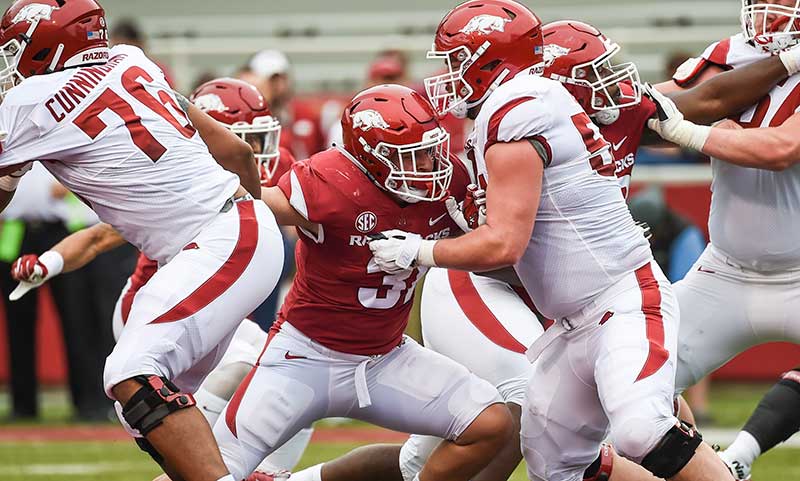 FAYETTEVILLE - Arkansas coach Chad Morris updated the medical plans on injured redshirt freshman offensive tackle Noah Gatlin of Jonesboro.
Gatlin, who played the maximum four games allowed last year to redshirt and retain his freshman eligibility for 2019, injured his knee during Friday's non-contact practice opening preseason.
"Our plans are for Noah to have surgery this week," Morris said. "He did tear his ACL, which is unfortunate. But that happens. It's football. He'll become a better person and a better player because of it. It's just some adversity that he'll have to go through. Hopefully we'll get that surgery done toward the end of the week and start his recovery and get him back hopefully for some of spring. Then obviously he's got plenty of years left ahead of us.
"Obviously very disappointed for Noah," Morris said. "But they understand it's part of the game. That's going to happen and it's the next-man-up mentality. So these guys will respond."
Competing for the right tackle position with junior first-teamer Dalton Wagner, Gatlin will be missed.  Especially considering offensive coordinator Joe Craddock last spring assessed Gatlin's 2018 as the new redshirt rule model for offensive line freshmen getting experience as precocious enough to play, yet redshirting for a position group generally taking up to five years to master.
"I hope all those offensive linemen coming in will look like Noah did when he got here," Craddock said in May. "So we can say 'That kid. We definitely hit on him.  He's got to play a little bit this year.  That's what we'd like for these other guys to be able to do."
SUMMONING THE DEPTH
Starting fifth-year senior left offensive tackle Colton Jackson of Conway acknowledged Monday the line takes a hit.
"With Gatlin gone, that takes down some of our tackle depth," Jackson said. "That forces some guys who probably didn't think they were actually going to get in the game or be that backup that your number could be called any time."
Redshirt freshman Ryan Winkel, previously working at backup guard, has worked backup right tackle since Gatlin's injury.
However, Myron Cunningham, the junior college transfer impressing Morris and offensive line coach Dustin Fry last spring at guard and tackle, likely figures to challenge Jackson at left tackle and could forge into the right tackle picture.
"We may," Morris said. "Right now he's really learning on that left side, some of the stuff we're looking at early in practice we may just see how comfortable he feels just to see if it's the right move for him."
Cunningham said moving from left to right tackle would take some adjusting, though he's practiced a little at right tackle and guard but mainly left tackle.
"As of now, probably not," Cunningham said when asked if he could immediately feel comfortable at right tackle. "But give me a week or two and I'll probably be good."
STILL ON WAGNER
In the meantime, right tackle rivets on Wagner who logged 205 snaps last year as a backup with one start.
"It's setting in on him now that you have no other choice," Jackson said. "You have to be that guy. Now there is still competition with Myron but you have to be that dude. He's been working really hard to solidify himself in that spot."
The Razorbacks, off on Sundays, donned some pads Monday in their third preseason practice. They open the season Aug. 31 against Portland State at Reynolds Razorback Stadium.
The NCAA mandates padless practices the first two workouts then increases the equipment until allowing scrimmaging by the fifth practice.
JORDAN JONES RETURNS
Jordan Jones, the junior receiver from Smackover who went home Saturday for his aunt's funeral after practicing Friday, had to follow NCAA protocol with no pads working non-contact portions Monday.
During the practice's first 20 minutes, senior SEC leading tackler linebacker Scoota Harris (off quarterback Ben Hicks)  and freshman safety Jalen Catalon (off quarterback John Stephen Jones) each intercepted a pass.
FROM TURF TO GRASS
The Frank Broyles Field of Reynolds Razorback Stadium officially became natural grass (Tahoma 31) Monday with its sod install replacing artificial turf.
From its 1938 inception as Razorback Stadium, the field was natural grass until Coach Frank Broyles switched to Astro Turf in 1968.
Astro turf, a hot fad in the 1970s but with drawbacks emphasized during the 1980s, was replaced by grass at the UA's Fayetteville stadium from 1994 through 2010 when former coach Bobby Petrino opted for artificial turf.
Morris prefers grass. Junior cornerback Jarques McClellion  prefers it, too.
"I love it," McClellion said. "I am from South Florida, and that's all we have is grass. So grass is just like home to me." 
Senior defensive end Gabe Richardson decisively voted no preference.
"I'm with whatever the team wants to be on," Richardson said. "We can play on concrete, grass, dirt. Don't matter. Just spot the ball."