HOGS report bigger, stronger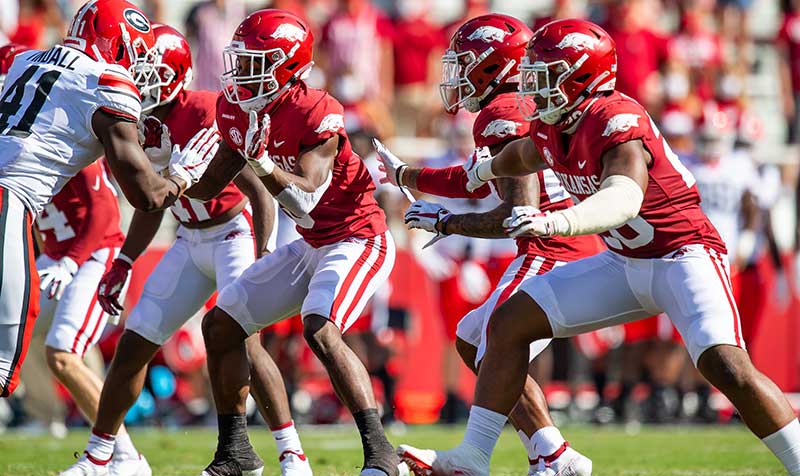 FAYETTEVILLE - Treylon Burks and Jalen Catalon not only lived up to Sam Pittman's Exhibit A and 1A Thursday about fielding a physically stronger team, but they added that the Razorbacks spent a productive summer.
For Media Day leading into the Razorbacks start of preseason practices Friday, junior preseason All-SEC receiver Burks and sophomore preseason All-SEC safety Catalon followed Arkansas head coach Pittman in fielding media questions.
THE DIFFERENCE
Burks and Catalon were not 2020 weaklings given each earned All-SEC honors, but Pittman promised a defined difference in the two before they met with media.
"You guys are going to talk to Burks, and you'll see," Pittman said. "Catalon, you'll see the difference in his body from where he was last year. Jamil Walker (the head strength coach)  and his staff did a great job of getting them (the entire team) in shape. I feel like we're going to be in prime shape to go out there and compete."
When Burks and Catalon arrived and talked figuratively of this team "linking arms" in unity, Burks and Catalon's arms literally added links of muscle.
"You can't thank the strength staff enough," Burks said.
His thanks didn't end with strength coaches Walker and Ed Ellis.
FOOD FOR THOUGHT
"Honestly you can see we put our trust in the nutritionists and strength staff," Burks said. "And as you all can see, it shows a bunch.
Catalon also praised Julie Zalewski, on the job since April, as the football team's nutritionist.
"Our nutritionist this year, she did a great job of making sure everybody was on top of the nutrition and making sure everybody had everything they need," Catalon said. "I know we had more snacks than we ever had. Just the availability, and we weren't afraid to ask questions. She was always giving us tips on things we could do to help our bodies and help us have a better life. And everybody took that seriously. So strength staff and nutrition were really good this year."
Burks, 6-3, said he added strength but his weight stays the same "225 to 227" he weighed last year.
Catalon, 5-10, said his strength reflects on the scales.
"I'm consistently around 195 or 200," Catalon said. "About five or six pounds more than I was last year."
The Hogs report in better shape, but so should every team. With the rise of the covid delta variant only so recently, all  teams got spent the bulk of the summer conditioning on campus, which covid did not allow last summer.
BEST SHOT
"We're 90% (vaccinated) on our football team," Pittman said. "We're over 93% in our building (the Fred Smith Football Center). I'm proud of it because it was their choice and that's how they chose because they want to play."
One player, not covid related, won't play when the Hogs practice this early preseason.
AVANT OUT
True freshman linebacker Marco Avant, the former Forrest City Mustang before transferring to Jonesboro High, has undergone foot surgery.
"His foot's not ready," Pittman said.
Otherwise, Pittman said the team's health is "in better shape."
As Arkansas' second-year head coach, Pittman said, "We feel a lot better about our football team. We know them better and they know us better probably is as important, either one. Feel good about it."
WARREN HEALTHY
Pittman and Burks were asked repeatedly about senior De'Vion Warren, the second-leading returning wide receiver behind Burks who missed last season's last three games and all of spring ball because of major knee surgery.
"De'Vion Warren is a guy who's healthy," Pittman said.  "He's looked good."
Burks expects he and Warren to complement each other.
"He came in and worked hard," Burks said. "You can tell he wants it more being his last year. He's gotten bigger. He looks stronger and faster."
CHALLENGING D-LINE
On defense, Pittman and defensive coordinator Barry Odom hope their defensive line, returning all from last season and adding three proven transfers in tackle John Ridgeway from Illinois State and ends Tre Williams and Markell Utsey via Missouri, can prove deep enough for Odom to mix more four-man fronts to pressure the passer rather than relying so heavily on their 3-2-6 base defense.
"I think that's a big deal for us," Pittman said. "That (D-line) room has got to get better, and they know it. They need a leader in that group that's going to lead by example and hopefully we'll find that from tomorrow on."
FIRST PRACTICE
The Razorbacks' first practice is NCAA mandated to be in shorts without pads then gradually increase equipment until next Thursday's first practice in full pads.