HOGS: Veteran linebackers persevere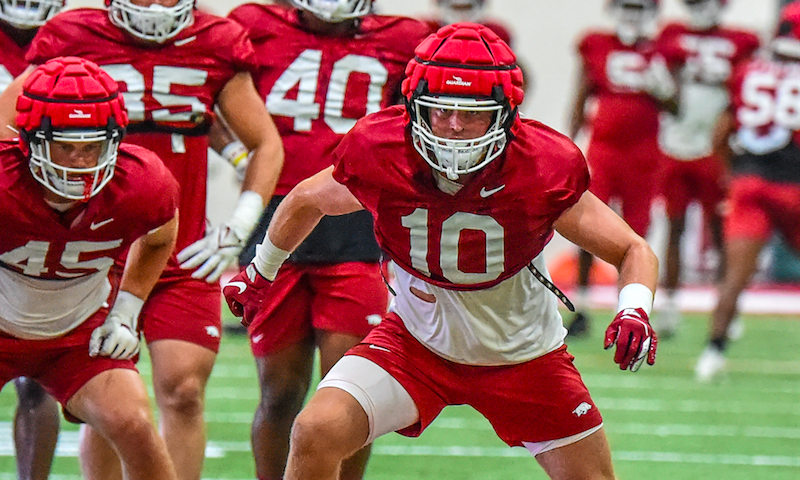 FAYETTEVILLE -  Arkansas' top linebackers play 2021 senior bonded in hard knocks.
Grant Morgan, originally a 2016 Bret Bielema era walk-on, earned first-team All-SEC/second team All-American in 2020 despite enduring an elbow in shreds.
"I tore some stuff up in my elbow, on both sides," Morgan of Greenwood says. "Nothing that required surgery because I ended up playing for 11 weeks with it torn. Just played with pain, I guess. I'm just glad I was still able to tackle."
And though graduated with a bachelor's and a masters, and eventual med school goal to be an orthopedist,  Morgan relishes  playing again as a sixth-year senior granted a bonus 2021 option granted to 2020 seniors because of last season's Covid-19 disruptions.
"Grant is not only the leader in our room, he's the leader of our team," linebackers coach Michael Scherer says."  It's just who he is."
POOL'S BROKEN RIBS
Fellow starting linebacker Bumper Pool (in Craven Whitlow photo), a regular fourth-year senior 3-year letterman, broke his ribs in the 2020 season's second game.
He missed only the next game though of course the ribs weren't close to fully healed as he played on, making 101 tackles second only to Morgan's team-leading 111.
"Imagine every time you cough you feel like somebody's stabbing you in the back," Scherer said marveling of Pool's toughness.  "So imagine, you hit somebody and you get that same feeling, like somebody's stabbing you and your body just about goes numb. He's a really tough kid willing to do anything he can for his team."
HENRY'S SHOULDER SURGERY
Hayden Henry of Little Rock and Pulaski Academy and son of UA grad and Ken Hatfield/Jack Crowe era center Mark Henry and middle brother between former Razorbacks Mackey Award winning/ current NFL star tight end Hunter Henry and Razorbacks third-year sophomore tight end Hudson Henry, Hayden Henry has lettered since 2017 as a top reserve linebacker at both Mike middle and weakside Will.
Repeated shoulder surgeries and aches thereafter almost but couldn't make Hayden refuse Coach Sam Pittman's offer of this bonus covid senior year.
He was about the last bonus senior to return, but return Henry did  though already with degree in hand. 
"There got to a point at the end last season where I was really in a lot of pain, and I didn't know if I wanted to keep doing it," Henry said.  "But  I got in the real world and I was like, 'Man, I really miss football a lot.' So I just made it my mission to get strong again. I can thank Coach (Jamil)  Walker and the rest of his (strength and conditioning) staff for that."
Withheld from much contact last spring, Henry has been full go this preseason.  He will pop pads with the rest. After Wednesday's off day, Thursday marks the preseason's first practice in full pads with the first of two full-scale preseason scrimmages looming Saturday.
"Hayden Henry's playing really good," Scherer said. "He's really smart and he's an old school, throwback kid. He's tough. He loves to hit people."
EDWARDS REVERED
Last but not least among the seniors, Scherer, Henry and Morgan said Tuesday, comes Deon "Dee Dee" Edwards, a 2016 Bielema era recruit from Clermont, Fla.
Edwards apprenticed two years on the scout team and lettered on special teams from 2018-2020 but buried at linebacker behind 2018 become NFL star linebacker Dre Greenlaw, graduated 2019 All-SEC linebacker Scoota Harris, and Morgan, Pool and Henry.
"He's never once whined about it," Morgan said.  "He's never once said, 'I should be playing.' He's just continued to be like, 'I'm so happy for you Grant, I'm so happy for Bumper, Hayden.' He's the best teammate, the best guy to be around."
The guy that the Pittman staff always uses as a recruiting weekend host.
But of course he wants to play.  And with the chance to play elsewhere of course he eyed the transfer portal last winter.
All understood, but all did their utmost to make him feel wanted.
Especially Scherer,  a 2020 Razorbacks  analyst promoted to linebackers coach.
"As soon as I had an idea that I might be here, I made sure that we called Dee Dee," Scherer said.  "We made sure that he didn't want to go anywhere, because we need him.  Our team loves Dee Dee. He adds a special dynamic to our linebacker room."
And on the field, Scherer said after coaching Edwards last spring and this preseason.
"You have Grant, you have Bumper, you have Hayden Henry who is playing really good," Scherer said. "Throw Dee Dee Edwards in there and (junior 2-year letterman )  Andrew Parker, that's five really solid guys who can go in a game at any time."
Morgan said, " Right now Dee Dee's probably  playing probably the best ball he's ever played."
BIG BACK AT TIGHT END 
Hudson Henry didn't practice Tuesday at Arkansas' tight end position so thin that big back Dominique Johnson, 6-1 235, practiced Tuesday at tight end behind bonus senior Blake Kern.
The Razorbacks have at least one big back, freshman Raheim "Rocket" Sanders, 6-, 220, behind 5-9, 190 starting running back Trelon Smith should Johnson remain at tight end.