HOGS good on snaps, holds, kicks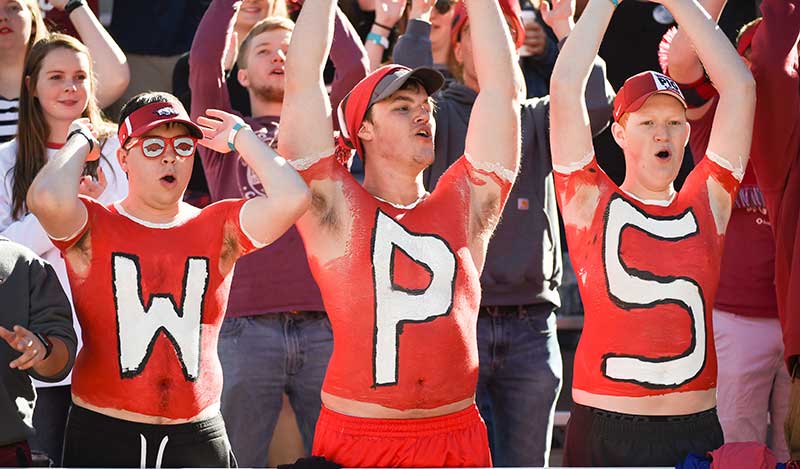 FAYETTEVILLE - Arkansas hasn't had such "Little" conversation about place-kicking since the late Steve Little's All-America career spanning 1974-1977.
There was a lot of "Little" conversation Monday about Arkansas place-kicking.
Touted freshman kicker Cam Little of Moore, Okla., apparently no relation to Kansas native Steve Little, has place-kicked so well during preseason drills that Cam was Topic A in media questions posed Monday to Arkansas special teams coordinator Scott Fountain and senior snapper Jordan Silver.
A LEG UP
Little "got a leg up" on his UA career, Fountain quipped, by graduating high school in December and enrolling in January and participating in spring ball.
Ironically, the high school superstar place-kicker-punter-kickoff man floundered to do it all in the spring.
"In the spring, he really struggled trying to figure out what all he could do for us," Fountain said. "We've really tried to just have him focus on field goals and kickoffs. He's had a really good camp so far."
COMFORT ZONE
Fifth-year senior Silver said Little had to "grow up fast" competing for a starting job as a January freshman arrival.
"He came in and tried to earn our acceptance a little bit," Silver said. "You know how when you first get into a group, it makes you kind of nervous. Like when you first at a lunch table you don't want to be the odd one out. He's gotten into the flow of things and gotten more comfortable with everybody."
Fountain and UA head coach Sam Pittman sound comfortable with Little.
"He's making his field goals," Fountain said. "He's getting great height on the ball. He's got good operation. We're moving it around on him. He's doing a really good job with that."
To end practice Monday, Pittman put Little in a do-or-die field goal attempt with one second left, and Little made it, Fountain said.
Pittman, after last Saturday's scrimmage, was asked why he likes Little.
"He knows how to kick the ball pretty consistently," Pittman understated. "We had a hurry field goal situation the other day from 57 (yards), and he kicked it 65. Kicked it right through the middle. His leg is a lot better than what it was from the spring."
A LITTLE HEFTIER
Little checked into the August preseason with not just a heftier leg but body.
"Yeah, he came in (last winter) a little on the lighter side," Fountain said. "Our strength staff has done a tremendous job this summer putting on weight and muscle mass of the guys just coming in. He's put on weight, added strength in his legs and his squat has gone up. So, definitely his workouts can't help but transition into power and his swing of the kick."
The extra strength has helped Little's kickoffs, too, though incumbent sophomore Vito Calvaruso owns the job, putting 33 kickoffs into or through the end zone last season.
"He made 70 percent (touchbacks) on the year," Fountain said. "I like where he's headed."
DARKHORSE BAUER
Fourth-year junior Reid Bauer wasn't supposed to be Arkansas' main punter in 2018 and 2020, but he was.
He finished spring ball No. 2 to ex-Vanderbilt punter Sam Loy but with Loy "dinged up," Pittman said. Bauer seems to have moved ahead not only for punting but snatching Silver's snaps to hold for Little's place-kicks.
"I call him "Darkhorse" Bauer," Fountain said. "A year ago, Reid Bauer never really held kicks, ever, and now he's gotten really good at it. Today, Pittman gives him a big field goal there at the end and puts pressure on everybody, but he (Bauer) gets it down and we make the kick."
SILVER SNAPS
All Silver snaps are anticipated golden.
"The thing he brings is just great accuracy," Fountain said.
Silver is on the Patrick Mannelly Preseason Watch List.
The Mannelly Award in December honors college football's best snapper for punts and place-kicks.
COVID DISRUPTIONS
Among the covid-19 disruptions affecting 2020 college football, it seems nationally that special teams were especially affected.
Fountain, noted for his special teams at Auburn and Georgia, acknowledged the special teams on Saturdays often didn't reflect the groups practicing at the week's outset.
"Last year, this was kind of my world," Fountain said of awaiting thrice weekly covid tests Sunday, Tuesday and Thursday. "I find out on Monday I lose a guy. I might find out on Wednesday I lose a guy, and then Friday come in and six guys are out. Last year, the Auburn game we lost about eight guys. I have a third- or fourth-team guy and he's starting the game. It's also tough for the defensive coordinator and offensive coordinator. But if they lose a guy on defense or offense, well, that (backup) guy I had on special teams, I might have lost him  because now he's got to play more offense or defense."
Fountain said what special teams coaches experienced last year should better prepare them if the covid's delta variant affects rosters in 2021.