HOGS: Optimism abounds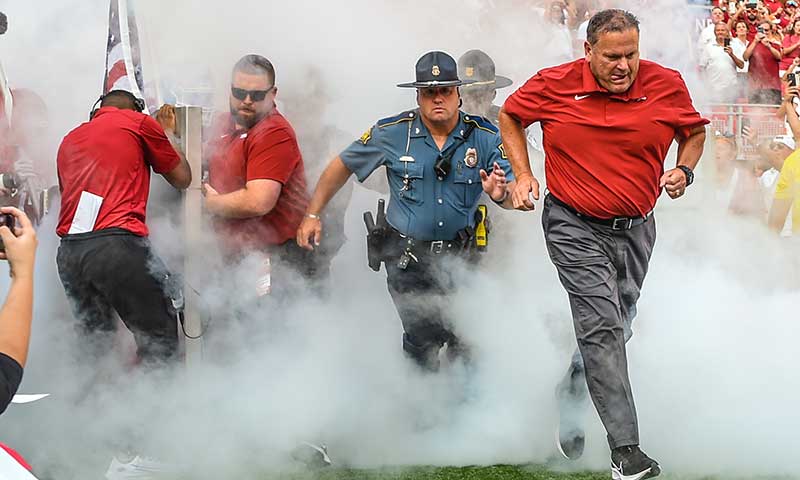 Pittman leads Arkansas out of obscurity
One of Sam Pittman's predecessors as Arkansas' head football coach had this to say about preseason polls and the like. They are words that bear repeating.
"A team is remembered less in November," he said, "than for what was expected of it in August."
Although not at 2012 levels, when great things were forecast for what proved to be John L. Smith's only Razorbacks team, the bandwagon is bulging in advance of Pittman's third Arkansas season. 
The most extreme case of homerism may have come in 1972, with Joe Ferguson throwing, Mike Reppond (among others) catching and Dickey Morton running, Frank Broyles' squad charmed the state before its Little Rock opener against USC. That team's main weapons rested on offense, and with no one of similar stature on defense, went 6-5, which might have been predicted that September night as fans left War Memorial Stadium with USC rolling, 31-10.
Considering he inherited a quaking program in 2020, winless in the previous two SEC seasons, Pittman returned to Arkansas teaching fundamentals and preaching oneness. UA fans, desperate for any ray of good hope, liked his Razorbacks roots, having coached the offensive line for some of Bret Bielema's early UA teams and how he let it be known, when candidates such as Lane Kiffin went elsewhere, that he wanted to be here. 
Pittman, with a lakefront home in Hot Springs to fall back on, could see Arkansas as a place to plant roots. That went over with the fans, seeing Pittman through a 3-7 first season that included near-misses against Auburn (30-28), LSU (27-24) and Missouri (50-48). His 2021 team, while not on the level of SEC giants Georgia and Alabama. collected some prominent scalps (none bigger than Texas, plus Texas A&M and LSU), wrapping a 9-4 season with an Outback Bowl score over Penn State in their first meeting.
A two-year record of 12-11 hardly would rate Pittman a statue at Alabama or Auburn. But it made him a virtual rock star in Arkansas, giving UA fans the feeling that they could line up with just about anybody on a fall Saturday. They hadn't felt that way since Bobby Petrino let them see the promised land, or so they thought, before things went spinning out of control for that coach.
Pittman took advantage of every break, getting major mileage out of the transfer portal and the extra eligibility for some after the 2020 pandemic season. Hiring ex-Missouri head Coach Barry Odom as defensive coordinator allowed Pittman to concentrate on the offensive line and game management, certainly not the strengths of his immediate predecessor. Kendal Briles, his offensive overseer, is given credit for turning KJ Jefferson, a gifted runner whose passing improved with game action, into a winning quarterback.
Pittman is blessed to have Hunter Yurachek as athletic director. Yurachek possesses Broyles' wisdom and a knack for instilling goodwill among in-state teams that Broyles lacked, and Arkansas is winning again in football and in all sports. There is hardly an offseason in Razorbacks athletics anymore.
Pittman drew a packed house Monday at the Little Rock Touchdown Club's kickoff lunch, whipping up the excitement for the No. 19 Razorbacks' Sept. 3 Fayetteville opener with No. 23 Cincinnati. Some see 10-2, others 8-4. Relatively few expect an utter disaster. It will all play out in time in a season that Hogs fans hope will stretch from Labor Day weekend to New Year's Day.
It's only August, after all. They start keeping score in September.