HOGS relish opening shot vs. Georgia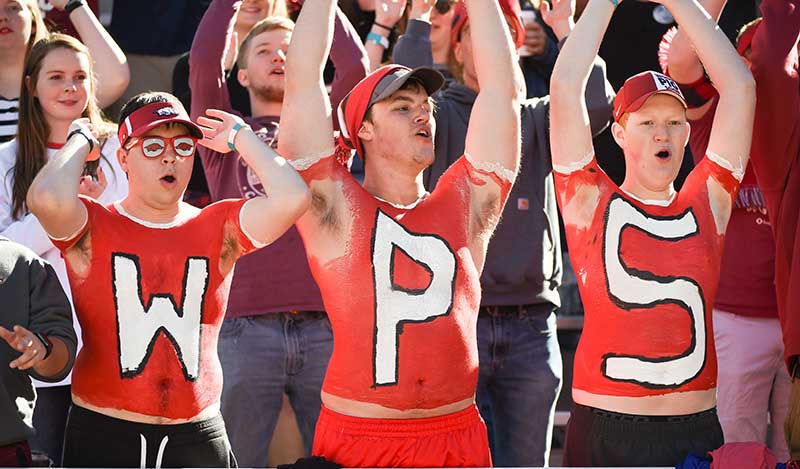 FAYETTEVILLE - The first question asked Monday to Sam Pittman after he coached his first official Arkansas practice concerned the school he just left.
Pittman, the Arkansas offensive line coach from 2013-2015,  become Georgia offensive line coach from 2016-2019. Pittman walked off Monday's practice field to learn Georgia would be Arkansas' Sept 26 season-opening foe at Reynolds Razorback Stadium.
The revised SEC 10-game schedule was released Monday evening. The Razorbacks knew who they played and where, but the order became official starting Sept. 26 vs. Georgia.
"I haven't gotten a chance to really dig into the schedule because I just got off the field and showered," Pittman said. "But as far as Georgia goes, you know I'll be excited to see all the guys. They've been the East champs three years in a row, national runner-up. And they're a big, tough, physical, greatly coached football team. I have a great respect for everybody in that program and the way they coach and the way their kids play, and it'll be a great measuring stick to see where we're at."
BRUTAL SCHEDULE
After Georgia, ranked fourth in the preseason coaches poll,  Arkansas travels Oct. 3 to Mississippi State, then Oct. 10 at  No. 11 Auburn, Oct. 17 hosting Ole Miss, an Oct. 24 open date, Oct. 31 at No. 13 Texas A&M; Nov. 7 hosting Tennessee; Nov. 14 at No. 8  Florida; Nov. 21 hosting No. 5 defending national champion LSU; Nov. 28 at Missouri at Mizzou's Faurot Field in Columbia, and finally Dec. 5 hosting No. 3 Alabama.
GEORGIA ON THEIR MINDS
For now and awhile, Georgia only will be on the minds of the Razorbacks.
"Oh, it's big-time," Arkansas junior linebacker Bumper Pool said, media available with senior running back Rakeem Boyd after Monday's closed practice in helmets and shorts. "Coach Pittman's first game, get to play Georgia at home. He said he likes to play the fight song of the team we play for Week One.  So we get six weeks of the Georgia fight song. It will be on our mind every single day. I'm more than on board for bringing them in here and having a great Week One."
Boyd, netting 1,133 yards rushing last year even as the Hogs wallowed 2-10 overall/ 0-8 in the SEC, said everyone is inspired for their new coach against his old team.
"Whatever Pittman wants, we're gonna ride behind him," Boyd said. "We're gonna ride behind him, and he knows we've got his back. I think this year is where we can make a lot of noise. We can get a lot of teams on their toes and do something."
MEETINGS ZOOMED
The Razorbacks didn't get to practice last spring because sports were nationally cancelled, and the UA reduced to online only when the COVID-19 outbreak first manifested in mid March.
But they did meet considerably over Zoom and then were allowed walkthrough drills in July and August that helped Pittman, offensive coordinator Kendal Briles, defensive coordinator Barry Odom and special teams coordinator Scott Fountain to install plenty.
Pool said Monday's practice proved the meetings were  worthwhile.
"We go over those installs over and over again," Pool said.  "When you're on the field, you feel like you're not even missing a step. It's translating well."
FOUCHA PICKS 
Junior safety Joe Foucha picked off a pass, Pool said.
Pittman said the defense "did a nice job running to the ball" and the offense "took care of the ball" without fumbling.
FRANKS ACCURATE
Naturally Pittman was asked about Feleipe Franks, the graduate transfer former Florida Gators starting quarterback taking first-team snaps with redshirt freshman KJ Jefferson behind him.
"Feleipe has got a very strong arm," Pittman said. "I thought he was accurate today. From what I see, the relationship is really good between the wideouts and Feleipe. As a matter of fact with  all the quarterbacks."
KEEPING COVID ALERT
Pittman, Boyd and Pool all said staff and players are ever mindful of COVID-19 precautions on the field (like bumping elbows instead of high fives and managers individually handing out water bottles) and strive being even more mindful off the field.
"A lot of it is just talking to them about how important the season is to them and  how the COVID is very, very scary and very, very harmful," Pittman said.
Other than his wife, Jamie, Pittman said, "I haven't been 6-foot close to somebody without a mask on for over 15 minutes in a long time."
Limited to 25 practices between Monday's opening practice and the Sept. 26 season opener, the Razorbacks are off Tuesday and practice again Wednesday in helmets and shorts.