HOGS: Injuries, competition yield depth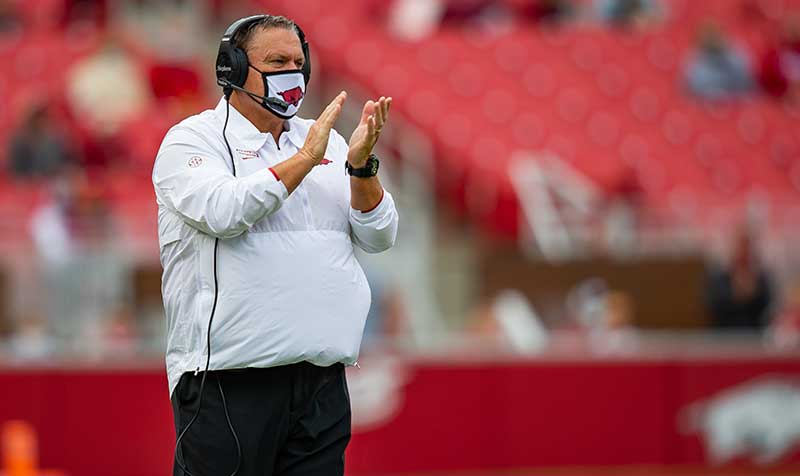 FAYETTEVILLE - After being told for two-plus years he's a better guard than center by the staff of former Arkansas coach Chad Morris, Ty Clary is back at his old position.
Incumbent junior center Ricky Stromberg has been idled since Aug. 9 by an injury, so starting right guard Clary returns to center. 
"It's like I never left," the fifth-year senior said after Tuesday afternoon's practice. "You know it's like riding a bike. Pick it back up and go back to center."
Clary had to start one game last fall at center when  Stromberg missed while in covid tracing quarantine.
The hope is that Stromberg, who did non-contact walkthroughs Tuesday, can return by the Sept. 4 opener against Rice. Pittman, an offensive line guru, and new line coach Cody Kennedy (Pittman's 2018 grad assistant when Pittman coached Georgia's line) say there is no spot  needing quality depth more than center.
"Coach Pittman is always on me with how many guys you got who can snap the ball?" Kennedy said. "We're trying to be deep at that position. So, this is only increasing our depth. He (Clary) is doing a really good job building confidence."
CALLING CARD
The center is the line's quarterback, making the line calls. Clary has done that but admits he's always ready to unleash at guard.
"At guard, you can be a little more violent, a little more physical and I like that," Clary said. "Center you have to make the calls. and you're at the front of the line. So you have be ready to take some hits and just get back off the line so you don't get picked.
He should soon get his guard wish while always knowing he's a snap away from doing the snapping.
"Do I see him moving back to guard once Ricky gets back there?," Kennedy asked rhetorically. "Absolutely. But he's doing a great job and it's only going to help us in the long term."
LEFT GUARD TUSSLE
Third-year sophomore Beaux Limmer has benefitted working at first-team right guard while Clary works at center ahead of fellow senior Shane Clenin.
Since spring ball, the starter at left guard has see-sawed between sophomore incumbent Brady Latham and fourth-year junior Luke Jones of Pulaski Academy. Jones spent his 2018 freshman year at Notre Dame before transferring to and redshirting at Arkansas in 2019.
"It's going to be down to the wire," Kennedy said. "And it's not one of those bad down to the wires either. They're scrapping every day. They know what's at stake. It's not a secret in our room that there's a competition there."
Senior starting right tackle Dalton Wagner concurs it's a battle at left guard.
"You're talking about two extremely high-level players," Wagner said. "Both of them know what to do. Both of them are violent, violent human beings. And they take it personally when one of them moves up the depth chart and one of them moves down the depth chart. Those guys are going to fight for that spot, and it's going to be interesting to see who wins it."
Latham and Jones, both 6-5, have bulked up from the 280s during the 2019 Chad Morris regime to 305 and 310 pounds since Pittman brought strength coach Jamil Walker with him from Georgia.
Wagner, 6-9, and Clary, 6-4, weighed 285 and 308 while playing for Morris in 2019. They respectively list 330 and 315 under Pittman and Walker.
"It sucks looking back when we wanted to be smaller so we could move better when we're probably moving better now  when we're heavier," Wagner said Tuesday. "You're not going to be able to move anybody weighing 270, 280, 290.  But you are going to move someone weighing 330, 320, 315."
QB TO TIGHT END
Recruited as a big-framed 6-4 quarterback out of Little Rock Parkview, true freshman Landon Rogers became the latest Tuesday to audition for tight end behind experienced tight ends Blake Kern and Hudson Henry.
Running back Dominique Johnson, moved last week to tight end, shifted back to running back where touted freshman AJ Green has been idled by injury since last week.