HOGS: D line adds depth; Notes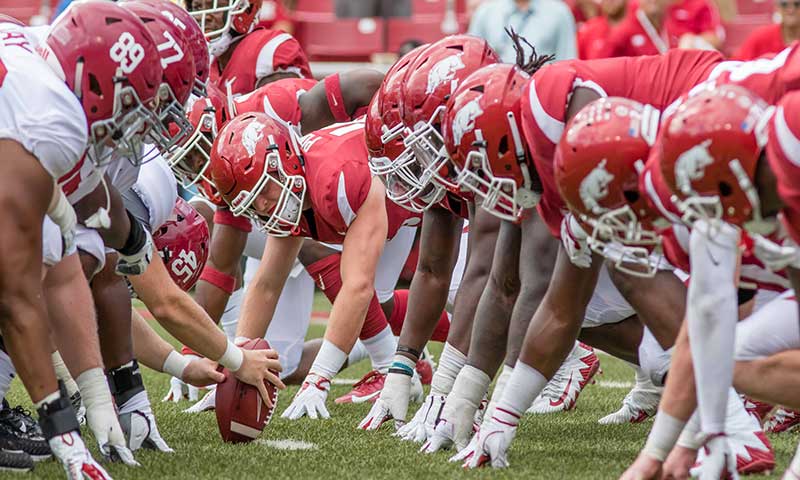 FAYETTEVILLE -  Adding three transfers and a ready-to-play freshman this fall should deepen an Arkansas defensive line that graduated just one 2020 starter.
And it better be better, returnees Dorian Gerald and Eric Gregory said Wednesday.
Arkansas head coach Sam Pittman, defensive coordinator Barry Odom and new line coach Jermial Ashley have challenged the D-line group to match the secondary in quality depth so Odom can freely mix a 4-2-5 scheme with the 3-2-6 he used often last year.  
BIGGER, DEEPER CAST
All believe the additions of end Tre Williams and defensive tackle Markell Utsey from Missouri and John Ridgeway, the 6-6, 320 transfer noseguard from Illinois State, will help. So will the healthy return of 2018 starting end Gerald after two injury-plagued seasons, and precocious 6-5, 310 true freshman tackle Cameron Ball.
Those have infused competition with returning end/tackle Eric Gregory, tackles Isaiah Nichols and Taurean Carter and ends Zach Williams and Jashaud Stewart, all in their second season under Odom. 
Ashley expects the need to rotate multiple bodies in what could be a sweltering 1 p.m., Sept. 4 opener against Rice at Reynolds Razorback Stadium.
Asked how many he would like to rotate against Rice, Ashley replied Wednesday, "as many as Coach Pittman allows."
FOUR-MAN FRONT
The goal is to play more as a four-man front than last year. Pittman has challenged the D-line to show it has the quality depth that he sees in the secondary.
"I'm a competitor, man," Gregory said. "So, anything like that I hear, I'm trying to work on it."
So are his fellow D-linemen. Gregory said.
"We have a lot of depth," Gregory said. "We've gotten way better in a 4-man front. We're making plays. I feel like we're way better in getting to quarterback and holding our gaps against the runs."
Gerald also takes it as a personally.
"Just the challenge that Coach has put up to us, we've answered," Gerald said. "I think we've got everything we need to have a  successful D-line."
Especially with Williams, Utsey and Ridgeway added.
ASHLEY ON TRANSFERS
"I'll start with Tre Williams," Ashley said. "He's a very athletic guy. He's a great edge rusher. He will give you a presence coming off the edge. Ridgeway, he's a big guy, 326 pounds. He has the type of mindset we look for in the middle. Just an aggressive guy to bang and battle. Utsey, he's an athletic big guy. He brings a little athleticism to the 3-tech spot. He's also a banger."
With so much experience returning plus three experienced transfers, it seems difficult to forecast the freshman Ball of Atlanta, playing right away.
But Ball "absolutely" could, Ashley said.
"He's an athletic young guy," Ashley said. "It's going to be a transition to understand the playbook. That's just one of the things we work on daily, just him growing mentally and being able to handle what we ask of him when the bullets start flying."
REST OF THE WEEK
The Razorbacks have Thursday and Friday morning practices leading into Saturday morning's second and final preseason scrimmage. Fall classes start Monday at the UA.
Ashley wants his D-linemen to execute on Saturday. 
"Carry out your assignment under pressure," Ashley said. "Being able to function at a high level during the midst of playing at a high level."
INJURY REPORT
Running backs Trelon Smith and AJ Green were withheld from Wednesday's practice, which created more work for track sprinter Josh Oglesby and freshmen Raheim "Rocket" Sanders and Javion Hunt.
Pittman has said obvious first-teamers like Trelon Smith and receiver Treylon Burks might scrimmage a little or not at all Saturday to minimize the injury risk as the season-opener approaches.
Starting quarterback KJ Jefferson and his backups practice in no-contact caution jerseys.