HOGS review new teammates; Notes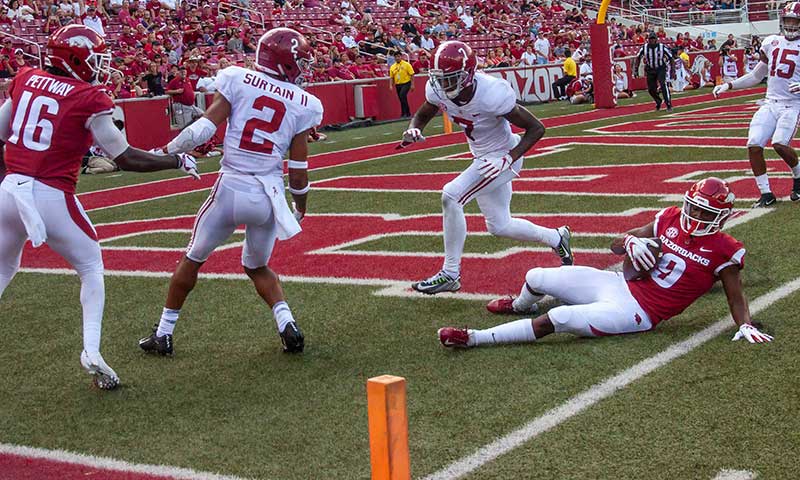 FAYETTEVILLE - An Arkansas defensive back he's practicing with and a receiver he's practicing against both laud Jerry Jacobs, the graduate transfer defensive back from Arkansas State.
Junior cornerback Montaric Brown of Ashdown and junior receiver Mike Woods (in Craven Whitlow photo) cited Jacobs during their separate Zoom interviews following Wednesday's practice, Arkansas' second practice of the August preseason.
Asked for thoughts about the secondary beyond returning first-teamers like Brown, whom he praised, Woods volunteered, "Jerry Jacobs is looking really good to me."
Brown explained why.
"Fluid in the hips and breaks," Brown said. "He is a great teammate. A funny teammate. He's very versatile. He can play safety, nickel and corner. He has all the tools."
TRIO TOUTED
In Wednesday's closed practice, Woods reported he caught three touchdowns and that running back/receiver T.J. Hammonds, working Wednesday at receiver, caught a TD.
Sophomore standout wideout Treylon Burks "had a good day," Woods said.
Asked which receiver was hardest to cover, Brown paid homage to Woods and sophomore Trey Knox, but for the hardest, "I'd say Treylon Burks." Burks (6-3, 230), from Warren, caught 29 passes last fall for 475 yards.
"I call him Julio Jones (the Atlanta Falcons and former Alabama great receiver) because he has a big frame," Brown said. "He can do anything. He has speed, power, and even though he's 230 he can just run by you. He's got all the weapons."
FRANKS FETED
All the receivers, Woods said, should benefit from adding graduate transfer quarterback Feleipe Franks, the Florida Gators' former starter.
"As soon as you come out of the break, the ball is right there." Woods said. "I love the timing. He knows audibles at the line and different things to do. He's really experienced and mature, and he knows how to run an offense."
CATALON OUT
Razorbacks redshirt freshman safety Jalen Catalon did not practice Wednesday and could again be battling a knee problem. A knee injury sidelined him during the 2018 season-opener for the duration of his senior year at Mansfield (Texas) Legacy High School.
Catalon played the maximum four Razorbacks games in 2019 that allowed him to redshirt and preserve his freshman eligibility for 2020.
Catalon has drawn praise from new head coach Sam Pittman and new defensive coordinator Barry Odom for his preseason conditioning and attentiveness.
First-team receiver Trey Knox, first-team cornerback Jarques McClellion, backup receiver Tyson Morris and redshirted junior college transfer offensive lineman Chibueze Nwanna also did not practicing Wednesday.
SURPRISING ALL-AMERICAN
Rakeem Boyd, the senior running back off his 1,133-yards rushing in 2019, ranks by far as Arkansas' most heralded player.
But Josh Oglesby is the lone football Hog, who is an All-American. The swift sophomore netted his All-America honors running Arkansas' 2019 NCAA Outdoor Track Championships  leadoff leg of the fourth-place 4 x 100 relay for Coach Chris Bucknam's Razorbacks. Oglesby led off Arkansas's 2019 SEC Outdoor Championships third-place 4 x 100 relay.
Reaction to the COVID-19 pandemic shut down the 2020 Outdoor track season and Arkansas' spring football practices before they ever began.
Oglesby, a 5-8, 174 scatback built similarly to 5-9, 185, experienced Arizona State transfer running back Trelon Smith, has impressed with his speed, Pittman and Boyd have said.
GATLIN RESPONDING 
Noah Gatlin of Jonesboro, Arkansas' best freshman offensive lineman in 2018 while playing the maximum four games to redshirt but out all of 2019 from an August preseason torn ACL knee injury, has responded well at offensive tackle through two practices.
"Noah Gatlin is back and is moving well," Boyd said after Monday's practice. "You're not going to come back and just automatically be Superman. You've got to work and he's worked."
FRIDAY'S WORKOUT
Pittman, spacing an allowed 25 practices between Monday's first practice and the UA's Sept. 26 season-opener against Georgia, next works the Hogs in Friday's closed practice.