HOGS deliver big hits; Notes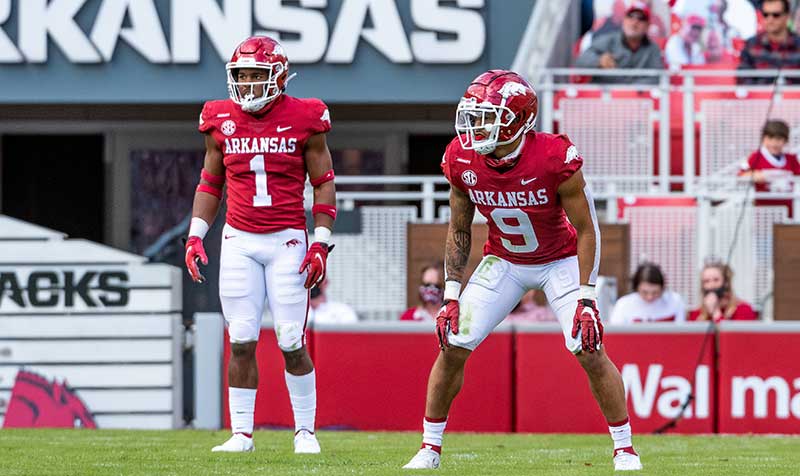 FAYETTEVILLE - The Razorbacks will lighten Friday's practice load to ease into Saturday's scrimmage after a Thursday practice that Arkansas head coach Sam Pittman promised would be heavy hitting.
The hitting was delivered, said defensive coordinator Barry Odom, who met media after practice Thursday as did safeties Joe Foucha and Simeon Blair.
"He's exactly right," Odom said. "To me, it was our most physical day of camp so far. And our guys responded. I thought there was great competition."
MIZZOU IMPACTS D-LINE
Missouri's head coach from 2016-2019, Odom talked about former Tiger Tre Williams.
Williams is the end who played for Odom at Mizzou, transferred to Arkansas along with fellow former Mizzou end Markell Utsey, and stood out with a couple of sacks Saturday, Pittman said after the scrimmage.
"I think Tre has shown some things in his pass rush," Odom said Thursday. "But also from the time I had him before until now, he's become an every-down player. There were times he was a third-down pass rush specialist, and that's not the case. He's an every-down player now."
Utsey figures at end and 3-technique tackle.
"He's got great quickness and plays with tremendous leverage," Odom said. "Those are two qualities you've seen from when he was in high school to now as a fifth-year senior. He's got a great competitive spirit. He practices the way that it's supposed to be done."
HOLDOVERS HANG IN
The additions of Williams, Utsey and 326-pound nose tackle John Ridgeway who transferred from Illinois State, have impacted the defensive line. So have the improvements of returnees Eric Gregory, ends Dorian Gerald and Zach Williams and tackles Isaiah Nichols and Taurean Carter, Odom said.
Senior safety Foucha said the D-line's improved pass-rush automatically improves the secondary.
"I wanted to talk about this the most," Foucha said. "Our defensive line has been making our job way easier, just getting to the quarterback. We ask them every day, 'How many seconds do y'all need?' It went from about three seconds to about .9."
FOUCHA SHOULDERS BURDEN
More than a year removed from shoulder surgery, Foucha weighs 205 pounds compared to 188 last year after a full summer under strength coach Jamil Walker.
"Last season I couldn't really lift weights, and I felt like that affected me being in the game," Foucha said. "Now that I'm 205, my bench press went up, my squat went up. I'm the best I ever have been."
Quicker, too, Odom asserts.
"His quickness to me has improved so much," Odom said. "I think that has to do with Jamil and his staff, but also the buy-in of Joe and the way he's attacked this off-season. He's running extremely well. He's a very, very gifted player."
JOE ON GO
The Hogs' 3-2-6 scheme features safeties Foucha, Pine Bluff's Blair and All-SEC safety Jalen Catalon. Blair, a former walk-on, presses Foucha when Odom omits the third safety and uses his improved defensive line to intersperse a four-man front.
"I feel like throughout fall camp we (Blair and himself) have gotten better competing with each other," Foucha said. "We've gotten closer as well. We never had a problem competing against each other, and that only pushes me to work hard. So that's all we've been doing is pushing each other and making each other better every day."
"DAY DAY'S"
While Montaric "Busta" Brown returns at a corner and "has had a great camp," Odom said. LaDarrius "Day Day" Bishop and Hudson Clark return after variously starting last season at the other corner.
Clark started the most often, swiping three interceptions during the victory over Ole Miss, but Bishop appears to lead at present.
"I think LaDarrius has got great straight-line and short area quickness," Odom said. "You look at his cover skills. He's long, got really good change of direction and all the things we're looking for at that position. It's a battle, and my guess is it will be throughout the season. Hudson Clark continues to make plays and understands how important that position is."
LINEBACKERS BIG 4
Odom and new linebackers coach Michael Scherer, who played for Odom at Mizzou, believe they have three senior first-teamers for the two linebacker spots. They are All-SEC middle linebacker Grant Morgan, weakside linebacker Bumper Pool and middle/weakside swingman Hayden Henry.
Senior Deon Edwards, the fourth behind the top three linebackers, has resumed practice after missing a couple of days from an injury during Saturday's scrimmage.