HOGS: Undisputed No. 2 QB; Notes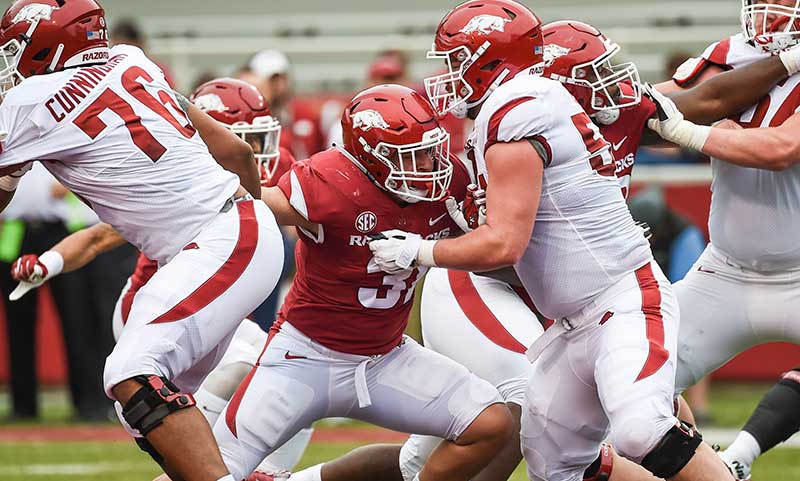 FAYETTEVILLE - Following last week's scrimmage with too many penalties and too little offense, Arkansas coach Sam Pittman said Saturday that the offense turned up and penalties went down during the final preseason scrimmage.
The defense, though not as dominant as a week ago, played well, Pittman said.
Next Saturday, the Razorbacks rehearse with a low-contact mock game prepping for the 1 p.m. season-opener Sept. 4 against visiting Rice.
"I thought it was a very physical scrimmage," Pittman said. "Last week, I believed our defense outlasted our offense. I don't believe that this week. I think the offense came back and did some really nice things. It was a pretty even scrimmage."
PLACE-KICKING
Pittman devoted a goodly portion of both scrimmages to special teams. Freshman place-kicker Cameron Little, perfect the first scrimmage, and his fellow kickers didn't match previous perfection on Saturday.
"Special teams, I thought we were good," Pittman said. "We have to get better kicking field goals, though. We weren't quite as good today with our field goal game as what we had been."
It wasn't all bad. According to scrimmage stats from the UA, Little successfully kicked 49- and 35-yard field goals. Matthew Phillips kicked a scrimmage long 52-yarder. Vito Calvaruso, normally the kickoff man, kicked a 37-yard field goal.
There were fewer penalty flags vs. a week ago. 
"Much better," Pittman said. "That was kind of one of the goals we gave to the team going into the scrimmage."
INJURY REPORT
Pittman described why injured first-team center Ricky Stromberg (knee MCL strain) since Aug. 8, top running back Trelon Smith (turf toe) and idled this week, All-SEC safety Jalen Catalon (shoulder) idled this week, and receiver De'Vion Warren (tweaked hamstring Friday) did not scrimmage.
Pittman said all, with Stromberg cleared for contact since Thursday but withheld as a precaution, might practice Monday.
Because of unspecified maladies, receiver Treylon Burks, running back-receiver T.J. Hammonds, running back AJ Green and punter Sam Loy did not scrimmage but should be available against Rice.
"If we played Rice today, they would not have played," Pittman said. "But I expect all of them to be ready for the Rice game."
Freshman Raheim "Rocket" Sanders handled the bulk of Saturday's running back load with leading returning rusher Smith withheld.
BACKUPS STEP UP
With Burks and senior speedster Warren, deemed Arkansas' No. 2 receiver, both out, junior via Oklahoma transfer Jaqualyn Crawford, freshman Ketron Jackson and third-year sophomore John David White were the receivers logging increased time Saturday.
White, Pittman said, caught "a long touchdown pass," from redshirt freshman Malik Hornsby, the backup to third-year sophomore starting quarterback KJ Jefferson.
On Friday, UA offensive coordinator Kendal Briles praised Jackson. "If you look at the spring to right now offensively he's without a doubt the most improved football player on the offense."
Pittman lauded Jackson Saturday.
"In practice, he's at least the third best receiver we have," Pittman said. "Maybe higher." 
Backup QB has vexed since Jefferson, last year's backup, elevated to No. 1 with 2020 Arkansas QB Feleipe Franks turned pro.
Hornsby has seized a firmer grasp after. A year ago, he was a third-teamer and gifted runner, but did not particularly assert  himself this spring even as the No. 2 QB.
"He's No. 2," Pittman said Saturday. "There's not anybody, in my opinion, right now who's close to him as a 2 quarterback.
"He can run and he can roll out and throw the football. He's getting better in the pocket, but he has to get better. But he's getting better at throwing the football, and he's a major threat with his feet."
According to UA stats from Saturday, Hornsby threw TD passes of 45 yards to White and 15 yards to Kendall Catalon. He ran for 80- and 8-yard TDs while wearing the no-hit caution jersey.
Running back Sanders was credited with 39- and 6-yard TD runs, and Jefferson scored on a 1-yard TD run.
On defense, linebacker Jackson Woodard and defensive back Jon Conley each intercepted a pass. Defensive end Jashaud Stewart recovered a fumble.