HOGS ace first day of school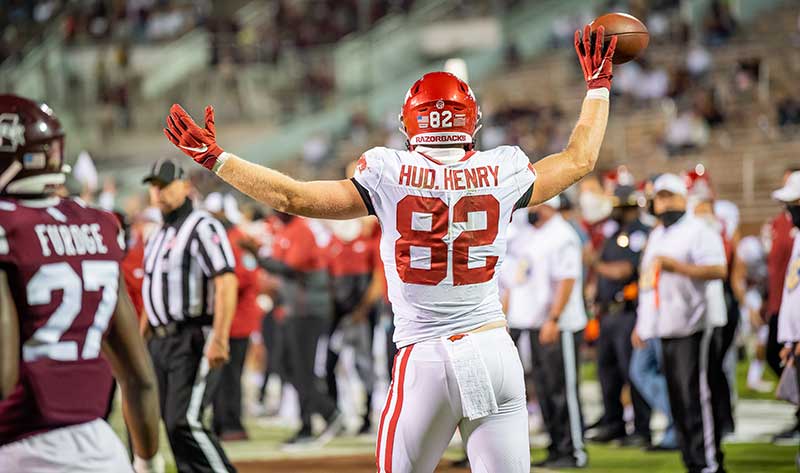 FAYETTEVILLE - The Razorbacks posted a productive Monday with a late practice after the start of classes at the University of Arkansas.
Fourth-year starting safety Jalen Catalon and Oklahoma Sooners transfer receiver Jaqualyn Crawford met with media after practice.
Arkansas doesn't open its season until Sept. 4 when the Rice Owls visit Reynolds Razorback Stadium.
"It looked good," Catalon said of Monday's practice. "We were focused for the most part. I think everybody had the right mindset. Everybody was still trying to get back their bodies back from the scrimmage Saturday. So, our schedule looked like that, a little lighter, but we were still in full-attack mode."
UA head coach Sam Pittman said after Saturday's scrimmage that how the Razorbacks practiced Monday would set the tone for this final week without a game.
"Coach always says everybody goes through handling that football practice after the first day of classes, and we have to separate ourselves," Catalon said. "I thought we made good strides toward the upcoming first game and competed against each other."
AN ALL-AMERICAN
The Associated Press officially declared Catalon among the best by naming him Monday as an AP second-team All-American.
"It's a blessing for sure," Catalon replied when asked about the honor. "It's a credit to my teammates and the coaches.  But I'm not putting too much eye on it. I've got bigger goals, and that's team goals. I'm just putting that forward to winning games and doing what I can to make the team better."
Catalon's 99 tackles and three interceptions in 2020 earned All-SEC and Football Writers Association of America Freshman All-America honors. He has been named to the 2021 Preseason All-SEC teams and is on the watch list for the Jim Thorpe Award honoring the nation's best defensive back and the Bronko Nagurski Trophy honoring the best defensive player.
BETTER THAN BURKS?
Arkansas junior receiver Treylon Burks this summer was named preseason second-team All-American by the Football Writers Association, a notch below where fellow Razorbacks receiver Crawford would have placed him.
"First off, if he's second team, I'd like to see who's on the first team!" Crawford said.
Crawford went on about the 6-3 junior from Warren, who caught a team-high 51 catches last year for 820 yards and seven TDs.
"He's a guy the offense looks to," Crawford said. "He's the one who keeps us going. He's just a freak, man. The plays he makes and the things he does every day, it's just something that everybody can't do."
CRAWFORD'S CHANCE
Recruited in 2018 by Oklahoma as a four-star recruit from Rockdale, Texas, Crawford redshirted as a freshman and played just one game for OU in 2019 before transferring to Arkansas and redshirting again in 2020.
Because the NCAA relaxed many personnel rules as covid plagued the 2020 season, Crawford was declared December eligible to practice and play against the TCU Horned Frogs in the Texas Bowl at Houston.
However, the bowl game was cancelled because too many Horned Frogs tested covid positive.
"I got to practice with the team for a couple practices," Crawford recalled. "I was feeling good, starting to get back in game mode and really excited to showcase what I could do.
"The crazy thing about it was, we were all dressed and ready and we were about to leave for the airport in about an hour," Crawford recalled. "Then we had the team meeting and everything got canceled. It was a bummer, but everything happens for a reason."
At least he had those practices and spring ball to work his way into the slot receiver rotation.
"It's a good feeling to know you're practicing with a chance to play on Saturdays," Crawford said.
More than a chance, says Catalon from practicing against him.
"I think he's had a great camp," Catalon said. "He's shown explosiveness and what he can do at the slot. And not just the slot, but you can put him in the backfield in packages. He creates so many dynamics to this offense. We can go with a two-threat of him and Burks. It could be unstoppable for sure."
CATALON'S SHOULDER
Catalon has been practicing in a green caution jersey but says he's fine.
"They just kind of want to hold me out right now with my shoulder," Catalon said. "If we had a game tomorrow, I would be good to go. They just want to make sure they keep it right and keep it healthy. Just have me ready for September 4."