HOGS: Players excited about expanded roles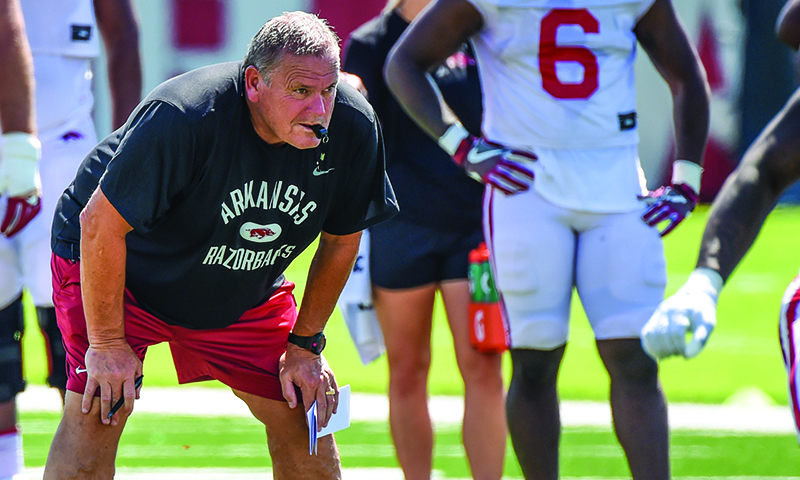 FAYETTEVILLE — The Arkansas Razorbacks' 2022 season kicks off in 10 days, and you could hear the excitement in the voices of defensive end Jashaud Stewart and offensive tackle Ty'Kieast Crawford on Wednesday.

Both are looking to make a big impact this season.
UPGRADED ROLE
Crawford (6-5, 315) played primarily on special teams last season as a sophomore, recording a season-high 29 snaps in a 31-28 win over Mississippi State on Nov. 6 in Fayetteville.
Crawford, from Carthage, Texas, has been working with the first team in fall camp, and said he feels more than ready for the opportunity.
"They (the coaches) can put me on any side they want me to," said Crawford, who plays both tackle spots. "I'm comfortable. I get in there and do my assignments."
Arkansas' offensive line paved the way for a Razorbacks' rushing attack (227.8 yards per game) that led the SEC and ranked no. 7 nationally.
Crawford, speaking after Wednesday's practice, talked about the transformation of his body since transferring from North Carolina-Charlotte after the 2020 season. "I came in overweight at 380," Crawford said. "I didn't like it, and they (the coaching staff) didn't like it."
Crawford has lost 65 pounds since arriving in Fayetteville, and offensive line coach Cody Kennedy has boosted his confidence.
"I could always move light, but at the same time but at the same moving light isn't always good," Crawford said, talking about changes to his play style. "You got to make sure you're dominant and I wasn't really dominant. So, losing weight helped me get my body to the way it needed to be so when I needed to strike somebody I'm going to strike them."
STEWART BONDING
Stewart (6-2, 251) said he is also looking forward to improving on his sophomore season in 2021, when he finished with 7 tackles, including 4 unassisted, across 13 games. "I really just care about my teammates," said Stewart, a defensive end from Jonesboro. "Ever since junior high and high school, I really just do it for them (his teammates)."
Stewart also plays for his position coach, Deke Adams, who was brought in by head coach Sam Pittman (Craven Whitlow photo)  after making previous SEC stops at South Carolina (2013-2015), Mississippi State (2019), and Ole Miss (2020).
 "He's on you, but he's going to teach you about life," Stewart said of Adams. "We talk off the field about family and other things."
CINCINNATI COUNTDOWN
Thursday's practice will be the start of the Razorbacks' preparation for their Sept. 3 season-opener against Cincinnati at Reynolds Razorbacks Stadium. The Bearcats finished last season with a 13-1 record, becoming the first program outside a Power 5 conference to make it to the College Football Playoffs. They have the attention of both Crawford and Stewart.